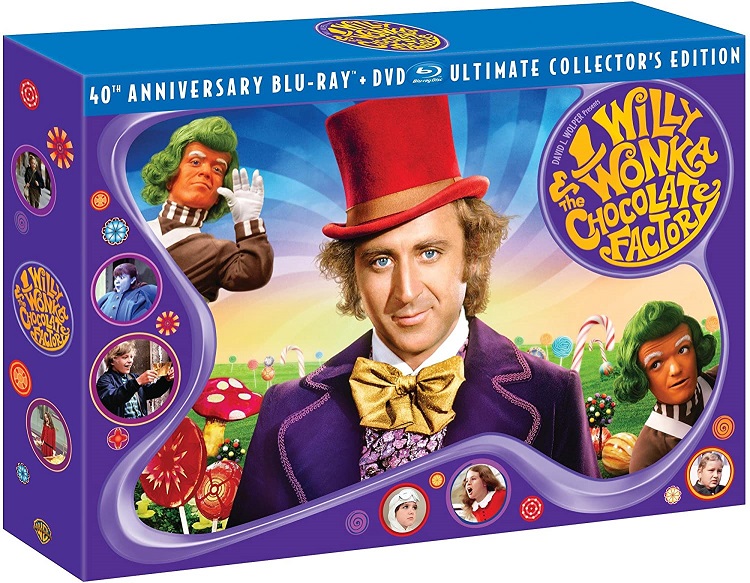 Roald Dahl wrote children's books that are full of dark, sardonic humor, mean and nasty villains, and a complete lack of over emotional sentiment which makes them absolutely marvelous for children and adults alike. Charlie and the Chocolate Factory was no exception as it is filled with bratty children, the treacherously eccentric Willy Wonka and the utterly bizarre Oompa-Loompas.
The 1971 film version of the book took some notable excursions from the source material but is still considered a brilliant classic. Gene Wilder is fantastic as Wonka and the brightly colored Oompa-Loompas with their imaginative songs will leave you in a comic trance. For its 40th anniversary Warner Bros. has rolled out a 3-disk Ultimate Collector's Edition filled with all sorts of special features. The best feature is actually not part of the disks but rather a 144-page book in which director Mel Stuart walks the reader through the origins of the movie, adapting Dahl's original book, casting, preproduction, the film's music, shooting the movie, editing, Wonka's legacy and more. It is filled with behind-the-scenes and candid photos from the set.
The Ultimate Collector's Edition also include 14 reproductions of correspondence between the filmmakers, a Wonka bar tin which includes scratch-and-sniff pencils, and a replica of the golden ticket with an online code that enables consumers a chance to win a bigger prize.
Besides getting a nice Blu-ray upgrade, the actual disks special features are mostly reruns from previous anniversary editions. I don't own any of those editions and thus commentary with the (now grown-up) children, a behind-the-scenes documentary, and a vintage featurette all sound appealing. New to this set is a thirty-minute interview with Mel Stuart and a newly discovered featurette notable for its interview with Dahl.
All in all a pretty spectacular way to watch a classic film while also basking in its many features and that's why its my pick of the week.
Also coming out this week that sounds interesting:
Pirates of the Caribbean: On Stranger Tides (Five-Disc Combo: Blu-ray 3D/Blu-ray/DVD/Digital Copy): I found the first one very entertaining but each subsequent sequel has gotten more convoluted and bloated to the point that I didn't even bother with this last installment. But it has its fans. Bonus features include several features, director's commentary, Lego shorts and deleted/extended scenes.
Batman: Year One (Blu-ray/DVD/Digital Copy): An animated version of Frank Miller's phenomenal comic book series (which was also loosley the basis for Christopher Nolan's Batman Begins.) They've been making a number of straight-to-video animated versions of comic books recently that are supposedly pretty decent adaptations of the source material. I haven't seen them, but they do look interesting.
Robotech: The Complete Series: This was my first entry into anime. It came on some local station when I was a kid and I can remember being completely entranced with the series from the beginning to the end.
Star Wars: The Clone Wars: Season Three: The movie was terrible, but what little I've seen of the series is pretty good.