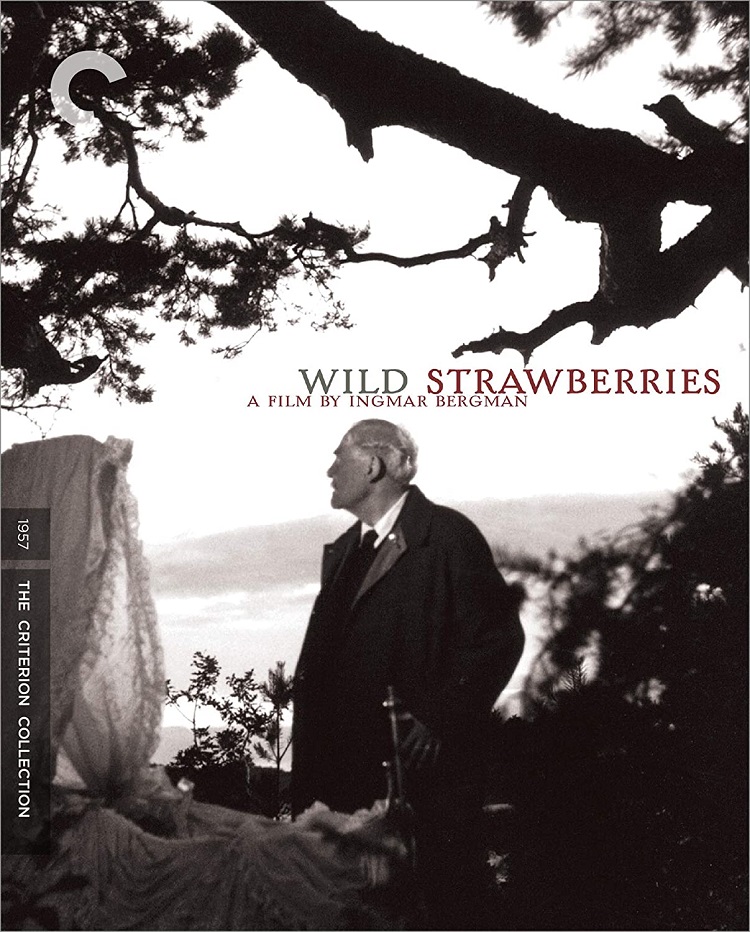 From time to time in this weekly series I like to discuss the ways and means to which I choose my Pick of the Week. I've previously mentioned how I like to pretend that some kind soul is giving me one DVD or Blu-ray from the week's releases. And so my pick is simply what I would choose to receive on any given week. Well, this week I really was given a copy of my choice.
Criterion has kindly allowed me to review their Blu-ray upgrade of Ingmar Bergman's Wild Strawberries. I have seen the film before and absolutely adore it. Though I have only seen a handful of his films, Bergman is a director who sits highly on my list. His films are rarely easy, often very bleak, and I frequently find I need to take a film class just to understand him, but they are always rewarding. Wild Strawberries is no exception. It is a dense, symbolic, often very dark film, but one that has a hint of hope to it, and one that speaks directly to the human condition in such a way as to beg for repeat viewings. Criterion has created a masterful presentation with their Blu-ray and despite the fact that I feel a little sheepish about picking it after receiving a free copy, I easily make Wild Strawberries my Pick of the Week. Read my full review. Also out this week that looks interesting:
The Newsroom: The Complete First Season: When Aaron Sorkin's brilliantly terrible Studio 60 on the Sunset Strip was first airing, I kept wondering why he didn't set the show behind the scenes at a 24-hour news network instead of a sketch-comedy show. That is much more suited for Sorkin's brand of politically infused writing than comedy is. So when I heard that his new shows was in fact set behind the scenes of a nightly news show I was excited. When I watched the first trailer with Jeff Daniels' intense monologue, I was emotionally erect. Sadly the show (though containing plenty of nice moments) has yet to live up to my own hype. While setting up The Newsroom as a show that relies only on facts and truth, Sorkin actually all too often makes it nothing more than a talking points memo of the liberal left. Hey, I'm a member of the liberal left, but I'd like to see a little more balance in my fake news shows. Setting it in the very real, very recent past doesn't help either. With The West Wing, Sorkin proved he can create fictional news events that deal with real life ideas without having to reinvent our own history. Still, I have some hope for Season Two.
Oz the Great and Powerful: This prequel to the classic Wizard of Oz looks beautiful, but sadly the story can't live up to the original. There's enough in it for the kids to enjoy and enough eye candy for the adults, but it's not something I expect to return to.
House of Cards: The Complete First Season: Netflix's big gamble on creating original programming paid off incredibly well, creatively at least. Kevin Spacey's political drama is brilliantly made and acted and is riveting from beginning to end (well, I still have a couple of episodes left before I get to the end, but I'm feeling confident).
Major Crimes: the Complete First Season: When Kyra Sedgwick left the Closer, the show went with her, except, well it didn't. Most of the cast is back with Mary McDonnell taking the place of Sedgwick. I've not seen it yet (actually I haven't watched the last few seasons of the Closer either) but the buzz is, if you liked the Closer, you'll like this.
Doctor Who: The Mind of Evil / Doctor Who: Inferno: Jon Pertwee gets a couple of releases from his stint as the Doctor. I've never seen him in action, but I've always heard good things.