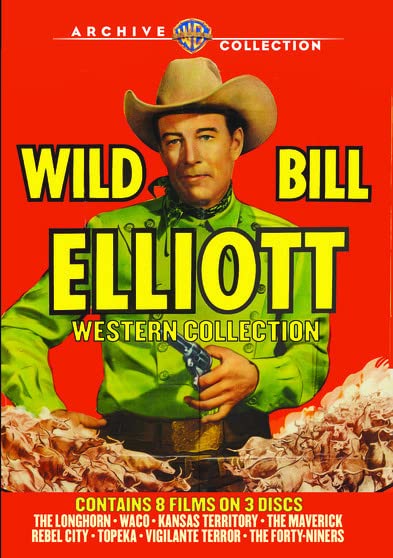 From the moment Bill Elliott made his earliest known appearance on celluloid in 1925, he garnered the interest of grumpy old studio executives and giddy young bijou patrons alike for his rugged looks and ability to throw a punch or pull out a pair of six-shooters in a flash. Indeed, the Missouri-born personality hailed from a rural upbringing; a trait that came in most handy once Columbia Pictures spotted and cast the two-fisted man's man in his first starring role ‒ the 15-chapter serial The Great Adventures of Wild Bill Hickok ‒ in 1938. From thereon in, Elliott appeared in nothing but western filmfare for nearly twenty years, right up to the point where that newly-established electronic babysitter called television outright shot the cinematic western in the back by claiming its audience.
Bill's final contract was with the legendary Poverty Row motion picture outfit, Monogram Studios, which converted into Allied Artists in the early '50s. Once the western genre fizzled off of the big screen shortly thereafter, Allied Artists cast Mr. Elliott in a series of contemporary police detective films, the Bill Elliott Detective Mysteries (which also share a vague connection with another Allied Artists production, Bobby Ware is Missing). But before he exchanged his ten-gallon hat for a fedora, Elliott rode the B western range he was born to roam in several quickies from Monogram and Allied Artists ‒ the bulk of said output assembled here in the Warner Archive's Wild Bill Elliott Western Collection, which presents eight of the last eleven cowboy pictures to star the late legend himself.
While you might expect a handful of old cheap oaters to be as routine and uninteresting as could be, there are a number of exceptions to the whole of the genre to be seen here. The first installment, The Longhorn (1951), casts Wild Bill as a disgruntled rancher named Jim Kirk (uh, what?) who ‒ after the Texas longhorn becomes the worst-selling bovine on the market ‒ makes a seemingly-crazy reverse cattle drive (or, a "trek," if you will) from Oregon to Wyoming so that he can breed a new stock o' beef for future generations of pale, sickly Morrissey followers to cry "Murder!" over. When no one wants to join Elliott's cattle drive, believing both it and he to be full-fledged loco, Elliott punches his way into an outlaws-only saloon and recruits a crew of misfits, led by B movie tough guy extraordinaire Lane Bradford.
And it is that plot point which struck a particularly strong resonance with me: a man everyone thinks is off his rocker, but whose intentions are pure (and moreover, completely rational), is the only person on God's green earth to give the disgraced a second chance ‒ treating them as equals. Sadly, Bill's co-star Myron Healey (a distinguished face amongst the almost infinite line of old movie baddies) doesn't share in his benefactor and friend's dream, and plans to betray him with a small gathering of villains. The great I. Stanford Jolley has a rare good guy role here (which he lovingly laps up), and one of cinema's first Lois Lanes, Phyllis Coates, stars as the latter's daughter. William Fawcett, previously a suspect in another 15-chapter Columbia serial, Batman and Robin, has a part as a grumpy one-eyed bartender turned cattle driver.
The aforementioned I. Stanford Jolley returns in Waco (1952), which, after careful consideration and examination (I have a very active social life, as you can imagine), I have concluded is one of the best Monogram westerns ever. (And I mean that in the most positive way, ladies and gentlemen!) Here, the man best known as the eyes and voice of The Crimson Ghost co-stars as the leader of an outlaw gang who, contrary to most B western bad guys, has a heart of gold. After Bill Elliott's Matt Boone (?) shoots a crooked gambler dead in a Waco saloon, he is promptly labeled as a killer and flees. In the hills, he unwittingly stumbles upon the hiding spot of Curly Ivers (Jolley), who welcomes him into his gang of good-natured bank robbers who are the opposite of cold-blooded, psychopathic killers.
Well, everyone but Curly's right-hand man Garcia (Paul Fierro), that is ‒ who is jealous of Boone's quick draw and appreciation by his boss. The story soon shifts directions, naturally (morality was still on alert back in the 1950s, after all), and the hunted Boone ironically winds up being appointed sheriff of Waco by the town leaders who feel he is the only one to maintain order amongst the rampant lawlessness. Matt and Curly remain pals, vowing to keep their professional distances from one another, until that darn Garcia guy has to be a hoser. Pamela Blake is the lady of the tale in this western from director Lewis D. Collins (who also helmed The Longhorn) and writer Daniel B. Ullman. Repeat criminal offenders from B western and serials Lane Bradford, Rand Brooks, Stanley Price, and House Peters, Jr. are also featured.
As if the previously mentioned writing/directing team of Daniel B. Ullman and Lewis D. Collins were deliberately trying to transition Bill Elliott into the detective movie, the next film in the Wild Bill Elliott Western Collection, 1952's Kansas Territory is the first in this three-disc set to incorporate heavy shades of mystery genre. Featuring many players from the previous films, the story here finds Elliott returning to Kansas ‒ where he is still a wanted man, thanks to an ages-old (and completely unfounded) charge ‒ after hearing his brother had been killed by a shot in the back. His anger soon turns to hate when he hears nothing but bad news about his beloved sibling, and no one wants anything to do with him on account of his kin. Peggy Stewart, Fuzzy Knight, and a strangely unbilled Lyle Talbot also star.
The mystery elements continue to expand over the course of the next couple of films, 1952's The Maverick, and Rebel City and Topeka (both from 1953), all of which were directed by Thomas Carr. The first film finds Bill as a no-nonsense Cavalry lieutenant assigned to deliver a group of hired thugs (including Denver Pyle and Gene Roth) to a nearby fort. The prisoners' advancing henchmen notwithstanding, Elliott must also contend with a headstrong pioneer woman (Phyllis Coates) and her equally-independent grandmother (Florence Lake) whom Bill's arrogant, knife-throwing, and soon-to-be-discharged sergeant ‒ a fellow named Frick (!), and played by Myron Healey ‒ invites the pretty lady and old hag to ride along with the prisoner transport. Sidney Theil pens this, one of the four films the screenwriter has on the IMDb today.
Interestingly, while Daniel B. Ullman may have started the mystery western aspect in these oater outings, it is the unknown Theil who ultimately added the garnishes to these weird little western hybrids. Rebel City is indeed the most subtly fascinating of the lot, featuring a black character who ‒ though minor ‒ is nevertheless presented as soft-spoken and articulate in a time when most African American actors were cast in cruelly stereotypical fashions. For this adventure, Elliott is cast as Frank Graham, who wanders into a Kansas town amid the Civil War with a stack of phony currency as his only clue to the killing of his father. An almost completely unheard-of crane shot ("Paging Johnny La Rue…!") helps bring out the underlying film noir elements even further in this recommended film co-starring (among other, regular faces) Marjorie Lord and John Crawford.
Topeka (1953), penned by prolific writer Milton Raison, finds our hero Bill Elliott serving a highly unusual stint as an outlaw from the get-go. The leader of a notorious bank robbing gang, Elliott's Jim Levering is similar to I. Stanford Jolley's Curly Ivers (Mr. Jolley appears in this film, too, albeit in a minor role as a doctor). Though greed is his motive, violence is not a part of Levering's life: a noble trait shared by his second-in-command, as played by the great Rick Vallin. Roaming wild from territory to territory, Levering's gang is chased by posses all the way, but both he and his Number One are secretly growing weary of all the running and hiding. A fortuitous stop at Topeka reveals a protection racket run by local hood Mack Wilson (Harry Lauter), which Levering is keen to take over.
Irony strikes once more for Wild Bill Elliott when the townspeople appoint Jim sheriff of the lawless Topeka, which our anti-hero initially sees as his golden ticket. But once the feeling of doing good begins to set in, well, I'm sure you can figure out how this quickie oater concludes. Young Phyllis Coates (again) is the platonic love interest for our aging star, and stuntman/actor Dick Crockett has one of his more on-screen on-screen roles here. Many of our regularly scheduled character actors, including Fuzzy Knight, Denver Pyle, and Stanley Price (as a bank teller who foils one of Elliott's planned robberies at the beginning of the film), are also featured in this "Strawshack Redemption" of sorts, along with the familiar mugs of John James and western/serial stuntmen Dale Van Sickel, Ted Mapes, and Henry Rowland.
The unexplored talents of Sidney Theil were given the opportunity to expand one last time with 1953's Vigilante Terror, before the aforementioned disappeared from the industry (at least under that name?) altogether. Here, a gold mining Wild Bill rides into a small town wherein a local vigilante justice group has malformed into its own crooked criminal organization. But, of course, you have to expect that when you have Myron Healey running something. Bill stops Myron's gang from lynching mild-mannered store owner I. Stanford Jolley (the price of which costs Bill dearly), landing him a job as sheriff in a town full of double-faced fart-knockers. Mary Ellen Kay is Jolley's daughter, and George Wallace (the original Commando Cody himself!) is one of many villains secretly working for co-star Robert Bray in this above-average oater.
Finally in the Warner Archive Collection's Wild Bill Elliott Western Collection, we have 1954's The Forty-Niners, which is exceptionally different for many reasons. First, it's the only film in the set filmed for matted widescreen exhibition (and is presented here in a 1.85:1 aspect ratio). Secondly, screenwriter Daniel B. Ullman was most definitely gearing up his star for his final filmic outings as a police detective, patterning his tale in true Dragnet fashion with Elliott roaming Northern California (my hometown gets mentioned twice) for card cheat (and future Dragnet co-star!) Harry Morgan, whom he suspects of having hired killers for an incarcerated I. Stanford Jolley. Thomas Carr hops back in the director's chair for this last oater for Elliott, with many familiar cast and crew in tow.
John Doucette ‒ no stranger to the genre, and who would later pop up in several latter-day John Wayne vehicles ‒ is the main bad guy, who is married to lush Virginia Grey. Interestingly, Ms. Grey, the love-interest, does not have the hots for our lead. Instead, it's Harry Morgan who gets the romantic bits! True to the popular TV show it mimicked, Elliott narrates the tale, which even concludes with our hero mentioning the results of a trial. Sure, it's a superlative example of No Shame Cinema, but it serves as a great segue flick for Bill Elliott's last five films, and wraps up this set perfectly. Two of the other three titles from Bill's last movie contract ‒ Fargo and The Homesteaders ‒ are available as a double feature disc released in 2013 (with the missing film, Bitter Creek, remaining unavailable).
The Warner Archive Collection's much welcomed set spreads the eight quickie B western films over the course of three discs. The films never suffer from any compression, and all look and sound terrific overall. There are no special features included in this set, but that won't get in the way of any classic oater lover's plan to roam the Wild West one last time with the one and only Wild Bill Elliott.
Highly recommended.