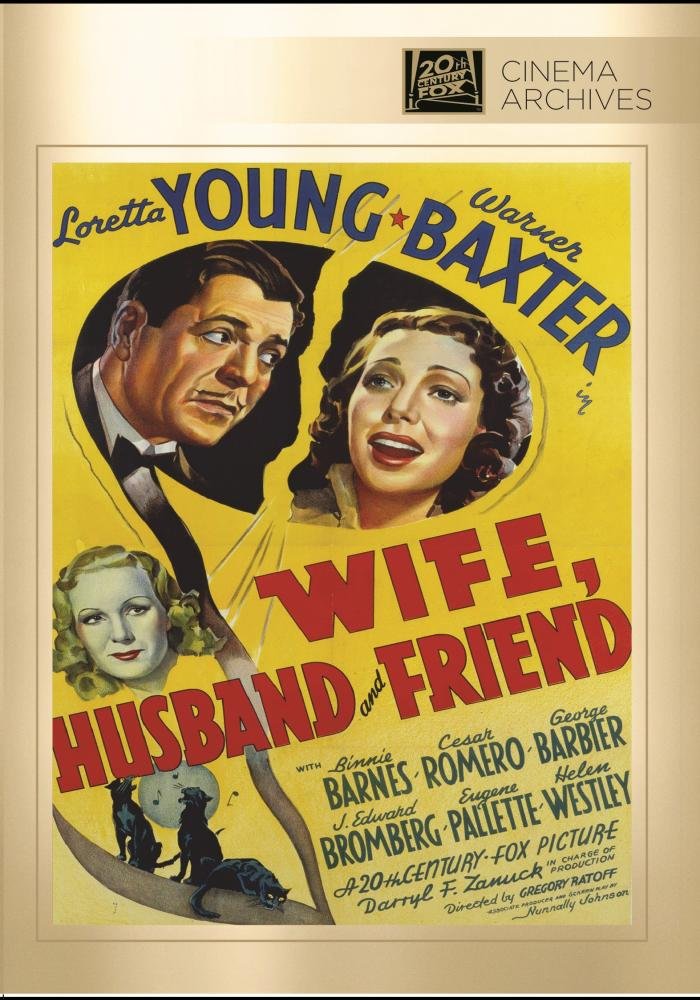 Written by Brandie Ashe
The year 1939 is generally recognized as a golden one in Hollywood; indeed, some critics have gone so far as to label 1939 the "best" year in the history of film. Some of the most notable motion pictures released during that storied year include such cinematic gems as Gone With the Wind, The Wizard of Oz, Mr. Smith Goes to Washington, Stagecoach, Ninotchka, The Women, and Goodbye, Mr. Chips, among many, many others. But while these undoubtedly important films remain influential staples in the cinematic diet of most movie lovers, it is worth noting that of the more than five hundred films released during that year, the percentage of truly memorable movies dating from 1939 remains quite low. By and large, as with any given year, a majority of those films are forgettable at best and utterly cringe-worthy at worst. And Wife, Husband and Friend, starring Loretta Young and Warner Baxter as the titular couple and Binnie Barnes as the so-called "friend," falls squarely in the middle of that spectrum—not entirely terrible, but a rather unexceptional little romp, all things considered.
Young and Baxter play Doris and Leonard Borland: he's a businessman whose contracting company is in danger from the woes of the Depression, and she is the high-society daughter of a snooty socialite (Helen Westley) who dreams of success as an opera singer. Despite a lack of talent for the job, yet encouraged by her mother and a flattering vocal coach named Hugo (Cesar Romero), Doris attempts to launch her career as an opera singer, while Leonard merely goes along with it in hopes that his wife will soon "get it out of her system." But when it turns out that hapless Leonard is the true vocal prodigy, a scheming diva, Cecil Carver (Barnes), plots to coach him to success on the stage—and coax him away from his distracted wife.
The movie's outlandish plot and marital hijinks strain to reach the transcendent heights of screwball comedy—a genre that was at its peak in 1939—but the middling humor of Wife, Husband and Friend eventually falls flat. Given a cast that includes clever comedienne Young (in typically fine form here), Latin funnyman Romero, and ubiquitous screwball supporting character Eugene Pallette (whose welcome appearances as Leonard's business partner are all too brief), one would think the end result would be a symphony of sublime silliness. But (and it honestly pains me to say this) the less-than-deft comedy stylings of leading man Baxter—who was arguably much better suited for the dramatic roles that populated the majority of his career—greatly drag down the film. Admittedly, part of the blame for this can be placed on the construction of his character; Leonard is condescending and controlling, easily discounting his wife's dreams as he (vainly) tries to rule his roost with the proverbial "velvet-gloved" iron fist. While he and Young share a lovely chemistry and warmth as a couple in many of their scenes together, in the end, Baxter is simply outmatched by Young's more appealing comedic skill.
Wife, Husband and Friend is directed by Gregory Ratoff, a man who is perhaps better remembered for acting roles in films such as 1950's All About Eve than for any particular directorial prowess. The movie is based on a tale by James M. Cain—the unlikeliest of source materials for a frothy romantic comedy, considering other movies based on his work include such film noir classics as Double Indemnity (1944), Mildred Pierce (1945), and The Postman Always Rings Twice (1946). Screenwriter/director Nunnally Johnson adapted Cain's serialized story "Two Can Sing" for the movie. A decade later, Johnson produced a better-received remake of this film called Everybody Does It (starring Paul Douglas and Celeste Holm as the Borlands and Linda Darnell as Cecil) using his original script.
Wife, Husband and Friend has recently been released as part of Fox Cinema Archives' manufacture-on-demand series. As is typical of these FOX MOD DVDs, the disc includes no special features or extras of any kind. The print itself is unremarkable—though it is relatively clear with few dings and scratches, the film has not been remastered or retooled in any way, and in fact the DVD presentation's format is the dreaded "pan & scan" that strikes irritation in the heart of every self-respecting cinephile. Now, I realize on some level that we film fans should just be grateful that Fox is releasing some of these rarities to DVD at all, but really—is it too much to ask for letterboxing, so we can get some semblance of the full, unedited picture?
At an overly abbreviated seventy-five minutes, Wife, Husband and Friend feels rushed and exceedingly forced, with laughs that are ultimately few and far between. While many of the conventions of screwball comedy are present—romantic misunderstandings, physical shenanigans, underlying class struggles, an utterly absurd plot—the end result is far from satisfying.