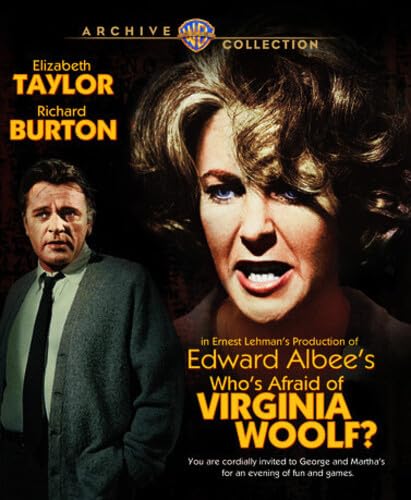 Sixteen years after Elizabeth Taylor transcended from child actress into a full-fledged "adult" in Father of the Bride ‒ wherein, it should be noted, she entered her first of eight failed marriages ‒ the still-famous actress showed us just how big of a girl she could be. In every respect. For here, in 1966's motion picture landmark, Who's Afraid of Virginia Woolf?, we see a 32-year-old Liz donning more than a little stage padding as she stars alongside her most "popular" husband, Richard Burton, as Martha: an obnoxious, alcoholic, middle-aged shrew whose outward vulgarity is only complimented by the infinite supply of insults (or, "Elizabethian French," if you will) she and her on-and-off-screen husband fling at each other.
In fact, the "colorful metaphors" (thank you, Mr. Spock) George and Martha hurl at one another throughout this iconic adaptation of the late Edward Albee's famous play all but brought about the fall of the Hays Code, which had been moralizing motion pictures since 1934. This in itself is a milestone in American film, permitting the floodgates to be opened once again ‒ a move which would soon usher in the very era of outrageous exploitation movies Quentin Tarantino loves to repeatedly idolize and mimic so, albeit with extra-added vulgarity. Compared to what we have seen and heard in the 50 years that have followed, Virginia's vulgarity has evolved so far beyond being indecorous; it has reached the point where it is now both subtle and sublime.
To the uninitiated, Who's Afraid of Virginia Woolf? brings us the jaw-dropping tale of George and Martha (Burton and Taylor), a middle-aged couple in a small university town. Following a late-night party, the pair return home in order to refuel on copious amounts of booze (a tradition which would follow them in later years, well after their two disastrous marriages to each other) before Martha's invited guests ‒ a handsome new, young college professor (George Segal) and his fresh-off-the-vine wife (Sandy Dennis). Unbeknownst to the invitees, George and Martha's unique method of entertaining guests ‒ a maddening, alcohol-fueled parlor game wherein anything that can go (deliberately) wrong, will ‒ is exhaustingly executed at no expense.
Speaking of expenses, none were made in the restoration of this Warner Archive Collection release, though the extent may have very well proved exhausting for the good people who have made this beautiful transfer possible. Accompanying the stunningly gorgeous image is Who's Afraid of Virginia Woolf?'s original mono soundtrack, restored and encoded into a DTS-HD MA 2.0 mono stereo track. Seven other audio options (in Dolby Digital 2.0), ranging from French to Japanese are also on-hand, as are 11 subtitle selections. Most (if not all) extras from previous releases are included here, consisting of two audio commentaries, several featurettes, a screen test, an archival interview, and a TV special devoted to Miss Liz herself.
Highly Recommended.