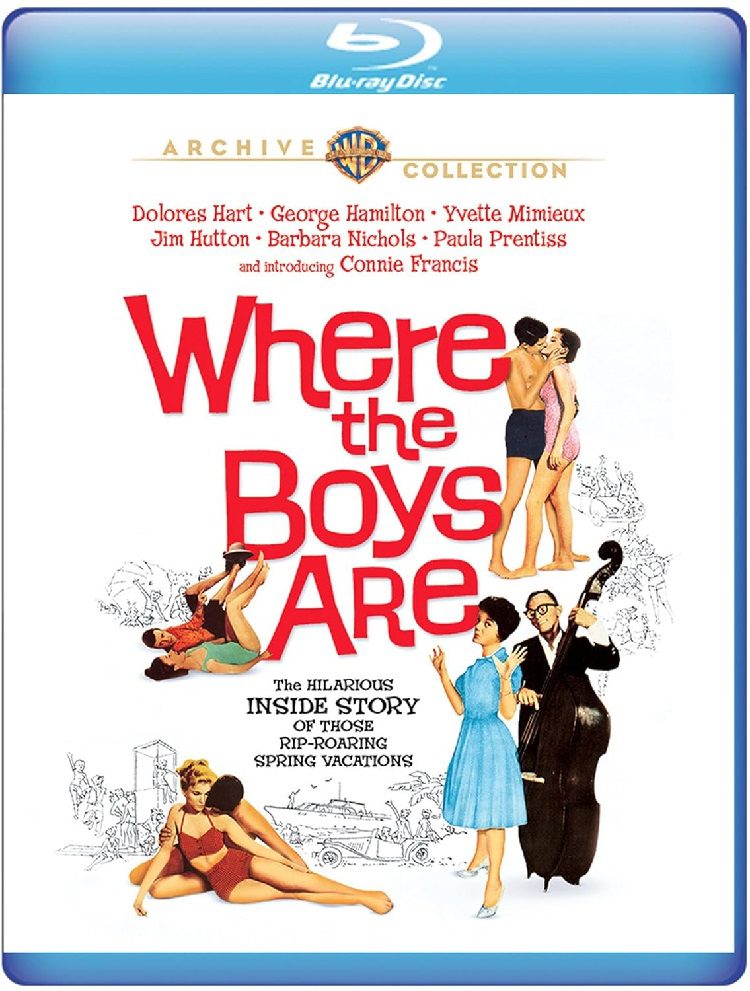 Three years before the marketing genii at American International Pictures first discovered there was gold in the banks beside the sea with what would become the Beach Party series (and the many bad clones that came with it), the folks at MGM were having a little soiree in the sand all to themselves. Much like the later AIP franchise (which, technically, saw its roots in the late '50s via a couple of drag racing flicks), Henry Levin's Where the Boys Are features a group of kids heading off to the beach for a little fun ‒ something that, amazingly enough, is still in fashion today. Of course, things have changed a little bit since this MGM hit first debuted. In fact, you'll see nary a frat boy or sorority girl take a selfie or throw up all over themselves in this film.
And that's because a B-movie sensation like Where the Boys Are likes to keep things pleasant and simple throughout, even when it tackles more serious subjects.
The story here finds four coeds from a snowbound college somewhere in the midwest packing up the car and heading off to the then-fresh hell of Fort Lauderdale for Spring Break in order to take a break from the lives they haven't learned to live yet. Leading the way is lead star Dolores Hart, whom we immediately recognize as the strong one in the quartet since she is very outspoken about things such as sex (ironically, Hart later became a nun). Paula Prentiss is the tall one, who ‒ naturally ‒ is more down to earth. The younger, less-experienced Yvette Mimieux is the that makes the mistake of being too eager to pop more than just a bottle top. Wrapping up every hitchhiker's dream is singer Connie Francis, playing that one girl no one wants.
But the famous vocalist needn't worry; staying true to a time-honored cinematic storytelling technique, there's a boy for every girl to found at the beach. They didn't call it Where the Boys Are for nothing, after all. For Dolores, it's a young and unsurprisingly already bronzed George Hamilton wandering through the waves of party animals infesting the beach because tanning beds hadn't been invented yet. Paula picks her man well before anyone else when she and the others give tall oddball Tim Hutton (Timothy's father) a lift. Poor Yvette's encounters with the opposite sex lead to one of the film's morals (e.g. don't whore yourself out like that), while Ms. Francis manages to land a near-blind and mostly uninterested Frank Gorshin.
While a majority of the tale is pretty standard (but nevertheless, well made) filmfare for its ilk, Where the Boys Are manages to stand out in the crowd just the same for relying on a few kooky characters to keep things going (a theme AIP's Beach Party films were almost entirely built on). Indeed, Batman's most legendary Riddler will appeal to movie buffs who aren't terribly into standard coming-of-age articles from a time when even thinking about holding hands with a person of color would land you in jail. Here, the multitalented Gorshin plays the bass-player and leader of a weird, post-beat jazz ensemble who pays its audiences to listen to them so that they may play whatever they want.
Naturally, a '60s movie aimed at the teenies wouldn't be complete without a spontaneous musical performance or two. Luckily for us, Where the Boys Are just happens to feature Connie Francis, who executes her required numbers (as written by Neil Sedaka and Howard Greenfield) as well as the film's famous eponymous theme song flawlessly. Chill Wills plays the town sheriff who doesn't want to arrest anyone (presumably because everyone's white, because it's Florida), and busty Barbara Nichols pops up as a saucy cougar out to catch more than just Jim Hutton's eye.
Replete with lots of outdated parables about staying wholesome and pure and stuff (something the college kids certainly don't do today according to all of those Girls Gone Wild videos), the entertaining Where the Boys Are hits Blu-ray for the first time thanks to the tireless efforts of the Warner Archive Collection. Scanned in 2K from a fresh interpositive (seriously, kudos, WAC) and presented in its original theatrical aspect ratio of 2.35:1, Where the Boys Are looks better than ever, presenting the MetroColor CinemaScope hit in a beautiful 1080p MPEG-4 AVC transfer that blows all of the previous editions (even the High-Def ones) out of the water (or perhaps into it, as the case were).
Complementing the superb picture for this WAC release is a marvelous DTS-HD MA 2.0 Mono soundtrack and English (SDH) subtitles. Special features have been ported over from the previous 2004 Warner DVD release, and include an audio commentary with Paula Prentiss, retrospective featurette with Ms. Prentiss and Connie Francis, and a vintage black-and-white newsreel highlighting the film's debut in Ft. Lauderdale. The original theatrical trailer concludes the Blu-ray disc's selection of bonus materials, and has been remastered in 1080p. Animated by Rocky and Bullwinkle creators Jay Ward Productions, the preview features narration by the one and only Paul Frees (who also provides narrates the film's opening).
Sure, it may not be as flat-out goofy as those AIP movies. But, even without the added charms of and songs by Frankie and Annette, Where the Boys Are still entertains admirably, and the mere notion it's on Blu-ray now enables me to fantasize about seeing a Beach Party BD set available from the Warner Archive someday. So be sure to buy multiple copies of Where the Boys Are (and not Where the Boys Are '84) just to make sure that happens.
Recommended.