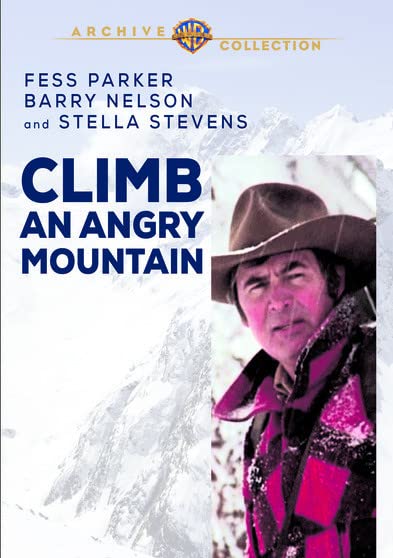 Since its humble inception at the beginning of 2009, the Warner Archive Collection has been paying its respects to many hard-to-find motion pictures which would be otherwise unavailable to classic movie buffs everywhere. And, much to the delight of the aforementioned grouping of folks who have had more than their fair share of ultra-sleek CGI-laden popcorn movies we pay a questionable lump of dough to see once in a theater packed full of people who still have yet to learn the fine art of cinema etiquette (seriously, turn your phones off, kids!), the WAC ‒ as it is so lovingly informally known as to most ‒ has shown no signs whatsoever of slowing down. In fact, their output has grown to the point of re-releasing out of print MGM titles, to picking up a handful of Hong Kong actioneers from the '90s, and even rolling out a new Blu-ray or two every month.
One such assortment of oddities which tend to tickle my fancy is the WAC's recusing of old television pilots and TV movies. Long forgotten by the sands of time and probably saved from being turned into a weird custom coffee table by one very "creative" vault intern, two recent additions to the small screen film fray hail from a glorious point in time when TV movies practically ruled the whole world: the '70s.
First broadcast on NBC in December of 1972, Leonard Horn's Climb an Angry Mountain may sound like just another indie flick about a man dealing with a newfound neurological or physical ailment, but it is not. Rather, the respectful outing into human drama finds Fess Parker (TV's Daniel Boone) as the grounded sheriff of a small Northern California community (Mt. Shasta, though it is never actually called that) who butts heads with an anxious New York City cop (Barry Nelson), after the latter arrives in the sleepyheaded, snow-ridden town in the anticipation of apprehending a Native American fugitive (big dumb Joe Kapp) who slipped out of his hands, and is believed to be headed home. Why? So he can Climb an Angry Mountain, of course ‒ and beg forgiveness from the great Indian spirit at the top.
Arthur Hunnicutt, the wonderful supporting player who graced every other rodeo noir ever produced (including The Lusty Men and Born Reckless), usually as a faithful cowboy sidekick, co-stars here as a faithful ranch hand for a change ‒ though I was more amazed by the fact he looked just as old and withered here as he did in the 1950s. Soap opera actress Marj Dusay and cult favorite Stella Stevens (in a rare clothed appearances) also appear in this ditty from The Man from U.N.C.L.E. creator Sam Rolfe and frequent writing partner Joseph Calvelli. Producer Herbert F. Solow brought us many memorable series from the '60s and '70s, including the original Star Trek (you know, before it became ultra-sleek, CGI-laden popcorn fare).
Another TV movie ‒ more dramatic than the last ‒ may be found in 1977's The Hostage Heart. Possessing every great element of contemporary thrillers both then and now, the telefilm from prolific television director Bernard McEveety includes a cast of boob tube stalwarts, such as Bradford Dillman, Loretta Swit, Vic Morrow, Carl Weathers, Belinda Montgomery, Hari Rhodes, Allan Rich, and even Cameron Mitchell. With a cast like that, you know you're in for a treat; and The Hostage Heart succeeds in keeping its pulse active throughout. Story-wise (in case you weren't sold on Carl and/or Cameron), the CBS thriller finds a group of terrorists (as led by Stephen Davies) infiltrating a hospital during the coronary bypass operation of a famous billionaire (Gregg Palmer).
Demanding lots of money and a couple of hostages for good measure, the group's less-than-subtle tactics soon gain the attention of local Los Angeles police (under the supervision of George DiCenzo) and Cameron Mitchell's squad of sports coat-clad FBI men alike, as all units close in on the hospital. Frank Michael Liu, Philip Baker Hall, Aharon Ipalé, and Robert Walden (as a hot-headed reporter who takes to climbing through air ducts long before Bruce Willis made a living out of it) co-star in this taut drama from co-writer/co-producer Andrew J. Fenady (Chism, Terror in the Wax Museum) adapts Gerald Green's novel. Both The Hostage Heart and Climb an Angry Mountain make their (barebones) home video debuts via the WAC, each with beautiful new transfers.
Released precisely 41 years to the day before The Hostage Heart made its network premiere, the 1938 RKO Radio Pictures slapstick comedy The Affairs of Annabel also makes its way to DVD for the first time from the Warner Archive along with its one and only follow-up feature, Annabel Takes a Tour (also from 1938). Whether these were to be the start of a franchise I cannot say, but there is no denying the screen presence of a feisty young redheaded RKO contract starlet attached to play the titular character in both films. Yes, boys and girls, say hello to Lucille Ball's first comedy starring roles! Cast alongside (and under) fading comic Jack Oakie, the late great comedienne portrays a coddled Hollywood actress with an unlucky knack for landing herself in a series of sticky screwball situations.
These gaffs are the doing of the studio's hackneyed publicity man (the good Mr. Oakie), whose harebrained schemes usually (OK, always) backfire. But at the heart of it all, it's apparent ‒ to those of us who spend far too much time analyzing late '30s B comedies, that is ‒ our shifty hero has a soft spot for his leading lady (basically, he has the mentality and elan of a schoolboy). Bradley Page is the suffering studio head and Ruth Donnelly is his always-one-step-ahead secretary in both films. Fritz Feld, Thurston Hall, Granville Bates, Anthony Warde, Wade Crosby, George Irving, and an uncredited John Sutton are featured in the first film; Ralph Forbes, Frances Mercer, Donald MacBride, Alice White, Edmund Cobb, and Cecil Kellaway are in the second and final outing. Lew Landers and Benjamin Stoloff directed the short-lived cinematic series, which the Archive includes on the same dual-layered disc.
Further shades of romance ‒ though often without all of the slapstick humor and with a whole heck of a lot of singing added ‒ can be found in the Warner Archive's late 2015 re-releases of all eight MGM musical motion picture outings starring the timeless pairing of Jeanette MacDonald and Nelson Eddy (who would have made a great Joker had Hollywood been making dark superhero movies in the late '30s, though that's entirely irrelevant). Yes, both volumes of the Jeanette MacDonald & Nelson Eddy Collection will have your (or maybe just an aging parental figure or two) singing along through all eight features (Naughty Marietta, Rose-Marie, Maytime, The Girl of the Golden West, Sweehearts, New Moon, Bitter Sweet, and I Married an Angel) to star classic Tinseltown's ultimate singing couple.
Of course, if you're like me, that might be a wee bit too much singing to handle for one lifetime. Fortunately, you can laugh at music via the WAC Blu-ray release of Christopher Guest's 2003 mockumentary A Mighty Wind. Here, venerable veterans of stage and screen alike meet to poke good-natured fun at the folk music revolutions of yesteryear. Guest and fellow This is Spinal Tap alumni Michael McKean and Harry Shearer are one of several folk groups who reunite and put on a live show after their former promoter passes away. Meanwhile, one-time pop culture recording couple Catherine O'Hara and Eugene Levy (of both SCTV and Schitt's Creek fame) ‒ attempt to look each other in the eye once again, despite the mental health downfall of the latter (who co-wrote the film along with Mr. Guest).
Bob Balaban, Mary Gross, Paul Dooley, Paul Benedict, Parker Posey, John Michael Higgins, Jane Lynch, Fred Willard, Ed Begley Jr., Larry Miller, and Jennifer Coolidge are just some of the talent tapped to lend a hand (and/or voice) in this sleeper flick which, at one point in time, used to infiltrate Grocery Outlet DVD bins like there was no tomorrow. Hopefully, this new Blu-ray will enjoy a more dignified fate ‒ especially since folk music has made a triumphant (if completely uncalled for) return to the world thanks to numerous bearded men in flannel and their tiny-voiced female cohorts. A lovely new 1080p transfer and DTS-HD MA 5.1 soundtrack adorns the 50GB release, and almost every supplemental feature (and believe me, there are a lot of 'em) from the initial 2003 DVD has been carried over for this High-Def re-issue.
Two more new-to-Blu releases from the Warner Archive graced the world of home viewing recently, both from the magical, mystical land of the 1980s. The first of these, 1982's dramedy The World According to Garp, gives us an ample chance to explore the unmendable gap which the unexpected passing of Robin Williams left behind one fateful day in 2014. Here, in one of the late actor/comedian's first dramatic performances (though it should go without saying his own personal brand of comedy blends quite well with author John Irving's black humor and irony), Williams is T.S. Garp: bastard offspring of a feminist nurse (Glenn Close), who goes from a slightly awkward childhood in a boy's school to open-minded family man with a truly unique way of looking at life ‒ which, ironically enough, mainly focuses on death.
George Roy Hill (Butch Cassidy and the Sundance Kid) produces and directs from a screenplay co-written by John Irving himself. Mary Beth Hurt is the Terribly Sexy Garp's fairly patient wife, Warren Berlinger and Brandon Maggart represent part of the film's AARP value (the second half represented by real life couple Hume Cronyn and Jessica Tandy, who play Close's shocked parents in a memorable cameo), and Blood Rage star Mark Soper plays a doomed student. Swoosie Kurtz, Jenny Wright, and Amanda Plummer also appear. But the best supporting player in the feature ‒ hands down ‒ goes to John Lithgow as transsexual woman (and former NFL quarterback) Roberta Muldoon. The WAC BD includes a stellar new 1080p transfer and DTS-HD MA 2.0 audio track, with the original theatrical trailer as the only extra.
Two years after Garp confused a great deal of conventional moviegoers, the (then) final installment of the (original) Star Wars saga had come and gone ‒ leaving room for the rip-offs to continue, and the parodies to commence. And it was then in 1984 ‒ three years before Mel Brooks would make Spaceballs ‒ that The Ice Pirates invaded. It was directed by British filmmaker Stewart Raffill (who also helmed Paul Rudd's favorite film, Mac and Me) from a script by he and a soon-to-be-unemployed Stanford Sherman (Krull). Sherman never wrote another script after this, and all of Raffill's films have either been flops or limited in their release; two elements which just might reflect on what you're in for with The Ice Pirates, depending on your taste in kooky sci-fi comedy (providing enjoying kooky sci-fi comedy even counts as taste).
Were the science-fiction comedy to be made today, it would probably be a hit. Instead, the dystopian interstellar farce (seriously) has struggled to find a cult audience over the years. Here, in a future where water has become the most precious commodity in the universe, the late great Robert Urich (Spenser: For Hire) is a pirate spaceship captain who, along with his crew (including Michael D. Roberts, Anjelica Huston, and Ron Perlman) discover a princess (Mary Crosby) preserved in suspended animation aboard a baddie vessel full of ice. Toss in an epic trip through a time distortion field (complete with shades of Avery Schreiber's leaky stasis pod in Galaxina), a cameo from none other than Max Von Sydow, and one of John Carradine's last major film appearances, and you've got some truly funky-tastin' Ice.
Boasting a new 1080p transfer ‒ the likes of which no one has ever seen (much like the film itself), The Ice Pirates gets a new lease on life via the WAC, complete with a DTS-HD MA 2.0 soundtrack. Much like the 2005 DVD release of the film (the debut of which marked my second viewing, following the much earlier analog home video presentation in the mid '80s (it's that popular of a film, kids, but at least it's loads better than John Carradine Goes Fishing!), the Warner Archive BD sports nothing more than a theatrical trailer for its selection of bonus materials. But, much like all of the other motion pictures offered up in this article, the mere fact we have been given a chance to check it out in an era of ultra-sleek, CGI-laden popcorn movies makes it worth checking out.
Enjoy, boys and girls.