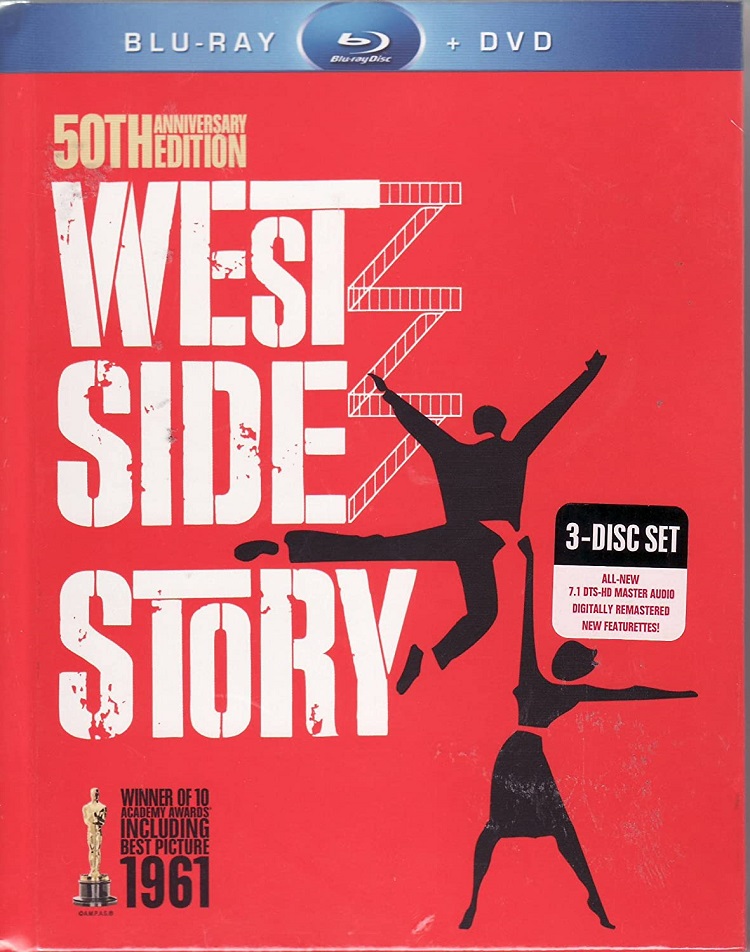 West Side Story, the classic Broadway musical that went on to become a classic Hollywood film, epitomizes passion. Its creators (book by Arthur Laurents, music by Leonard Bernstein, lyrics by Stephen Sondheim, and choreography by Jerome Robbins, who co-directed the film with Robert Wise) followed their passion to become artists. The story is about passion as Tony (Richard Beymer, with singing by Jimmy Bryant) and Maria (Natalie Wood, with singing by Marni Nixon), though from different ethic backgrounds, fall in love with each other to the consternation of their friends. The film has developed a passionate following that has endeared it to fans for over decades, which is why there's such a passionate outcry in response to flaws of the 50th Anniversary Blu-ray.
Based on William Shakespeare's Romeo and Juliet, West Side Story replaces the Monatgues and Capulets with two young New York City street gangs: The Jets, comprised of white American kids, led by Riff (Russ Tamblyn), and the Sharks, comprised of Puerto Rican immigrants, led by Bernardo (George Chakiris). The audience gets tested immediately on whether they will accept the rules of this world as the gang members demonstrate their toughness through song and dance. They battle back and forth intimidating each other until Lieutenant Schrank (Simon Oakland) and Officer Krupke (William Bramley).
Riff has had enough and wants a rumble and asks former Jet Tony to set it up at the dance held at the local gym. Tony's reluctant to get involved but senses "something's coming, something good" and it might happen there. And right he is. When he and Maria, Bernardo's sister, set eyes upon each other, they fall in love. After the dance, the gangs meet to hash out the details, but Tony convinces them to forget the rumble and put up their best man each to fight without weapons. He later meets with Maria and they profess their desire to marry and run away, but considering the source material, the outcome of their love affair is predestined.
The story is rather simple and the characters a bit one-dimensional, but the music, lyrics, and dance routines are what make West Side Story such a smash success. Bernstein's evocative score augmented by Sondheim's work explores optimism ("Something's Coming"), social satire ("America'), humor ("Gee, Officer Krupke"), and within "Somewhere," both the hope and heartbreak that comes from love. Robbins' routines are rousing spectacles, particularly the Dance at the Gym sequence. The co-directors also do a great job with camera placement, allowing us to see the dancers.
The video has been delivered in a 1080p/MPEG-4 AVC encoded transfer displayed at an aspect ratio of 2.20:1. The first issue is Saul Bass' opening credits have been tampered with. As the "Overture" plays, lines on the screen appear as bright bold colors dissolve into one another. For some inexplicable reason, instead of green appearing between red and blue, there's now a fade out/fade in to black. Twentieth Century Fox Home Entertainment has created a website for exchanges.
There are other problems as well. During the helicopter shot in the opening sequence, there's a shimmer coming off the sun-reflecting water and off some buildings that have to much small detail. The image also has trouble with metal fences and a few brick buildings, resulting in quite a bot of aliasing. After transitioning from Maria spinning in the sewing shop to the beginning of the Gym sequence, it looks like a faint red filter is causing the image to be soft until a close-up of Maria in attendance. The rear projection footage during "Maria" is also soft as are some other shots that use an intentional soft focus.
But it's not all bad. The colors are very vibrant, especially reds and purples, and blacks are rich. The details, like those seen in clothing textures, are sharp and the image shows great depth. There's also no sign of age or wear on the print.
The Audio is an English DTS-HD Master Audio 7.1 and 4.0 Dolby Digital. On the 7.1 track, the opening whistles can be heard in the rears. The orchestra fills all the speakers and demonstrates how wide the dynamic range is. Unfortunately, the ADR of the dialogue sounds flat as is typical, but the vocals sound robust. There's separation of singers during "Quintet" and before "America" individuals can be heard in different channels across the front to create space.
The movie is accompanied by the following special features. "Pow! The Dances of West Side Story" (HD, 19 min) can be seen on its own or as the film plays. Assistant director Robert Relyea, seven modern choreographers, and others discuss Robbins' work and its significance. "Song Specific Commentary by Stephen Sondheim" (audio, 20 min) finds the lyricist reflecting on his work. For those who just want the songs, "Music Machine" (HD, 85 min) makes them available individually or altogether.
On the second Blu-ray disc, "A Place for Us: West Side Story's Legacy"(1080i, 29 min) looks at the film's place in pop culture and interviews with some of the cast. From 2003 "West Side Memories"(SD, 56 min) includes archival footage of Jerome Robbins alongside those talking about the film. A "Storyboard to Film Comparison Montage" (SD, 5 min) features the work of artist Maurice Zubrano. There's also quite a number of Trailers (HD, 12 min).
Being able to watch West Side Story and be surrounded by its music is a real treat. However for those who are sticklers about the quality of high-definition video, a rental might be a better recommendation to see if it meets one's standards of how pretty a Blu-ray should look. Also, film purists might want to avoid the frustration and hold off until Fox can correct their error rather than having to deal with the exchange program.