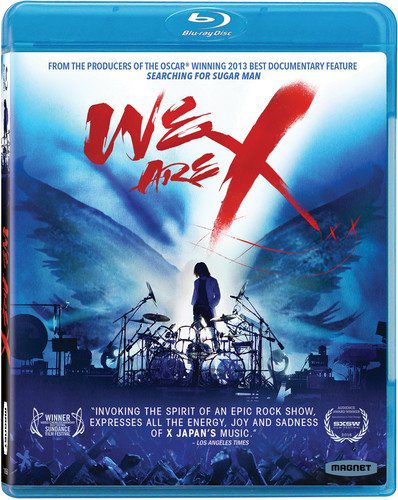 Early in We Are X, Yoshiki, the leader of the band is asked in an English-language interview why the band broke up in 1997. He says, "My vocalist got brainwashed" in his heavily accented but perfectly fluent English. Is it a joke, or a cultural misunderstanding? Absolutely not – in 1997 Toshi quit X Japan, an enormously successful band, because a cult leader had convinced him it was wrong.
Six months later, the band's lead guitarist was dead in an apparent suicide. Yoshiki, the band's founder, drummer, and lead composer tells about finding his own father dead on the floor when he was 10 years old, having committed suicide. X Japan plays exuberant heavy metal, heavy on the power ballads. Formed in the early '80s, they are considered the originators of the Japanese Visual Kei style of flamboyant rock music, and in their earliest incarnations the band members had hair in gigantic mohawks, shooting up several feet in the air, and wore elaborate costuming and make-up. For a band that embodies energy and enthusiasm, We Are X, a documentary about the band's history filmed in the days before their sold-out concert at Madison Square Garden in 2014, is steeped in sadness, suicide, death, and sickness.
Yoshiki is shown in his preparations for the enormous concert, practicing his rapid-fire drumming on an enormous moving platform. Before this, we see him being injected with medication so he can get through the pain of practicing. There's multiple visits with doctors and pain specialists, working on strategies so he can continue to perform despite the damage he's done, in his extreme performance style, to his arms, wrists, and neck. Yoshiki was apparently frail from childhood, spending a long time in the hospital. At the end of concerts, he regularly collapses onto the stage in a heap (though the long time rhythm guitarist Pata smiles enigmatically and says 'Yoshiki's not that weak').
As a documentary We Are X is illuminating, but very highly produced: there's not much of a sense of being a fly on the wall, since the "private" world of X on display here seems as carefully managed as their elaborate live shows. Which doesn't mean the copious tears on display when discussing the band's break up or the various deaths of members through the years are insincere – just that it all works to bolster the created image of X as a rebellious band who has suffered through hardship as emotionally titanic as their enormous ballads.
That may be an inevitable consequence of when this documentary is being made. In 2014, X Japan had been back together substantially for seven years. Yoshi's nightmare with the brainwashing cult was coming to its conclusion then, and is well in the past now. (Ironically, it was the suggestion by the cult leader that Yoshi go back to the X Japan that had previously been so 'evil' that led him to come out of the fog of brainwashing.) They're on the verge of a new potential career breakthrough, so the super bad times are in the past. Optimism and perseverance to cover deep private pain is, indeed, a recurring theme of the film and the band's music.
It's hard to escape the feeling that this movie is an exceptionally well-made Behind the Music special, only without the heavy-handed narration telling the audience what to feel. That said, it is, indeed, exceptionally well made, and X's story is much more dramatic and full of twists than most band's). We are X also features enough of X Japan's music to let the uninitiated know whether they would want to explore the band's further. It's also swiftly paced, with a tone that's not at all unlike an X Japan songs – deeply felt, darkness always intermingled with the light.
Extras on the Blu-ray include about 30 minutes of extra interviews with the band, 20 minutes of deleted scenes (including a long section of the creation of a Yoshiki-styled Hello Kitty), an interview with Yoshiki about the movie itself, a pair of excerpts from their emotional final concert of the '90s before the break-up, and a music video with interviews with fans.