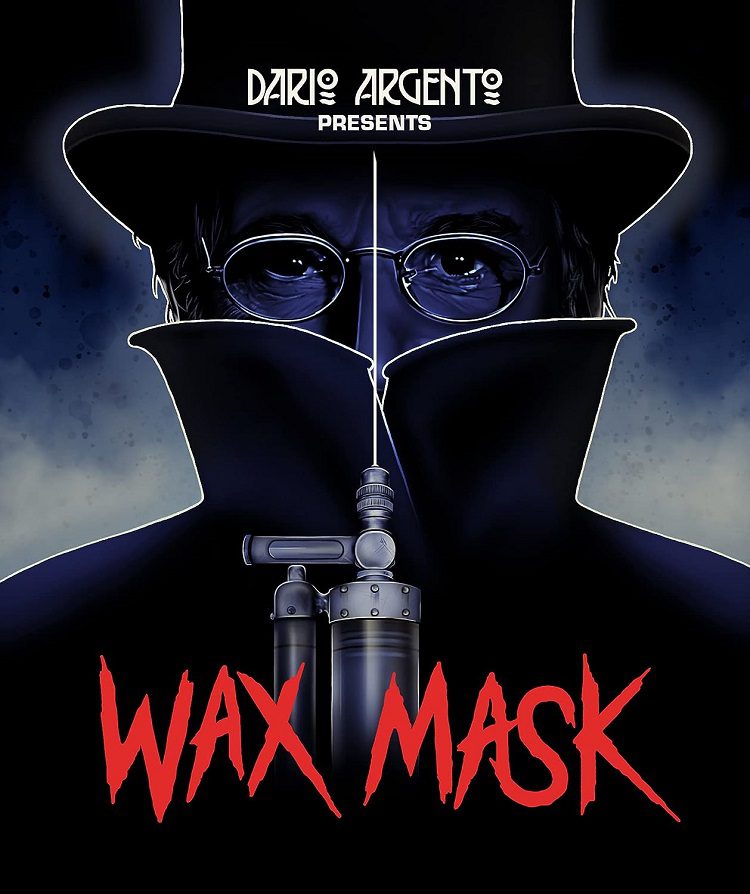 Within the annals of Italian horror films, there are perhaps no two better-known names than those of Lucio Fulci and Dario Argento. Even today, long after the film industry which had shot both filmmakers to fame (or infamy, if you prefer) had collapsed, the two artists are still held in high regard ‒ despite the inconvenient truths that one of them is dead and the other hasn't made a decent picture since 1990 (sorry, Trauma lovers, but Two Evil Eyes is where I officially draw the line). During their heyday, it was easy to distinguish one director's work from the other: Argento's movies possessed an enviable sense of style, whereas Fulci offered viewers something wholly other.
Oddly enough, even throughout the bloody salad days of Italian horror, neither of the two had ever worked with each other. In fact, they weren't even within close proximities of calling the other their friend. But that mattered not to me, as I idolized both Dario and Lucio alike, despite their vastly different approach to art (or total lack of, if you will). Naturally, when some newfangled fad called "email" brought word to me in the mid '90s that Argento was producing a film for Fulci to direct, teenaged horrorhound me was beside himself. After all, I wasted the whole of my post-pubescent years viewing and praising both feller's flicks, so this was pretty much the big payoff I was waiting for.
Then, one devastating day, a bulk email from Lucio Fulci's daughter Antonella in mid March of '96 shattered my fragile little world: Signori Lucio had passed away at the age of 68, leaving a big empty void in the hearts and souls of many. Since pre-production of what was supposed to be the Italian horror movie collaboration of a lifetime had already begun, the project went ahead, with Lucio receiving a much-deserved pre-credit dedication and co-writing credits. In Fulci's stead as director, makeup guru Sergio Stivaletti was given the honor of bringing M.D.C. – Maschera di cera ‒ better known as (The) Wax Mask to the few English-speaking audiences who saw it ‒ to life.
And that was probably their first big mistake.
Oddly enough, although I know I saw Wax Mask once before this new One 7 Movies Blu-ray release found its way into my hands (via the Image Entertainment DVD from 2000), I was utterly unable to recall even one scene from the film, leading me to suspect I must really not have enjoyed it all that much. Seeing it again, nearly twenty years after the fact, my suspicion of my own personal disinterest in the title was not only confirmed, but cemented in stone for all eternity: even with some fairly impressive (for the time and place) special effects and an actress with one of the greatest racks ever, Wax Mask was indeed bad ‒ and not in the usual "good" way, either.
But I don't think it was due to a complete lack of trying. Sure, Wax Mask was crafted during a time when Dario Argento's commitment to quality and detail was really starting to go downhill fast. And since it was the late '90s, this also meant the entire film industry which had provided me with much amusement throughout my teenage years was coming to a bitter, less-than-satisfying conclusion. Ultimately, however, I think many of the flaws in the face of Wax Mask are attributable to Sergio Stivaletti's inexperience as a director. Though he was one of the best special effects and make-up artists in the business, he was clearly not ready to direct an entire feature.
As clocks around the world switch to the year 1900, a grisly mutilation-murder occurs in Paris. Years later, Sonia (Romina Mondello, the aforementioned actress with one of the greatest racks ever), daughter of the deceased, lands a job at a recently opened wax museum in Rome. Operated by a mysterious '90s Euro James Lipton clone sporting the ridiculous moniker of Boris Volkoff (French film great Robert Hossein, shamelessly phoning it in), the museum quickly catches the eye of a young reporter with a bad '90s haircut once a man apparently dies of fright inside when the movie pointlessly, unsuccessfully pays homage to Antonio Margheriti's Castle of Blood.
Naturally, the reporter guy (Riccardo Serventi Longhi, if it matters) and Sonia eventually fall for one another. (Please, don't feel upset if you think I'm jumping ahead in the story, as the story can't walk a straight line in the first place.) This irks Euro James Lipton, who surrounds himself with creepy assistants, to no extent ‒ causing him to have an unnecessary flashback of the time he fought his wife's lover (as played by a briefly-seen Massimo Vanni, aka Alex McBride, the only veteran Italian horror actor who signed up to appear in this mess) back in 1900 Paris and fell into a vat of boiling wax, thus turning him into the dreaded steampunk Phantom of the Opera Wax Museum!
And that's just the tip of the inherent silliness Lucio Fulci's Dario Argento's Sergio Stivaletti's Wax Mask has to offer. What begins as a really bad, uncredited remake of classics such as House of Wax soon spirals out of control into one of the most jaw-droppingly outrageous finales (which I am, frankly, astonished I had forgotten) which includes a laughable steampunk Terminator-esque exoskeleton, you can't help but wonder if Bruno Mattei and Claudio Fragasso, the same men who made the unbelievably bad Terminator meets Aliens ripoff Shocking Dark didn't parachute in to finish the film like they unceremoniously did when Fulci walked out on Zombi 3 nearly ten years before.
While the steampunk factor may intrigue those amongst you who have devoted their lifestyles to such a thing (just as I did with European horror movies back in the '90s), don't let that get your hopes up too terribly high for Wax Mask. The movie may have been a bit ahead of times in that respect ‒ beating Stephen Sommers' Mummy reboot to the punch by a few years ‒ but it is way behind the times in all other respects. (Interestingly, screenwriter Dardano Sacchetti ‒ who was to pen the first draft of the film, having worked with both Argento and Fulci on some of their better works ‒ wanted to make a modern-day version of The Mummy).
Ultimately, Lucio Fulci's last credited film feels more like a dry run for the very career slump Dario Argento has never been able to escape from. It's almost as bad as the two godawful movies Argento directed in-between this, The Stendhal Syndrome and The Phantom of the Opera ‒ only without the awkward, gratuitous nude/rape scenes of his own daughter.
Between the general atmosphere of incompetence and the poor production values that make this period piece feel like a latter-day Joe D'Amato XXX-rated oddity, Wax Mask still sucks ‒ even after it has had twenty years to age. In fact, I dare say that if it weren't for the nice big bouncy boobies of Romina Mondello (and, OK, perhaps one or two other actresses, who only go to up the feeling you're watching discarded footage from a Joe D'Amato movie), I doubt I would have made it through my second (and probably final) viewing of the film. Even the film's narrator only shows up to work once to translate an on-screen caption during the post-credit sex scene.
And if you think that sounds bad, wait until you hear the atrocious English dubbing for this movie!
By the time Wax Mask was made, nearly all of the classic voiceover artists who had given many Italian films a lot of their aesthetic charm ‒ an immeasurably talented and criminally underrated lot including Nick Alexander, Ted Rusoff, Edward Mannix, Susan Spafford, Pat Starke, Gregory Snegoff ‒ had either retired from the business, moved onto something better, or moved on from life altogether. And their absence from Wax Mask's English audio track, which is presented here on One 7 Movie's Blu-ray in a Dolby Digital TrueHD 5.1 remux and a DD 2.0 Stereo option, is quite noticeable, as the people who dubbed the film were nothing short of awful.
And it's not like you can switch over to the included Italian Dolby Digital TrueHD 5.1 or DD 2.0 Stereo tracks and watch the movie with English subtitles here, because you can't. Like the maligned movie in question itself, it won't be for a lack of trying on your part: while One 7 Movies has at least given us two Italian audio options (and they're much better than the English ones), they neglected to include any subtitles whatsoever. This ghastly oversight becomes all the more frustrating when the movie inexplicably switches to Italian in two scenes during the movie's climax (which could be an error in the encoding, as I heard some audio glitches around those moments).
In terms of the visual quality for this, what I believe is One 7 Movie's first Blu-ray release, Wax Mask is a vast improvement over the long discontinued, grainy, non-anamorphic Image Entertainment DVD. That said, it's pretty inconsistent. Some of the black levels are as flat as the plot, while other scenes are quite beautiful. Two special features, both of which have been culled from Sergio Stivaletti's (watermarked) analog archives, and appear to be slightly squished, but not to the point where they prove distracting. Alas, these two behind-the-scenes featurettes don't include subtitles, either, but it's still a little bit more than that ugly old Image DVD had to offer.
Is that enough, though? Well, if you're an already established fan ‒ and I must confess I was slightly shocked to discover you existed (don't take it personally) ‒ chances are you've already decided to add this one to your collection. In that case, I'll say it's worth the upgrade, subtitles or no subtitles. As for the rest of you, I can only reiterate my twice-established dissatisfaction over the film, as perceived from two entirely different instances in my own life, and advise you to proceed with extreme caution: while the blemishes on display here may have made many other bad movies so enjoyable, there's simply something missing from Wax Mask.
Unless, of course, you've ever fancied seeing James Lipton cosplay as "The Steampunk Phantom Terminator of the Wax Museum," in which case you should be slightly amused at the very least.