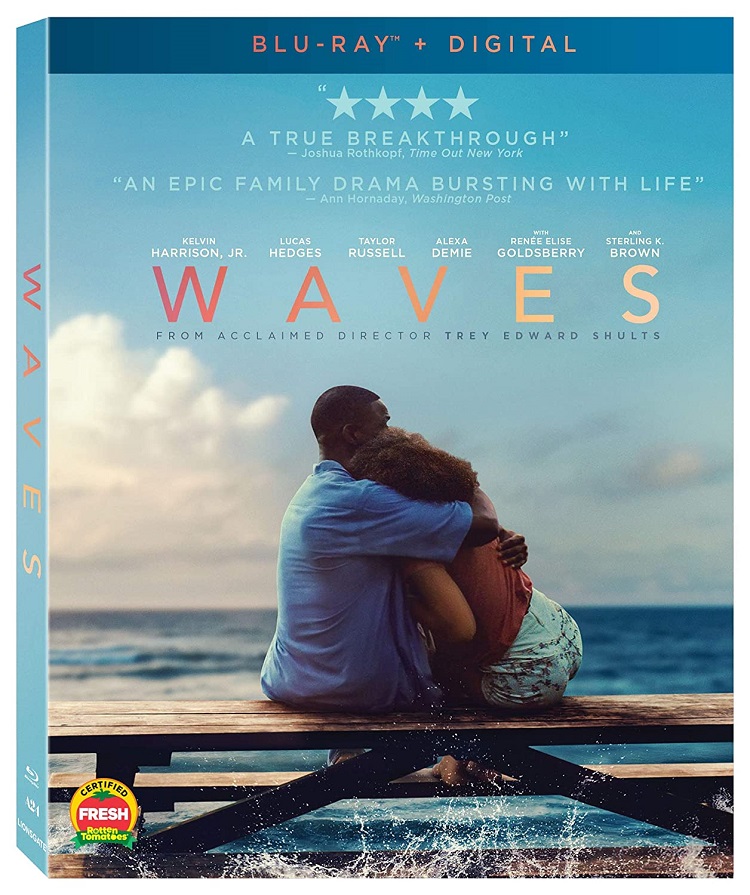 The use of popular music can make or break certain scenes in movies. Martin Scorsese knows this, even though he uses the same Rolling Stones song ("Gimme Shelter," for example) or variations of it in a lot of his movies. But no matter the song, its placement is practically perfect. Others, like David O. Russell, struggle in this department. The Fighter went for the obvious with Aerosmith's "Back in the Saddle Again" and The Heavy's "How You Like Me Now?" Silver Linings Playbook had a terrible use of Led Zeppelin's "What Is and What Should Never Be," during an argument scene between the characters played by Bradley Cooper and Robert De Niro.
Where does Trey Edward Shults fit here? Sad to say, at least with his latest film, Waves, he falls into the latter category. Although his skillful direction does create many tense moments and some that are emotionally shocking, his song choices are way too obvious and lessen the impact to the scene into which they're inserted. After a breakup, Tyler, the Creator's "IFHY" is used to capture the character's feelings. Prior to that, H.E.R's "Focus" is played to show the relationship starting to crumble. And both songs appear after Shults has already shown us what we already know.
It becomes more of a self-satisfying decision by Shults than one that would work more in favor of the audience's reaction. Without those jarring, obvious song choices, Waves could have been something profound and impactful. As it is, though, it's mostly good, but needs improvement.
The film focuses on two stories involving the same family. The first shows Tyler (Kelvin Harrison Jr.) and Alexis (Alexa Demie), two high school teens madly in love. Tyler is also a determined wrestler, aiming to be the best there is. His father, Ronald (an absolutely terrific Sterling K. Brown), is overbearing and pushes his son to be above everyone else. It can be too much for Tyler, and, like a lot of high schoolers, he doesn't fully listen to what the adults are telling him. So, when a doctor tells him about an injury that is starting to get worse, Tyler ignores it and then lies to his parents. He's too stubborn and focused.
Multiple tragedies strike, causing Tyler's life to spiral out of control. Harrison perfectly captures the emotional imbalance Tyler feels as he goes from winning wrestling matches and spending time with Alexis, to arguing with his father and overcoming the grief he feels during certain life-changing events. And, yes, like all romantic relationships, Tyler and Alexis have their ups and downs. More downs than they do ups, with Tyler being too hot-headed and focused on himself, while Alexis is trying to have him focus on keeping the relationship intact. It's undeniably relatable without being too in your face with its message. That is when Shults gives his playlist a break and lets the scene either play without a song or let the original score from Trent Reznor and Atticus Ross play, which has far more impact.
Shults' camerawork is dizzying and immersive, perfectly showcasing what the experience is like for a high school teenager. When a certain moment comes, the aspect ratio changes from 16×9 to 4:3, symbolizing Tyler's feeling of the world closing in on him. It keeps this format for the rest of the movie when the story switches to focus on Emily (Taylor Russell), Tyler's younger sister. It then showcases how she is reacting and coming to be when she has to deal with the aftermath of a major life change. Despite the harshness of critics, she is able to find a love interest in Luke (Lucas Hedges).
Where the first half feels like this spiraling, out-of-control look at the life of the average teenager, the second half is more calm and collected. It dials back on the song choices and the camerawork to deliver what almost seems like an entirely different and yet equally moving feature. When the two stories are put into one, 135-minute feature, it may not seem like it would work from a perspective of those who have yet to watch it. And while parts of it don't entirely work well, the strong performances by its terrific cast and the great cinematography by Drew Daniels help the film overcome its flaws.
The Blu-ray release for Waves comes with a 1080p high definition presentation with a 16×9 format, and a 1.85:1 aspect ratio. When the aspect ratio shifts, the black bars on the side are supposed to be a part of the film to symbolize the world closing in on the film's main character. The audio track is a 5.1 DTS-HD master track and works well, capturing the dialogue and music choices without any error. The special features include an audio commentary track with Shults and Harrison, deleted scenes, a q&a with the director and cast, and a behind-the-scenes featurettes called "Creating Waves: The Truth in it All."