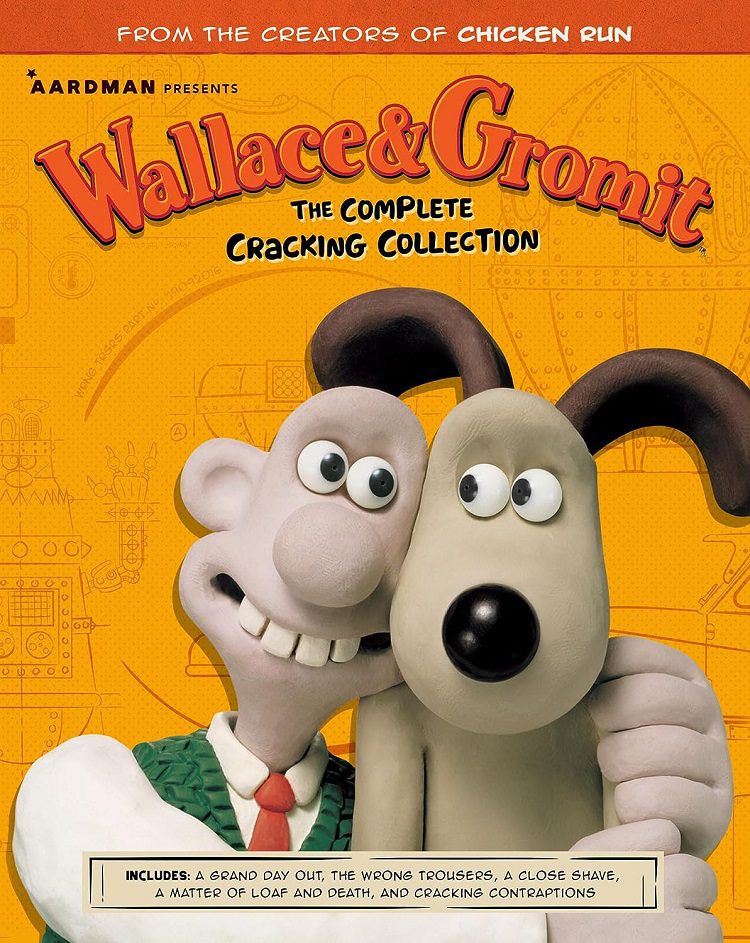 "The only constant in life is change" is an an aphorism credited to Greek philosopher Heraclitus of Ephesus that is just as applicable now as it was at the time of his death, 5th century BC, before he had an opportunity to read this column, which I am taking over this week.
Likely to tie in with Aardman's latest release, Chicken Run: Dawn of the Nugget, available later this year on Netflix, Shout Studios is presenting The Complete Cracking Collection with four half-hour specials [A Grand Day Out On (1989), The Wrong Trousers (1993), A Close Shave (1995), A Matter of Loaf and Death(2008)] starring the claymation comedy team and ten short films that aired on BBC One under Wallace and Gromit's Cracking Contraptions (2002). The specials are absolutely delightful and I would be curious to see the shorts, which I just learned about while composing this article. It should be noted, if past history of the Internet can serve as a predictor of human behavior, some will quibble with the use of "complete" for this set as the feature film Wallace & Gromit: The Curse of the Were-Rabbit (2005) and the Wallace and Gromit's World of Invention (2010) miniseries are not included. Can't argue with those potential naysayers, but some Wallace & Gromit in your video library is better than none.
Other titles out this week that are of interest:
Snow White and the Seven Dwarfs (4K UHD): This landmark in animation is a beauty to behold and I am very curious to see how much better this Disney classic can look with this format upgrade. Read Todd Karella's review of the Signature Collection Blu-ray.
A Bronx Tale: 30th Anniversary Edition (4K UHD): Robert De Niro made his directorial debut with an adaptation of Chazz Palminteri's one-man play about Calogero, an Italian-American boy, torn between a local Mafia boss (Palminteri) and his bus driver father (De Niro) in Bronx 1960.
Videodrome (4K UHD): Long live the new format as the Criterion Collection upgrades David Cronenberg's body-horror classic about the power television can over people.
Transformers: Rise of the Beasts: My only viewing of the Transformers franchise was Bumblebee, which I enjoyed much more than I expected. I am curious about this next title, although I wasn't curious enough to have gone to see this in theaters over the summer.
Jules: The premise makes it sound like E.T. with adults when a spaceship and its inhabitant crash in Ben Kingsley's backyard.