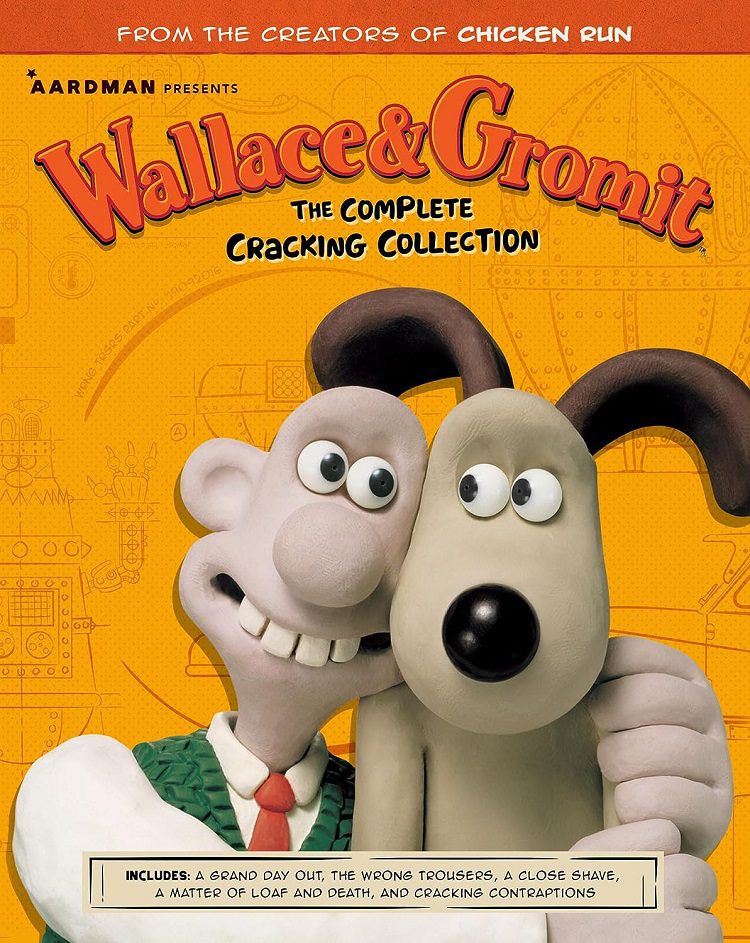 Wallace & Gromit are a claymation comedic duo created by writer/director Nick Park and produced by Aardman Animations. Wallace (voiced by Peter Sallis) is a cheese-loving, eccentric inventor that would make Rube Goldberg proud. Gromit, his dog, is the smarter of the two, which Gromit is well aware of as his knowing, fourth-wall-breaking looks to the audience suggest. They first appeared in the delightfully whimsical short film A Grand Day Out (1989) that saw them build a rocketship to go to the moon because, as Wallace states, "Everybody knows the moon's made of cheese." They picnic about until a mechanical creature makes clear they don't want them snacking on his home. Wallace & Gromit went on to lead an internationally beloved multimedia franchise with an untitled film set for release next year.
Wallace & Gromit: The Complete Cracking Collection presents the four Aardman Animations' short films [A Grand Day Out, The Wrong Trousers (1993), A Close Shave (1995), A Matter of Loaf and Death (2008)] and ten segments that aired on BBC One under Wallace & Gromit's Cracking Contraptions (2002).
The Wrong Trousers – For Gromit's birthday, Wallace purchases a pair of techno-trousers from NASA to take Gromit for a walk. Because his income is down, Wallace rents a room to a penguin, a suspicious fella that Gromit doesn't trust and rightly so, as the musical score indicates. The film features elaborate escapades and a very inventive train chase. Winner of the Academy Award for Best Animated Short Film.
A Close Shave – During a wool shortage and with sheep rustlers about, a sheep escapes from a mysterious truck and makes its way into the house of Wallace and Gromit, who are currently running a window-washing business. They are hired by wool shopkeeper Wendolene. Sparks fly between she and Wallace, but her dog Preston wants Gromit out of the way. The film is filled with intricate action sequences that are as funny as they are clever, and there are a couple surprisingly good plot twists. The lead sheep, named Shaun, would be spun off into an Aardman franchise. Winner of the Academy Award for Best Animated Short Film.
Wallace & Gromit's Cracking Contraptions – Ten amusing vignettes of Wallace's inventions in action, for a short while anyway.
A Matter of Loaf and Death – A serial killer is killing bakers, and wouldn't you know it, Wallace and Gromit are now running a traditional bakery. After a chance encounter with Piella Bakewell (voiced by Sally Lindsay), she and Wallace become engaged. However, Gromit learns what she is up to and must save the day (again) through a complex climatic chase through their house/factory.
The video has been given a 1080p/MPEG-4 AVC encoded transfer with aspect ratios varying depending on the films. The later the film the better the picture looks, so colors are more vibrant in Matter than Grand Day and the focus is sharper. The image in all the films are free from dirt or defect. Where the image excels for all is the fine texture details. The sets look like real-life locations and depth is always noticeable. The manipulated clay on an object conveys the sense of movement at times.
The audio for the shorts are available in 5.1 and 2.0 DTS-HD MA while the Contraptions are in 2.0 DTS-HD MA. Dialogue is clear throughout. On the 5.1 tracks, sounds are positioned about the surround speakers, expanding the space as they match items offscreen. Composer Julian Nott's scores fill the surrounds.
As noted when I made this collection my Pick of the Week, "the feature film Wallace & Gromit: The Curse of the Were-Rabbit (2005) and the Wallace and Gromit's World of Invention (2010) miniseries are not included" in this Complete Cracking Collection. But if you don't have any of these shorts in your library, this disc is worth picking up. These films are all charming, entertaining, and imaginative. The high-definition presentation showcases the animators' work well.