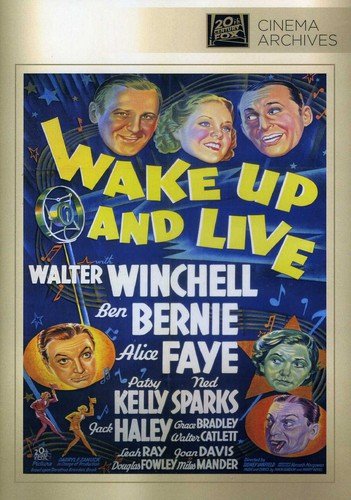 You might think that the concept of filmmakers adapting other people's works so loosely that the byproduct doesn't even come close to resembling its source material is a newer notion. You'd be wrong, of course: Hollywood has been doing this sort of thing since the initial inventing of celluloid itself – so much so, that when I discovered the 1937 Fox musical comedy Wake Up and Live (which is the optimist's way of saying "Fuck Off and Die!", no doubt) was based on a self-help publication by Dorothea Brande, I figured it would be a name-only variation. And I was right, naturally. Very, very right. In fact, to have even claimed this film was stimulated by such a book must have been a pretty ludicrous thing to do way back then.
It goes without saying to most of you, I'm sure, that – much like its literary origins – Wake Up and Live has most certainly notgone down in history as being the Greatest Film of 1937. In fact, I had never even heard of the flick prior to seeing it on DVD – and I was that ambiguously gay kid who loved to watch musicals growing up, mind you. It's rather sad that the film has gone by the wayside, too – as it's an entertaining piece of film fluff that not only has a nifty tune or two goin' for it, but also offers us a rare opportunity to appreciate the phony war syndicated gossip columnist Walter Winchell and band leader Ben Bernie waged against each other at the time: something the two real-life friends started up in order to boost their own respective radio ratings.
Yes, both of the aforementioned radio personalities portray themselves here – receiving top-billing and take every chance to fling a witty insult the direction of one another. The film finds "The Old Maestro" Bernie trying to keep his nightclub crowd happy whilst putting up with the nightly putdowns his radio rival Winchell dispenses. Under the employ of the extremely influential and powerful columnist is the dynamic duo of Patsy Kelly and Ned Sparks – who, after only one short glance, you know would have been the best grandparents in the world. Much like Winchell and Bernie's rapid-fire exchanges of friendly enmity, Kelly and Sparks damn near steal the show with her wide-eyed expressions and legendary mouth, and his deadpan delivery and gravely voice.
Oddly enough, despite the fact that these people occupy four-fifths of the movie's top-billed cast (with singer Alice Faye taking up third place), the film's actual protagonist – Jack (The Wizard of Oz) Haley – gets the measly No. 6 spot on the list. Cast as Kelly's vaudeville-sensation of a brother, Haley arrives in town with his adorable on-stage/off-stage gal-pal (Grace Bradley – aka Mrs. Hopalong Cassidy) with aspirations of hitting the big time with their act. But their partnership quickly dissolves when Jack discovers he's scared to death of microphones (witness the nifty morphing of the mic into a sinister-looking devil – from an era without CGI, mind you!) after a smart-ass usher (the great William Demarest) decides to play with the radio newbie.
Thus, poor Jack winds up working at the glamorous radio station as an usher – but he suddenly, accidentally captivates the entire nation one evening when he sneaks off into an empty studio to listen to Bernie's program. Mistaking a live microphone as being in the upright and "Off" position, Jack croons his l'il heart out into the demonic device – and becomes a sensation overnight. Sadly, nobody knows who this "Phantom Troubadour" (as they start to call him) is – not even Jack himself! By the next day, everyone – from the warring bigwigs to the self-help program hostess (Faye) whom Jack has a crush on are trying to identify the mystery man and make the most of his magnificent voice (which, despite Haley's own ability to sing, is dubbed here by crooner Buddy Clark).
Also featured in this fun Fox musical that, fortunately doesn't overdo it in the song department, are Walter Catlett, Si Jenks, Douglas Fowley (who receives pretty prominent billing for what turns out to be little more than a cameo appearance), and uncredited appearances by familiar faces like Robert Lowery (cinema's second Batman – who was an up-and-comer at this point in his career, which is sort of amusing since his career never really went all that far) as a chauffer with a lead foot who gives our protagonist a lift in one memorable scene, Eddie "Rochester" Anderson (who seizes the opportunity make a reference to mention his employer, a Mr. Jack Benny), and the one and only Fred Kelsey – who plays (you guessed it!) a cop.
Fox debuts this long-lost romp to DVD-R as part of the Fox Cinema Archives. The film is presented in a 1.33:1 aspect ratio with mono English sound, and the presentation of both are about as perfect as an obscure late '30s musical could possibly be by today's standards. There are no special features included with this title, but the fact I was able to wake up and enjoy a movie as fun as this with the distinguished cast Wake Up and Live has is plenty for me.
Plus, this was probably the only instance in film to see The Tin Man and Batman ride around in a car together.
Recommended.