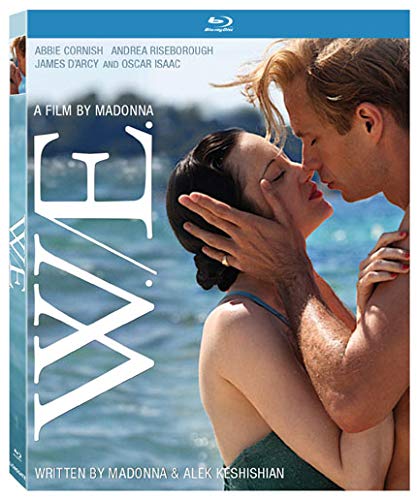 Whenever a singer ventures over into the world of motion pictures, the results are usually dire. Let's take Madonna's career in film, for example. More importantly, let us examine how many truly awful movies she appeared in. From Shanghai Surprise to Swept Away, it seems that a majority of Madonna's performances in front of the camera have wound up either receiving Razzie nominations, extreme backlash from critics and the public alike, or has gone down in history as one of the worst films of the year. Even her cameo in Die Another Day — arguably one of the dumbest James Bond films ever as it already was — dropped the film's IQ down considerably.
And yet, reportedly, Madonna herself is a very intelligent person — a claim that causes you to wonder why she continues to make movies. With her latest moving picture endeavor, however — the romantic drama W.E. — the highly successful singer moves to the other side of the camera as producer/writer/director. Surely, such a relocation must be a good sign, right? The thought of enduring yet another terrible acting performance from her is surely not an issue here. Instead, we get to worry about an entirely different horror: can Madonna write, produce, and direct?
Joining forces with her Truth or Dare cohort Alek Keshishian, Madonna brings us this tale of two women: Wally Winthrop (Abbie Cornish), and Wallis Simpson (Andrea Riseborough). The former is a modern '90s woman in a bad relationship; the latter was the lady whom King Edward VIII fell so madly in love with that he abdicated his spot on the throne. Wally is also very obsessed with Wallis — as her parents named her after the famous '30s socialite — and a new exhibit at Sotheby's showcasing the former Duchess of Windsor's personal possessions entices her.
Soon, a Russian immigrant named Evgeni (Oscar Isaac) is enticing her even further; tempting her to break away from her marriage with a (presumably) unfaithful husband. Meanwhile, we're treated to numerous flashbacks of Wallis and Edward's dramatized lives, complete with a montage sequence wherein Wallis dances to the Sex Pistols — a moment which is part of Wally's imagination, as best I can tell. Of course, it's hard to tell who's imaging what during W.E., because the viewer charged with sitting through this lurid ordeal in its entirety will be imaging something far more interesting: such as the end of the world, the spontaneous combustion of your television set, or the sudden appearance of a wormhole, thus allowing you to journey into an alternate universe completely devoid of Madonna movies.
While her direction isn't the worst I've see as of late, it certainly isn't the best, either. Were she able to act herself, she might be able to direct her own stars — or at least pick out some better ones. The biggest flaw, of course, is the story itself — because, evidently, Madonna didn't have enough material for one feature-length film.
Anchor Bay brings us W.E to Blu-ray in a rather stellar video/audio transfer that — as one might expect — is far better than the film probably deserves. The 2.35:1 widescreen presentation is a lovely one, full of strong muted colors (to match the tone of the film), deep blacks, and fine detail. The accompanying DTS-HD Master Audio 5.1 soundtrack also delivers for what it's worth, and English (SDH) and Spanish subtitles are included. In terms of bonus materials, W.E. carries a lone, Standard-Definition featurette that lasts about 23 minutes. The Blu-ray set also comes with a DVD and Digital Copy, allotting you three different targets to shoot at.