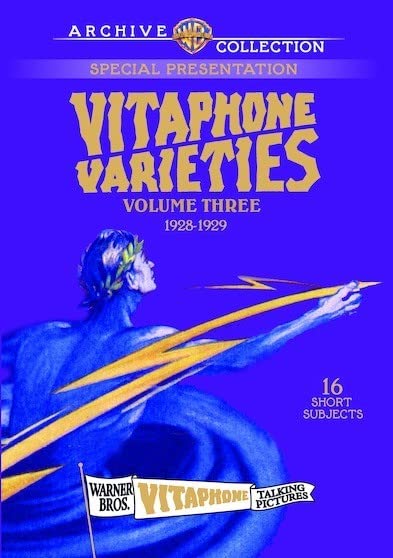 After nearly five years since the last installment in the intermittent series, the Warner Archive Collection has assembled another amazing assortment of forgotten, filmed novelty acts with Vitaphone Varieties, Volume Three: 1928-1929.
Back in the mid 1920s, just a short few years before the various pioneers in the motion picture industry dreamt up a reliable way to record and print sound on to film, the folks at Warner Bros. and First National figured out a different method of providing sound to moving images: a mechanically synced-up record player. And though it may seem completely archaic and downright hipster today, the innovative world of the "Vitaphone" short became just popular enough of nearly 2,000 shorts to be produced and distributed across the US during the late '20s alone.
Usually filmed in either New York City or Los Angeles (as they were about the only technologically advanced cities that could do so at the time), many Vitaphone shorts were essentially nothing more than an assortment of various vaudeville acts that their respective performers ‒ men and women who ranged from uniquely talented to just plain strange ‒ had timed down to a science after years of repetition. And that's what we get here in the WAC's Vitaphone Varieties, Volume Three: 1928-1929, which presents us with 16 more lost acts from yesteryear.
The single-disc offering begins with The Cowboy and the Girl with Ray Mayer and Edith Evans, which is the best-looking short out of the lot, appearing immediately after some notes about its restoration (The Vitaphone Project and its sponsers/backers/contributors deserve a great deal of thanks for their efforts to preserve these classics). From there, we are treated to a variety of other musical/novelty performances, ranging from a pair of odd fellows who make music from inflatable objects, to the only known film footage of stage star and impersonatress Zelda Santley in action.
Legendary Yiddish comedienne Molly Picon is also included in the list of sometimes bizarre ‒ but never truly dull ‒ pieces. One highlight for me was the impressive sight of four men rotating counterclockwise between the two pianos they perform the same song on. Another moment of carefully calculated madness is to be found in an act by Herschel Henlere, The Madcap Musician, whose shtick involved posing as the wacko college professor type before he sneakily starts to belt out various tunes to the rhythms of other songs. Really, you'll need to see these to believe them!
So quit wasting your time watching the only redeemable ten seconds of appallingly humiliating hour-long talent shows on YouTube and go for the real deal, kids. Straight from vaudeville and burlesque shows of the past, the Warner Archive Collection's Vitaphone Varieties, Volume Three: 1928-1929 comes Highly Recommended.