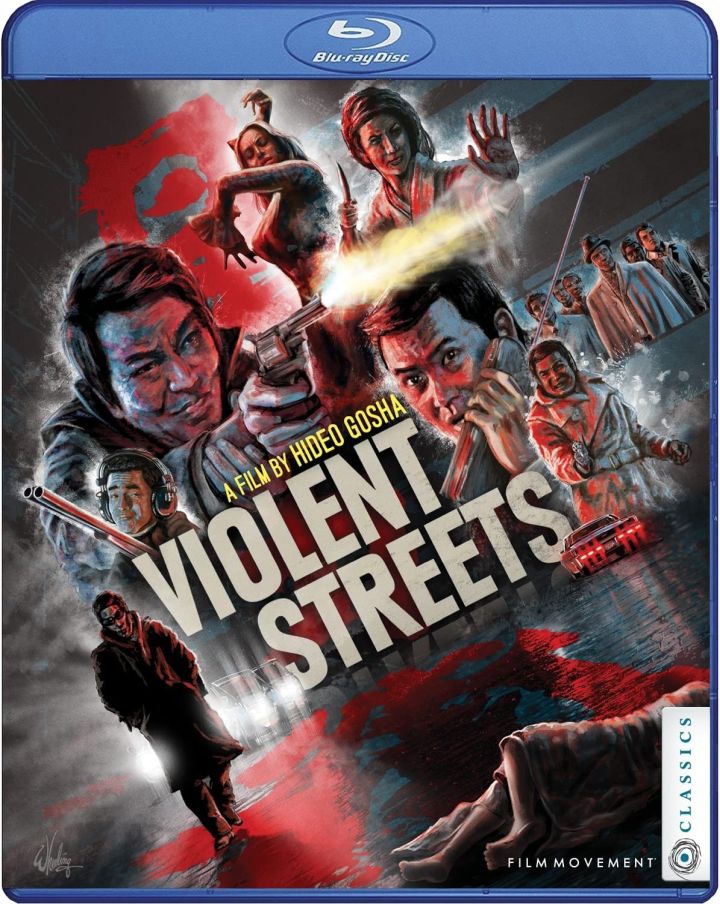 Cinema Sentries has teamed up with Film Movement to award three lucky readers Violent Streets on Blu-ray. The movie became available on Blu-ray and DVD on May 16. For those wanting to learn more, read the press release below and Kent Conrad's review.
Sometimes regarded as not only among Gosha's finest films but among the finest yakuza films ever made, VIOLENT STREETS (1974, 96 mins, 2.35:1 Widescreen, Mono) is a brutal, gripping, kinetic action yarn in which legendary gangster-turned-actor Noboru Ando plays Egawa, a retired yakuza underboss, now nightclub owner, who gets pulled back into the life when his old comrades demand control of his club. Meanwhile, a gang war quietly roiling behind the scenes erupts into open violence in response to a high-profile kidnapping, lending unimaginably high stakes to Egawa's reemergence onto the yakuza scene. The result is a kinetic and stylish explosion of deception, mayhem, and death that leaves no one safe – and a masterpiece of 1970's yakuza cinema, a pulpy, pungent thriller.

Films from the Far Reaches said "Violent Streets is one of the wildest, bloodiest and most visually stunning Yakuza yarns ever made…[it's] a masterpiece, plain and simple. One of Gosha's best (just maybe his very best) and one of the crowning achievements in Japan's Yakuza cycle of the 70s. A must see," and Joseph Perry of When It Was Cool said the film "boasts engrossing performances, taut direction, double-crosses galore, eye-popping visuals, and plenty of offbeat moments," and Ruben Rosario of Film Monthly called it "an insane delight to behold."
The contest is only open to residents of the continental U.S. Upon notification, recipients will need to provide their own valid address (within 48 hours of email notification); no P.O. Boxes. Failure to do so will forfeit prize and another winner will be randomly selected. Cinema Sentries does not enter into any contract or guarantee with prize participants or any visitors to our site.
a Rafflecopter giveaway
If you don't want to wait, click on the Amazon link above and help us keep the lights on.