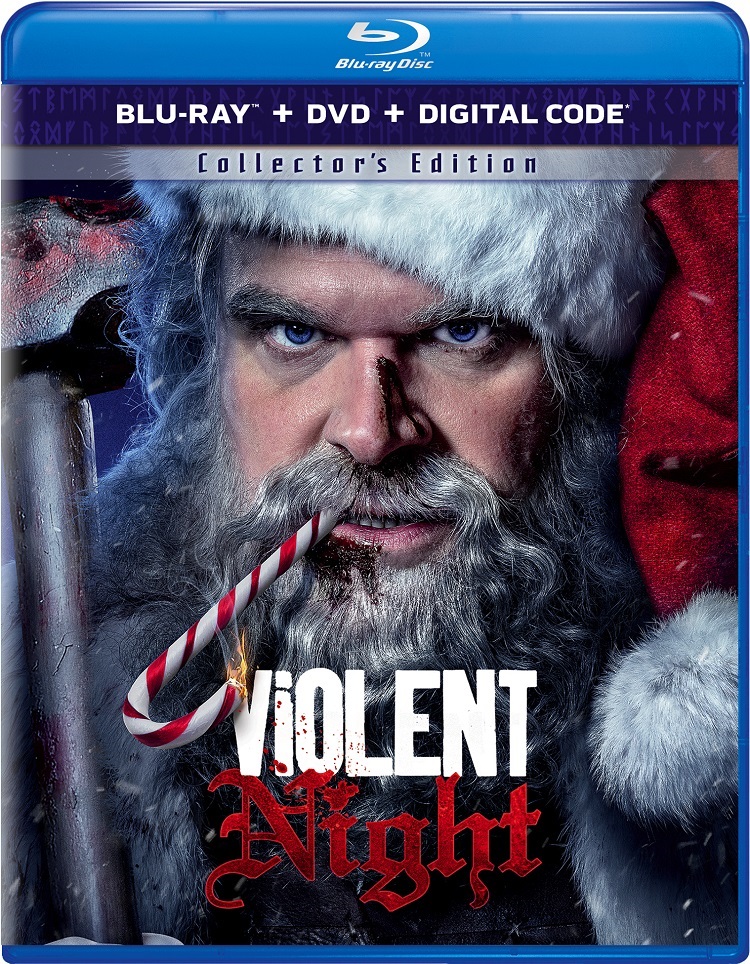 Director Tommy Wirkola's Violent Night opens with Santa (David Harbour) having grown disillusioned with his job, bringing to mind Rankin/Bass' classic Christmas TV special, The Year Without a Santa Claus. Although rather than leaving viewers with memorable songs like the special, the movie leaves viewers with bloody mayhem.
Jason (Alex Hassell) and Linda (Alexis Louder) Lightstone are an estranged married couple. They, along with 7-year-old daughter Trudy (Leah Brady), stay at his rich mother Gertrude's (Beverly D'Angelo) estate on Christmas Eve. Also joining them are Jason's sister, Alva (Edi Patterson); her husband, struggling actor Morgan Steel (Cam Gigandet); and their influencer son, Bert (Alexander Elliot). Jason's mother and sister are rude and obnoxious to everyone, so there's little sympathy when a criminal gang led by Scrooge (John Leguizamo) invades the estate looking for $300 million Gertrude has stashed in her vault.
During his normal course of business that evening, Santa stops at Gertrude's. However, he is seen by one of Scrooge's henchmen, and during their struggle, Santa's reindeer are scared away, leaving him behind to take on the criminals. This movie brings to mind Die Hard, and like John McLane, Santa has some help. Trudy takes out a few bad guys, explicitly stating she's going to copy Home Alone. But even Santa has limits to the amount of damage he can take. Will there be enough Christmas magic for him to triumph, especially when so many don't believe he's real?
Violent Night is slow to get going and has too many characters, but once Santa goes into Rambo mode at Gertrude's, the movie sustains interest until the end. Harbour delivers a fun performance. His Santa has an interesting history, as does Scrooge when it comes to his distaste for Christmas. The script also has a couple good twists that keep the story interesting.
The video has been given a 1080p /MPEG-4 AVC encoded transfer displayed in its original aspect ratio of 2.39:1. The colors come through with strong hues, like the dark reds in the blood effects and Santa's suit. Blacks vary in appearance. The image's sharp focus reveals depth within the frame and fine texture details. However, the sharpness causes some digital effects to look artificial, as seen in some blood splattering.

The audio is available in DTS-HD Master Audio 7.1. Dialogue is clear. Ambient effects and composer Dominic Lewis' score fill the surrounds. Sounds are positioned well and move channels. The guns and explosions come through with great oomph thanks to the subwoofer but they never get so strong that they overwhelm the system.
The HD Bonus Features are:
Deleted and Extended Scenes (19 min): Available to view with a Play-All option, there are eight deleted scenes along with a cute Cast Call Back, and Extended Scenes that run almost seven minutes.
Quarrelin' Kringle (4 min): Harbour, who was the first choice to play the part, talks about why the character appealed to me.Cast and crew also weigh in on the character and actor.
Santa's Helpers: The Making of Violent Night(6 min):Producer David Leitch and Wirkola lead the interviews.
Deck the Halls with Brawls (6 min): A look at the action scenes.
Audio Commentary: Wirkola, producer Guy Danella, and writers Pat Casey and Josh Miller gather to offers insight about the movie.
"Violent Night" is certainly an apt title as there's quite a bit of violence once the bad guys take over Gertrude's, resulting in a steady stream of gore, mostly CGI but some practical effects, too. That in combination with the foul language and dark humor will limit the number of families that watch it during their holiday get-togethers. But those looking for an offbeat Christmas movie should consider Violent Night once the kiddies and old folks go to bed. The high-definition presentation on the Blu-ray is satisfactory even though the bonus features are limited.