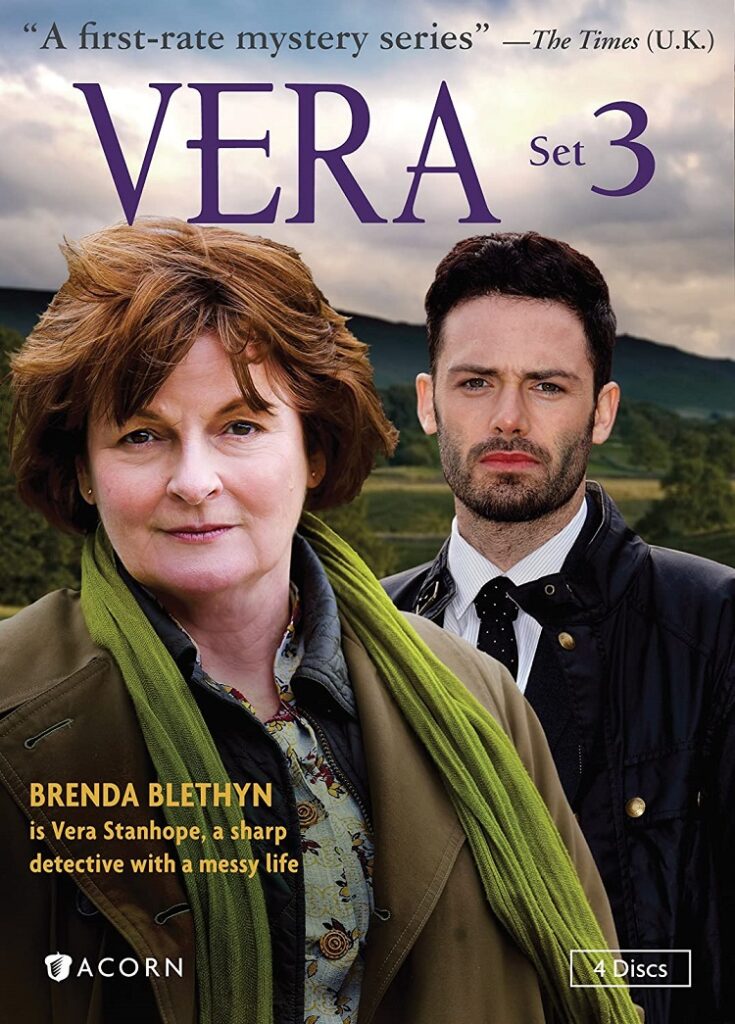 Detective Chief Inspector Vera Stanhope reminds me of Miss Marple (though that might just be her age and her sex) and Paddington Bear (though that might just be her hat.) Much like Miss Marple (and Paddington Bear, for all I know), she uses her gentile outward appearance and kind manners to hide a deep intellect and cunning insight, which throws off the people she questions and criminals she's chasing.
Vera: Set 3 contains all four made-for-television movies from Series 3 of the British series. It stars Brenda Blethyn as DCI Stanhope and David Leon as her Detective Sergeant Joe Ashworth.
I'm a great lover of crime dramas but I am always more interested in the characters than the actual mystery. For my money, an intricate, well-calculated mystery is easily ruined by dull characters. Whereas your average, run-of-the-mill story can be thoroughly enjoyed when you've got well-developed and interesting characters.
Vera is a great character. She's a bit older than most TV detectives, and frumpy. She tends to address people politely, calls everybody "luv," and she has a habit of punctuating her questions with "hmmm." This causes her witnesses and adversaries to mistake her for the kindly neighbor who is a bit off and odd. But underneath that fluffy exterior lies a strong intellect and a dedicated detecting mind. She's got a biting wit, plenty of guile, and, to those who know her, a burning temper. Blethyn is a terrific actress and she's completely enveloped in this character.
Unfortunately, none of the secondary characters are particularly well fleshed out. Sergeant Ashworth follows her around to most places and they do a great deal of talking. Sometimes they talk about their personal lives but mostly he seems to exist so that she can have someone to bounce various theories off of and for the audience to understand where the plot is going.
But the rest of her detectives are pretty thinly written. She tells them to do various things but rarely does the camera follow them. Usually they are regulated to simply tossing out expository points to move the plot along. I've now seen four movie length episodes of the series and I can barely differentiate between these characters.
The mysteries are decent. None of them stood out above the traditional crime drama mold. None of them made me take any particular notice. But they serve their purpose well enough. There are a few plot holes, and a few more moments where one's disbelief can't quite handle being suspended, but this is no more than your average show within the genre.
The writing does well in the details. For example, at the beginning of one episode there is a group of teenagers camping out. They are drinking beers and playing about like teenagers do. One boy has a guitar and is playing a little instrumental blues number. Another boy, the jock type, rails on him for playing arty-style music and asks him to play something real. He then launches into "Smoke on the Water" and the jock shouts his approval. It's a small moment and unimportant to the plot, but it gives flesh to the story and makes it more real.
The cinematography is gorgeous. The show takes place in the fictional Northumberland area of northern England and the camera work really highlights the haunting, cold beauty of the land. There are also lots of extreme close-ups of various small things like a stair rail, or a tool left outside. Small things that again give flesh and details to the setting and place.
Vera: Set 3 is a well-made, well-drawn series that would make an excellent part of anyone's mystery set. The four episodes included in the set are as follows:
"Castles in the Air" – A woman, Lizzie, is shot dead while on a spa weekend in the country. Corinne, the woman who gave Lizzie the holiday, is later ran down and killed. Vera tracks down the connection between the two and solves the case.
"Poster Child" – On the eve of retirement, surgeon Dan Marsden s shot dead and his two daughters are taken. One of the daughters, Mira, is an Iraqi war orphan and it seems that another Iraqi from Mira's hometown has taken the girls, but to what purpose?
"Young Gods" – A top of the class banker, Gideon Frane, catches fire, lit up like a torch, and plunges into a nearby river, drowning himself. Vera and her team talk to the head teacher at Gideon's former posh school and various old friends to determine just who might want to end his life in such a brutal way.
"Prodigal Son" – A former cop is stabbed to death outside a pub. Vera finds 6,000 pounds and a sack full of phones in his trunk. The gang must talk to his estranged family to determine why and who might have wanted him dead. Liam Cunningham (Game of Thones) guest stars.
There are no special features.