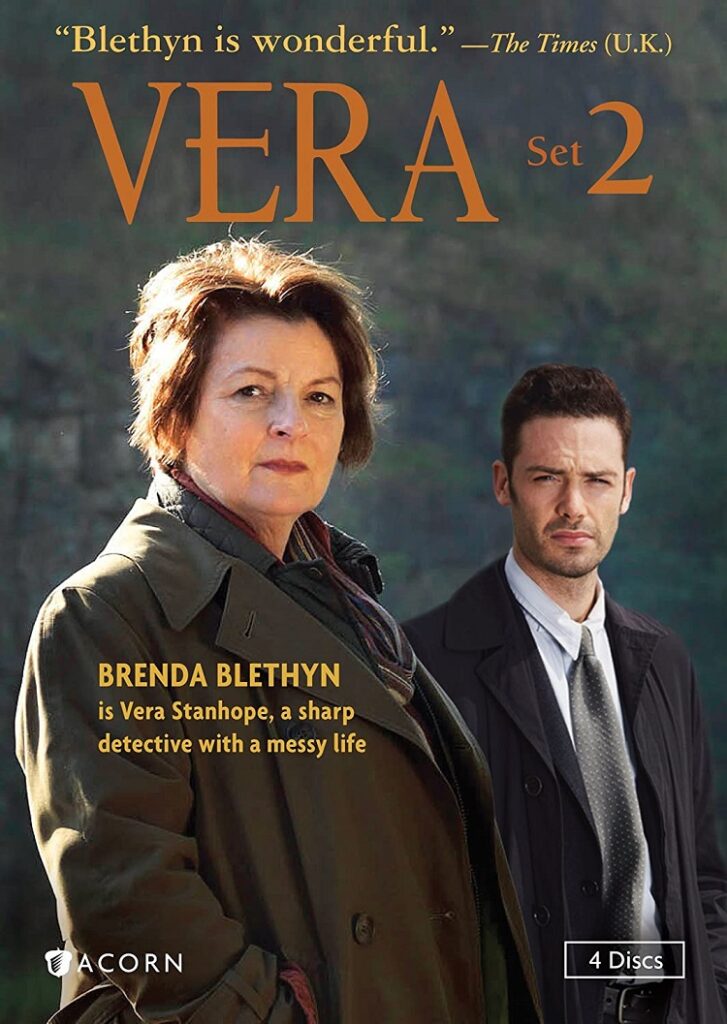 There's something irresistible about old-timers solving crimes, although the quality of those crime shows isn't always timeless. Thankfully, this vehicle for Oscar-nominated actress Brenda Blethyn is firmly in the success column, featuring decent writing, slick production, and believable characters. If you haven't watched the show before, it's perfectly ok to dive right into this second set since each story is self-contained and the characters are more concerned with solving the crime of the week than developing their own arcs.
Blethyn plays obsessive DCI Vera Stanhope, a veteran cop who pursues criminals with laser-like focus and intensity. She may be approaching retirement, but she's far from going quietly or assuming a less-demanding role. Instead, she rules her department and challenges her fellow detectives to a constant drive for success, barreling through each investigation like a force of nature completely unconcerned with fostering relationships. She's not exactly curmudgeonly, but she's definitely all business with little time for fluff. Her frumpy attire and dogged pursuit of culprits may recall comparisons to Columbo, but her somber tone and borderline depressive mood also bring in shades of Wallander. Don't get the wrong idea; she's actually a joy to watch in action and even though we know she'll always succeed it's consistently rewarding to follow the twisty paths she takes to solve crimes.
The DVD set includes all four episodes from season two. There are no bonus features. Each episode is 90 minutes, so stories have time to breathe and develop some depth. In the first episode, "The Ghost Position", Vera investigates the mysterious suicide of an old work colleague and a fire that left his daughter in a coma. In "Silent Voices", a social worker is murdered while swimming, leading Vera to unravel her shady past before the killer strikes again. In "Sandancers", a private is blown up by a land mine in Afghanistan, and when the rest of his regiment returns home they close ranks against Vera's civilian interference. Meanwhile, she attempts to determine what led to the death of a second solder who had been awarded a Military Cross for his bravery in the aftermath of the explosion. Finally, in "A Certain Samaritan", Vera attempts to ascertain what led to the murder of a young man pushed off a bridge onto a moving truck. All indications are that he was a model citizen, but Vera eventually discovers the truth. The mysteries are actually mysterious for the most part, leaving us guessing about the culprits along with Vera.
The show is set in Northumberland, a quaint area of England that mirrors the setting of the original books by author Ann Cleeves that serve as the inspiration for the series. The small town setting in the northernmost county in England gives the show added character that wouldn't be duplicated in a major metropolitan area. The warmth and beauty of the area serve as a counterbalance to the horrific (but not overly graphic) crimes and Vera's hard-charging ways, and I really enjoyed getting to explore a part of the country we don't see very often.
The show has been a success thus far and will return to UK airwaves next year. However, it's worth noting that while the first series currently airs here on select public stations, this DVD release marks the first time the second series is available to US audiences.