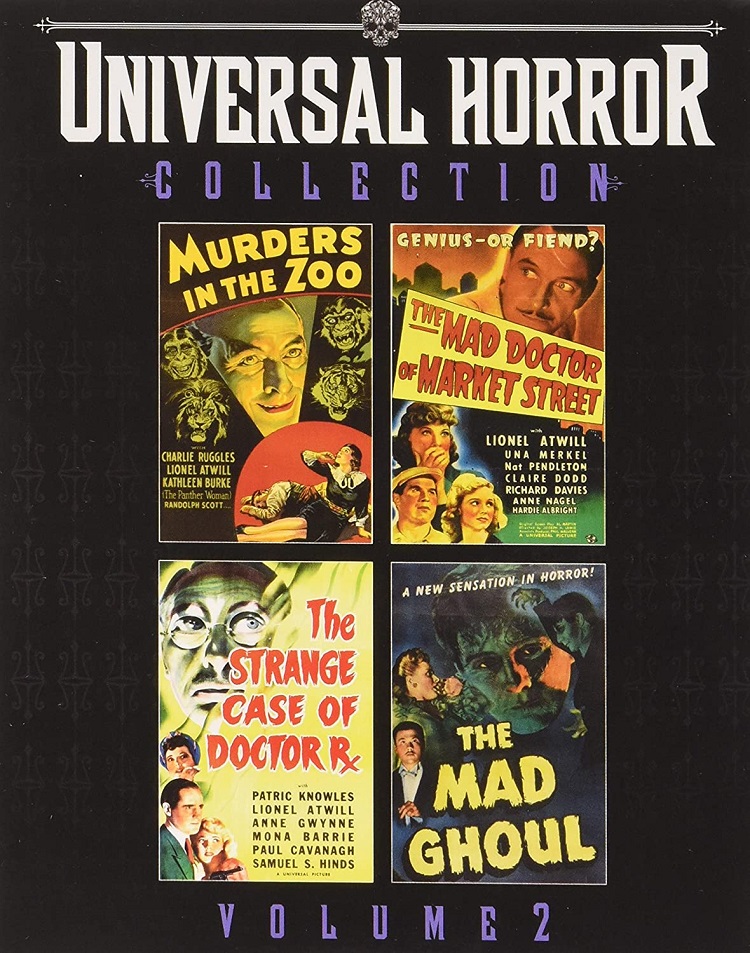 The phrase "classic Universal horror" is most likely to get a vintage monster movie enthusiast to talk nerd shop about the timeless charm and chills of the iconic studio's best-loved creations. Dracula. The Frankenstein monster. The Mummy. The Invisible Man. The Wolf Man. You know, those guys. But there were many more ghoulish productions filmed on the proverbial backlot than some people may realize. In fact, Universal Studios made nearly twice as many non-canon horror movies compared to their major franchise entries.
But it wasn't until Scream Factory unleashed the first volume of the much-needed Universal Horror Collection ‒ a four-disc set of non-franchise highlights starring legendary horror icons Bela Lugosi and Boris Karloff ‒ that High-Definition gurus could at long last sink their teeth into something other than the "usual" fare. Originally dubbed the "The Boris Karloff/Bela Lugosi Collection", the series received a name-change soon after being announced, thereby sending a signal to classic horror lovers that some of the "other" movies they had been craving to see in HD could very well be on the way.
Now, with Scream's Universal Horror Collection, Volume 2, we are treated to just that: four more lesser-known "quickies" (all of which run between 61 to 66 minutes in length, which was typical for B-movies of the era) from the vaults, some of which make their digital home video debuts here. This set dispenses with the services of Bela Lugosi and Boris Karloff, however, instead choosing to cast the inimitable talents of two otherhorror movie icons: Lionel Atwill and George Zucco. While perhaps not as "famous" as their counterparts, both Atwill and Zucco nevertheless managed to carve their own names into the annals of horror, whether they were flying solo, supporting stars like Karloff or Lugosi, or matching wits with Basil Rathbone's Sherlock Holmes playing the infamous Professor Moriarity ‒ something Lugosi or Karloff never had the opportunity to do.
The first disc brings us Murders in the Zoo ‒ a darkly atmospheric pre-Code 1933 classic from Paramount (the rights of which were sold to Universal in 1958). Here, the charmingly sinister (but criminally second-billed) Lionel Atwill plays a millionaire animal specialist/big-game hunter (because it's the 1930s) who, as the movie opens, sews a man's mouth shut in the jungles of the Far East before leaving him there to die for getting too friendly with his onscreen wife, Kathleen Burke. Atwill's fondness for letting nature take its course (with a little helpful manipulation, of course) grows back in the States after impish alcoholic-reporter-turned-jittery-zoo-press-agent Charles Ruggles (who received top-billing) arranges an elaborate fundraising dinner for high-society twits amid caged big cats (again, it's the 1930s). A. Edward Sutherland directed this must-see creepy classic, which also stars Gail Patrick .and a young newbie named Randolph Scott.
Disc Two is also a must-see for Lionel Atwill fans, and introduces us to the first of three Universal titles from the early '40s. Made nearly a decade after Murders in the Zoo, 1942's The Mad Doctor of Market Street once again finds Lionel Atwill running amok the world over, as the eponymous murderer who goes on the lam to avoid arrest, only to wind up shipwrecked on a South Pacific island with murderous, superstitious backlot natives! Despite being the true star of the show, Mr. Atwill was nevertheless given second-billing prior to the film's release, owing to a certain sex scandal of the time (more about that later). The included pre-release trailer clearly advertises Atwill as the main lead, while the finished product gives co-starring comedienne Una Merkel top-billing. Director Joseph H. Lewis blends a delightful brew along with Claire Dodd, Richard Davies, and the always wonderful Nat Pendleton.
Only several months passed between the release of The Mad Doctor of Market Street and Disc Three's presentation, The Strange Case of Doctor Rx (also from '42). By this time, however, Atwill's notoriety (or Universal's embarrassment) had resulted in the actor becoming little more than a novelty heavy ‒ or having his finished filmed roles being cut down altogether. Truly, there can be no better example than in Universal's The Strange Case of Dr. Rx, which stars a very game Patric Knowles as a private eye determined to get to the bottom of a series of alleged murders committed by an eponymous madman. Second-billed Atwill only appears in a handful of scenes (and is cast as a red herring at that), which is most unfortunate. The mostly ad-libbed film from director William Nigh also stars Anne Gwynne, Samuel S. Hinds, Charlie Chan regular Mantan Moreland, and even Shemp Howard.
Moving onto the fourth and final disc, we find ourselves at the mercy of James P. Hogan's The Mad Ghoul. This late 1943 chiller finds third-billed (?!) George Zucco as a college professor/scientist who tempts gullible, lovestruck 27-year-old student David Bruce with his devious scientific discoveries, notably an ancient gas with which he turns Bruce into an unwitting zombie killer who cuts out people's hearts so Zucco can (temporarily) restore him to normal! Zucco's reasoning for it all centers around a woman, naturally: a secret passion for Bruce's coed singer girlfriend, Evelyn Ankers, who is too busy trying to ditch Bruce for pianist Tehren Bey (who, interestingly, received top-billing in advertising materials, despite having a relatively small role). Robert Armstrong also stars as a refreshingly doomed comic relief reporter. While it's just as uneven as most of Universal's canon horror entries from the same time, it is also just as fun to watch.
Mastered in 2K High-Definition from original film elements, the films featured in Scream Factory's Universal Horror Collection, Volume 2 couldn't look or sound any better, considering their age and popularity (or lack thereof). All four flicks are superbly crisp MPEG-4 AVC 1080p encodes, presented in (or at least close to) their intended Academy aspect ratios. The English DTS-HD MA 2.0 mono soundtracks are practically flawless, and are accompanied by optional English (SDH) subtitles.
An audio commentary is available on Disc One from Atwill biographer Gregory William Mank and on Disc Three courtesy film historian Thomas Reader. Mr. Mank also hosts the aforementioned Atwill featurette (Gloriously Wicked: The Life and Legacy of Lionel Atwill), and only the second disc includes an original theatrical trailer. The only consistent special feature found on all four discs is the inclusion of a still gallery, which presents us an amazing collection of vintage publicity stills and poster art, all in beautiful HD.
Housed in a collectible slipcover with a nice little booklet (also replete with publicity stills and artwork), Scream Factory's Universal Horror Collection, Volume 2 is exactly the sort of thing classic creature feature fans such as myself have been waiting to get our hands on for years. A substantial upgrade to the Standard-Definition DVD versions Universal released in the past (usually in specialty order, out-of-print sets or MOD DVD-Rs), these HD preservations are well worth the time and money, and come Highly Recommended by yours truly. Enjoy.