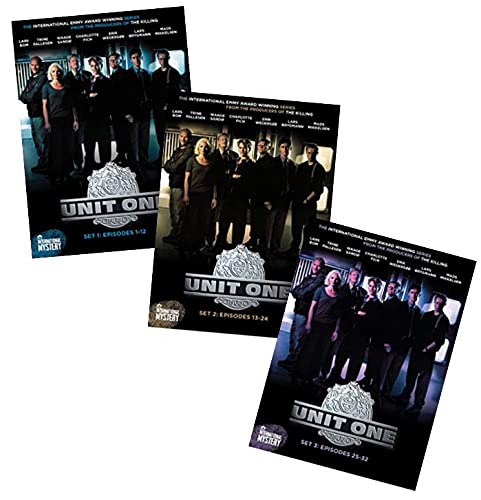 Long before international star Mads Mikkelsen terrorized TV viewers with his take on the role of Hannibal Lecter, he acted on the right side of the law in his native Denmark in this 2000-04 series. The entire series has now been compiled into this three-volume collection for U.S. release, offering viewers a look at his early TV work in a compelling police drama.
Unit One is Denmark's elite mobile detective task force established to assist local police efforts around the country. The detectives don't just travel, they bring their entire office with them in a massive tractor trailer, reporting to wherever cases take them. While the mobile office concept sounds like a unique hook, the show doesn't capitalize on it, possibly because the office looks like a standard stationary setting on the inside but most likely because its inhabitants spend most of their time away from it.
As the series begins, the Unit has just been assigned its first-ever female boss, an ambitious young detective named Ingrid Dahl. She's initially granted the gig on an interim basis, making her first case a must-win in order to gain the permanent promotion. Luckily, she's surrounded by a great team of diverse cops who work exceptionally well together in their common goal of catching the baddies. That's the most interesting aspect of the show, as there isn't one principal star detective but instead a talented ensemble that bring different strengths to each case.
Chief among those oddball personalities are Mikkelsen's bad-boy cop Allan Fischer and Lars Brygmann's Mentalist-like Thomas La Cour. Mikkelsen wears Fischer's rebel role a bit too heavily, with permanent stubble and a leather jacket driving home the point with a sledgehammer, but it's always enjoyable watching him operating slightly outside the law to achieve results. La Cour is a nut, an introverted guy who retraces the paths of criminals to re-enact their mental state at the time of the crimes, utilizing keen powers of observation and an internal monologue to turn clues into convictions.
Rounding out the Unit are veteran detective IP Sorensen, logistics specialist Gaby Levin, and ex-national soccer star turned Unit driver Johnny Olsen. They aren't quite as intriguing characters, but all offer unique strengths to the team's formidable crime-stopping roster. The team is also overseen remotely by Dahl's chief, a grizzled veteran who mostly stays out of their way. The writers don't spend too much time on the personal lives of the detectives, but weave in enough family dynamics to add depth to the characters, such as a tragedy in Dahl's home life and a brewing romance between Levin and Olsen.
As for the crimes, they're nicely varied and inspired by actual cases, ranging from the inevitable murders to kidnapping, extortion, and even human trafficking. Also mirroring real life, the detectives aren't always successful, most notably in a harrowing case where they fail to apprehend their suspect before he closes the case on himself and his family. Some of the stories are so involved that they stretch across two episodes, but most are wrapped up in an hour.
Although the criminal-justice process hews closely to what we're accustomed to, the Danishness periodically shines through, particularly with their odd requirement of announcing the time prior to making an arrest, as in "the time is 9:13 and I'm arresting you for the murder of Mr. Smith". Due to the mobile cases, we're also treated to extensive Danish exteriors, and while they're generally not terribly scenic, they're still a welcome change of pace and serve as a bit of a travelogue. Regrettably, the production values are a bit poor, and the show favors a palette heavy on bleak, muted steel gray colors that occasionally make the show feel like a Danish cousin of Gotham. Still, the good acting and varied cases far outweigh the presentation issues and make this a worthy addition to your international mystery collection.
All 32 episodes of the series are present in these sets, and while it's not entirely essential to watch them in order, there are shifting relationship changes over time within the team and their families that make sequential viewing recommended. Sadly, no bonus features are included, but it's bonus enough that the series has finally made its way to U.S. DVD.