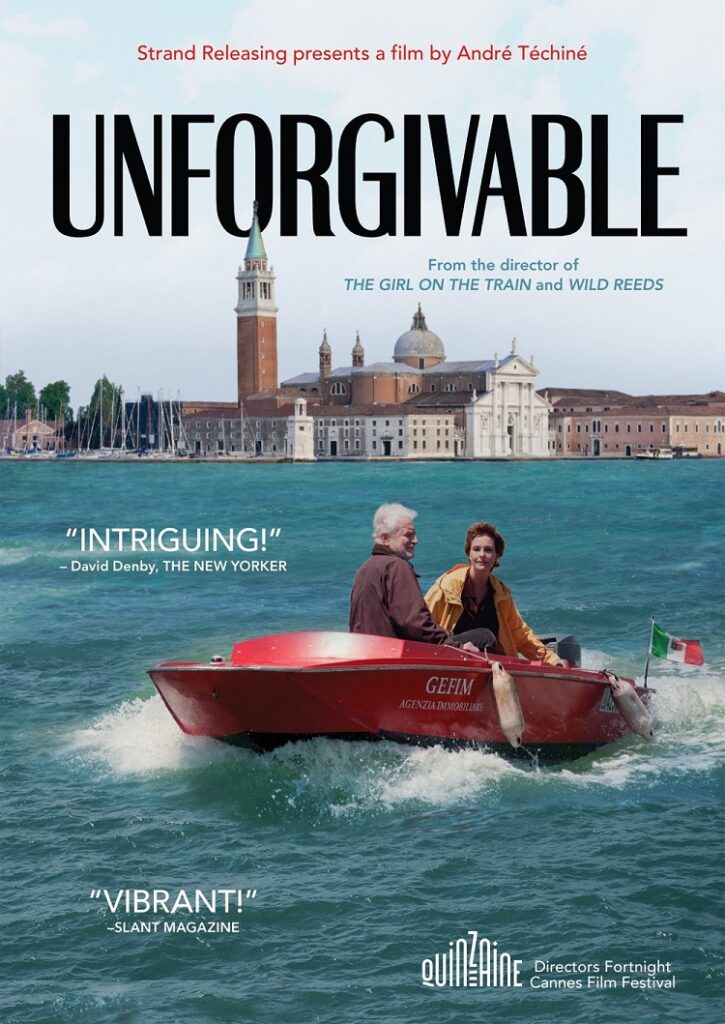 Directed by André Téchiné and based on a novel by Philippe Djian, Unforgivable is kind of an odd duck. It follows all the twists and turns of a French soap opera, swerving down wacky passageways with imbroglios that never quite go anywhere and ferocity that only just fizzes beneath the surface. It's hard to suggest that this is a special or unique motion picture and Téchiné certainly is capable of more.
Much is made of the veritable sea of oblique characters, most of who seem to pop in and out of the protagonist's life at arbitrary intervals. Keeping things straight takes some doing, emulating the writer's block and hindrances that the softly wild Francis (André Dussollier) is put through. Téchiné deserves credit for craftily conveying the haze, but that's not to say that Unforgivable is a good film.
Francis is a writer, of course. He's looking for a change of scenery, so Venice is the place. The rural island of Sant'Erasmo is, more specifically, where he sets up shop. Prior to making the move, Francis impulsively hitches his wagon to real estate agent Judith (Carole Bouquet). This is presumably a case of something at first sight. Take your pick.
The relationship between Francis and Judith hits a number of snags along the way. For one thing, Francis' disaffected daughter Alice (Mélanie Thierry) has come to visit. But it isn't long before Alice goes missing, likely to have hooked up with a pert drug-dealing blue-blood (Andrea Pergolesi). Francis hires a retired private eye (Andriani Asti) who happens to be an ex-lover of Judith's. But wait, there's more…
When that plot strand evaporates, it turns out that Francis' paranoia about Judith is growing. He hires the private eye's son (Mauro Conte), a troubled kid with an ugly past and a dog that matches the one from The Artist, to follow his wife. This turns up a number of obstacles of its own and even introduces a peculiar and involuntary father-son rapport between the adolescent and Francis.
Téchiné is seemingly never satisfied and his Unforgivable loads on even more plot elements and romantic kinks in the proverbial hosepipe. This makes developing connections a near impossible act, so it's undoubtedly best to let things kind of glaze over in a potpourri of sticky soap opera convention and bitter melodrama.
For all the time we spend with Francis, Téchiné's direction and Mehdi Ben Attia script fails to really let us inside. The irony of his writer's block is a nearly comedic touch in that he can't write when he's overly pleased with his life, so Judith provides those complications in order to get his juices flowing. At the same time, his writing certainly takes a backseat to all the oddness in his personal life.
The females in Téchiné's appear to be a series of slippery, aloof personalities. We feel the closest to the private eye, a woman who enjoys a drink but knows her limits and knows what she likes. She is kind of tenuously linked to Judith in a way that differs from the Dijian book for reasons that only seem to satisfy proximity. It's a complication that obediently muddies the water for Francis, but accomplishes little else.
The performances are decent in a relatively basic fashion. There's not a lot of emotion, which is likely the point, and the performers do well to match the caginess of their characters. Bouquet is particularly good at keeping her character's dismissiveness front and centre. She meshes well with Dussollier's Francis, keeping his character guessing.
But beyond the capable performances, it's really hard to get a read on Unforgivable. It's a convoluted film in many ways, one that doesn't differ much from the turbulent waters of soap operas and melodramas. To make matters worse, the skilled Téchiné doesn't allow things to go beneath the surface no matter how ripe the opportunities may be.