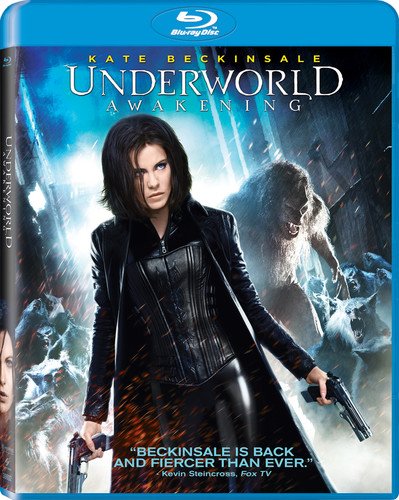 Like its zombie counterpart — the increasingly-tedious Resident Evil series — the vampire/werewolf Underworld film franchise has now reached a point so low that you have to wonder if it's even possible for this entire legacy to even have a nadir. With the first three films just barely piquing past the point of being tolerable as it stands (and that praise in itself is somewhat debatable), it's fairly plausible that a fourth feature — especially one that creeped into cinemas without any advance screening for critics — will have just enough steam in it to elevate it slightly above the dreaded Direct-to-Video market level.
And surely, Underworld: Awakening is a half-assed flick. Jumping into the world of 3D movies (much like the appallingly-bad Resident Evil: Afterlife), this one opens with a recap of the first three films (well, the first two, mostly: the third was a quasi-related prequel after all) before our shadowy heroine Selene (Kate Beckinsale, who's looks damn good for pushing 40) announces that the human race declared war on both the Lycan and the Vampire clans — banding together to eradicate the forces of darkness. After being captured by the mortals, Selene is released from a frozen hibernation several years later — only to find that the world has been all but "cleansed" of the problems humanity was once pitted against.
But not really. Secret sects are still concealed about, biding their time. Meanwhile, a nefarious human scientist (Stephen Rea, whose American accent leaves a lot to be desired) is up to something quite ghastly, and there's an entirely new species of ghastly ghouls ready to be unleashed upon the world. Over time, Selene joins forces with a human cop (Michael Ealy), a vampire (Theo James), and a little vampire girl (India Eisley) whose origins come as a bit of a surprise to our lead character (as well as the viewer — providing they can make it that far, that is). Charles Dance lends a bit of AARP cred as an aged vampire lord in this poorly-written snoozer chockfull of subpar 3D CGI effects and mediocre acting.
But worst of all, the film doesn't even benefit from a good soundtrack like its predecessors did. All we get here is a typically awful Evanescence tune over the end credits (although a CD soundtrack was issured containing all kinds of remixes from artists like The Cure, Ministry, William Control, and Linkin Park) — which should tell you how much effort they put into this gimmicky 3D movie.
Sony Pictures Home Entertainment brings Underworld: Awakening to Blu-ray in both 3D and 2D versions. The standard Region Free Blu-ray boasts a superb video presentation and rockin' DTS-HD Master Audio 7.1 soundtrack, with a French DTS-HD MA 5.1 audio mix in accompaniment and subtitles available in English (SDH), French, and Spanish. Special features for this release include an audio commentary with various crewmembers behind this boring retread, several featurettes that go behind-the-scenes into the characters and Underworld universe, a Picture-in-Picture option, music video, blooper reel, UltraViolet digital copy, and several trailers for other Sony releases.
If you absolutely must see it, rent it first.