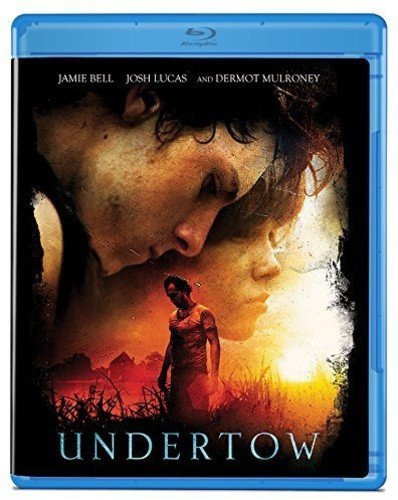 The opening sequence of David Gordon Green's third film, Undertow, portends an interesting stylistic progression for the filmmaker, his Terrence Malick-influenced imagery pushed to a frenetic pace, cut to pieces by jarring cuts, freeze-frames and flashes to negative as teen Chris (Jamie Bell) flees from his girlfriend's angry father. Set to a propulsive Philip Glass score, it's a sequence that commands attention, even if it's more freewheeling pastiche than a genuinely original moment.
The rest of Undertow settles into a more staid visual approach, the images struggling to keep up with the operatic grandeur of Glass's score. While Green's early work has almost always been mentioned in the same breath as Malick (who actually produced this film), a more unifying conception of his work might focus on its depictions of toxic masculinity in lower-class societies. One can see the nadir of this approach in Green's 2013 abysmal entry Joe, but it had already become a little tiresome here.
The other major influence on Undertow is Night of the Hunter, in plot if not in look, as Chris and his younger brother, Tim (Devon Alan), are forced to flee their rural Georgia home, pursued by their uncle Deel (Josh Lucas). Recently sprung from jail, Deel had paid a visit to the boys and their father (Dermot Mulroney), but a dispute over money and the boys' late mother stokes Deel's rage and his violent streak.
For what is essentially a chase film, Undertow is disappointingly free of tension, its Southern Gothic picaresque storytelling offering some appealing character moments (Eddie Rouse and Patrice Johnson as a kindly couple, Pat Healy as a neurotic mechanic), but not many thrills.
Bell is a good fit for the lead role, his gentle, introspective demeanor a stark contrast to the violent situation he becomes caught in. Alan's performance isn't quite so nuanced, but poor kid — his character's defining trait it that he likes to eat paint and mud, and he's saddled with painful ulcers because of it.
Lucas, who upended all my expectations of him as an actor with his bravura turn as an abrasive asshole in last year's The Mend, is a credible villain, though perhaps a bit too willing to emphasize his utter evilness. And for fans of Kristen Stewart, well, she's here in a small role as Chris's girlfriend.
Fans of Green's film will be pleased with Olive Films' Blu-ray upgrade, which offers a 1080p, 1.85:1 transfer that possesses a nice HD sheen, even if a slight muddiness seems to indicate a bit of a dated master. Still, colors are consistent and reasonably vibrant, damage is limited to the faintest of speckling and the image is an easy upgrade over the previous DVD release. Audio is a clean 2.0 DTS-HD Master Audio track that serves Glass's score well.
Unfortunately, the disc falls far short of the MGM DVD in the extras department, dropping everything but the theatrical trailer. Hold onto the DVD if you want the making-of doc, audio commentary, and deleted scenes.