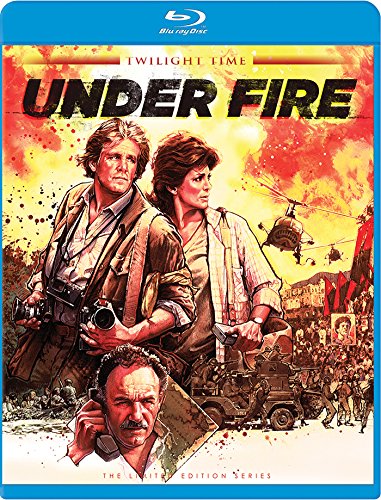 With a story focusing on a journalist, a photographer, and a revolution, Twilight Time's release of Roger Spottiswoode's 1983 drama Under Fire sounds like a title that should have been released with their September 2014 line-up – as it would have made a great pairing with Oliver Stone's Salvador. But while both movies are based on actual events involving members of the news media becoming involved in a dangerous rebellion between indigenous oppressed folk and corrupt politicians, Spottiswoode's elegantly crafted 1983 film graciously succeeds in rising above just about everything Stone bombarded his viewers with three years later.
Plus, not only is there a Wilhelm Scream within the first four minutes in Under Fire, but the movie also co-stars a young Ed Harris, too. And while Harris' role of Oates is ultimately just as sleazy, crass, and unlikable as every single main player in Stone's drug-fueled political thriller, the fact that his is only a minor character came as a huge and very welcomed blessing to me after having sat through Salvador a month ago. Additionally, it only helps matters that director Spottiswoode delivers a much more feasible fictional film that were inspired by actual events in 1979 during the Nicaraguan Revolution.
Nick Nolte – one of four aging male actors who tend to make my skin crawl (along with Jon Voight, Tom Berenger, and Gary Busey) delivers a magnificent performance here as an eager war photographer by the name of Price, who grows weary of covering the events taking place in Chad at the time and follows fellow journalists Gene Hackman and Joanna Cassidy off to Central America to check out what they have all heard is a much more interesting conflict. And it is at that, especially once the rebels hear Gene singin' the blues and respond with hand grenades (something that happens to me nearly every time I take the stage) and the relationship the trio once had turns into a love triangle.
Bad timing for their unbridled lust and envy aside, our heroes soon encounter even more problems as reigning Nicaraguan President Somoza (René Enríquez) tightens his grip on the war torn country in order to locate the mysterious Rafeal, the elusive leader of the liberation front who have simply had enough of his regime. The impartial Price searches for Rafael, too, before discovering that his own hunt may be leaving a trail for other (bad) parties to follow – including the kill-crazy Oates. Jean-Louis Trintignant (in his first American film) plays a Frenchman (surprise) who may or may not be a spy (just ask him), Holly Palance (daughter of Jack, who played Fidel Castro in another September 2014 Twilight Time release about revolutionaries, the hilariously woeful Che) and Richard Masur (also in The Believers, released by Twilight Time this month) is a despicable PR guy for President Somoza.
The story could well have been applied to several dozen motion pictures and television shows in the '80s alone, and there were many other movies akin to this one. However, Under Fire accomplished what many of those other features/series did not succeed in doing: it handles its drama in an efficiently effective manner, presenting its true story in a far more believable fashion than Stone's (and I'm only using Salvador as an example – well, mostly). Nick Nolte in particular has everything down pat from, from his character itself to smaller, intricate items (so much so that many photographers – novice and expert alike – have praised his realistic handling of his onscreen equipment).
Gene Hackman and Joanna Cassidy bring life to parts that would normally just be seen as "generic mentor figure guy" and "useless lover girl character" were this film made by less experienced (or perhaps interested) hands. Both of Nolte's co-stars received award nominations near and far (with the wonderful Ms. Cassidy walking away with two wins), while the Oscars – staying true to tradition – were only interested in movies like Terms of Endearment and The Right Stuff; Under Fire composer Jerry Goldsmith earned a modest nomination for Best Music, despite turning out an exceptionally fine score (losing out in the end to Tom Conti's contribution to The Right Stuff, naturally), a portion of which wound up being stolen/borrowed by Quentin Tarantino for his rip-off homage to the original Django.
Fortunately, anyone who shares in the Oscar conspiracy theory (somebody get Oliver Stone of the horn – quick!) will be able to rest easy with Twilight Time's Blu-ray presentation of Under Fire, as one of the special features included here is an audio track featuring Goldsmith's isolated score (with some sound effects added) in a 2.0 DTS-HD MA lossless offering. But the goodies don't end there, as Under Fire was obviously much more of a hit with Twilight Time now than the Academy then, and the Blu-ray also sports two newly-recorded audio commentaries, a collection of images from photojournalist Matthew Naythons (who was on assignment in Nicaragua in '79, and who served as a technical advisor for the film), and even an introduction by Joanna Cassidy herself.
The latter featurette, recorded during the making of another release from Scorpion Releasing, finds the actress briefly reminiscing on the project and her co-star, Mr. Nolte. Returning back to the subject of the audio commentaries, the first track features director Roger Spottiswoode, assistant editor Paul Seydor, photojournalist Matthew Naythons, and Twilight Time's own Nick Redman. Redman is also on-hand for the second audio commentary, this time heralded by music mixer/producer Bruce Botnick, music editor Kenny Hall, and Redman's fellow film historians Jeff Bond and Julie Kirgo – the latter of whom also contributed the disc's liner notes. The movie's original theatrical trailer is also included.
As for the feature film itself, Under Fire is presented in a 1080p transfer that presents the movie in its original 1.85:1 aspect ratio. The video quality is quite impressive here for a 31-year-old title that didn't fare too terribly well at the US box office way back when, and which we've only seen via inferior VHS and DVD transfers after that. Accompanying the dynamic video presentation is a lively and very crisp 2.0 DTS-HS MA lossless audio track with optional white English (SDH) subtitles. Non-removable yellow English subtitles appear for some dialogue spoken in Spanish.
All in all, Under Fire is one of the many movies that just didn't get the chance to shine when it was first released by Orion Pictures in 1983. Since then, viewers have been able to (re)discover and cherish the thrilling drama, and Twilight Time's new Blu-ray release is most assuredly the best possible way to experience this underrated gem. The limited edition release is restricted to pressing of only 3,000 units while supplies last.