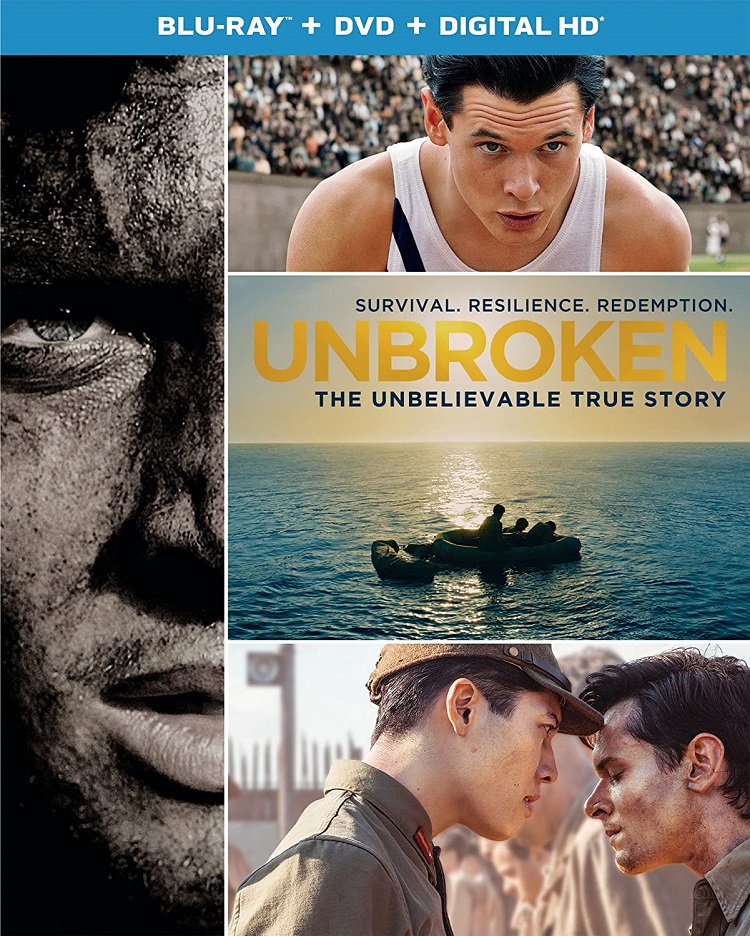 Despite having seen the trailer for the film at the cinema prior to its release, it wasn't until I saw the teaser/standee artwork for the WWII/POW movie Unbroken that it stood out to me. And that was because once I saw a man standing with his back to us, holding a heavy wood beam over his head, a golden-colored and familiar-looking font spelling out the name of the film, I instantly thought of Rocky Balboa. I had every reason to, too, as the promotional artwork damn near plagiarized the cover of the more popular 2006 Sylvester Stallone sequel. When the Blu-ray of Unbroken arrived on my doorstep one day, I looked at the cover and thought to myself "sports movie."
Here, in a semi-biographical moving picture outing ripped from the pages of Louis Zamperini's second (!) biography, as written by Seabiscuit: An American Legend author Laura Hillenbrand, Ms. Jolie takes something that would have been best suited as a mini-series made for a television network that leaned a little further toward the inspirational side and scrunches it up into a something really long that somehow manages to convey little else. You know, much like I just did with that sentence there. English Kevin Bacon wannabe Jack O'Connell dies his hair unconvincingly jetblack as he attempts to portray the late Olympic runner/POW survivor/Christian inspirational speaker, although the latter is noticeably excluded from the film.Truth be told, Unbroken is all of those things — sports movie, World War II film, prisoner of war flick — and more. And yet, tragically, it is also much, much less than that. One of the few movies that has ever tried to not draw attention to its creative team, Universal's 2014 biopic of the late Louis Zamperini makes little — if any — note to the fact that it was directed by actress Angelina Jolie and co-written by Joel and Ethan Coen. I suppose that's for the best, however, especially for the last two artists, as, ultimately, Unbroken could have not only done with a lot of mending. Yet, at the same time, it would have greatly benefitted all had Angelina Jolie remembered the phrase, "If it ain't broke, don't fix it."
Much like Ridley Scott's dud of an agnostic Biblical epic, Jolie decided by removing not only her name from the promotional advertising of the film, but the real life character's latter-day religious affiliation — which followed a bout with extreme post-traumatic stress disorder and alcoholism, also missing from the finished work — that it would probably be easier to sell. And yet they premiered the movie on Christmas anyway. Go figure. So, what follows is a two hour and fifteen minute yarn of an atheist kid who gets bullied, goes to war, gets shot down, spends 47 days at sea in a liferaft, is and captured and subsequently tortured by the Japanese (who did not play fair) for years, and who suddenly one day finds ___ and becomes stronger.
I'm sure the devout, especially those who were of the same denomination as the late Mr. Zamperini, were a bit befuddled by the lack of the whole God aspect in the story. Although, to be perfectly fair and frank, the real Mr. Zamperini did not find his religious calling until well after the events depicted within Ms. Jolie's film. Either way, Unbroken is just as routine and formulaic as another dull sports flick, hitting just about every emotional and motivational cliche in the book during its lengthy runtime. It's a feel good flick, plain and simple — except for the fact that it might not necessarily make you feel good once all is said and done. The fact that the movie features some of the worst CGI effects I've seen since the late '90s does not help any.
The casting of femme Japanese glam rock star Miyavi (Takamasa Ishihara) as the sadistic POW camp commander seems somewhat questionable, too, although all of the film's actors do their best — even with such middle-of-the-road direction at the helm. But Universal's Blu-ray/DVD/Digital HD Combo pack of Unbroken isn't entirely a title to look past at the store. In fact, thanks to a number of bonus materials, it still manages to make for some good viewing. And that is thanks to a slew of featurettes that mostly focus on Louis Zamperini himself, and the plight that his own story underwent to become a Hollywood motion picture (which was originally set to have been produced in the '50s until intended star Tony Curtis backed out!).
Said extras include a three-part featurette inside the history and making-of the story (as well as the story behind the story), a finer-tuned look at Zamperini's life, and a shorter (somewhat redundant) religiously-backed promotional piece. Still, there's a lot of great footage to be seen of the real Louis Zamperini prior to his death in 2014 at the age of 97 before the completion of the film. A handful of deleted scenes are also on-hand here, as is an extended shoot of a Cinderella play put on by the POWs during the course of the film. There's also a filmed concert of Miyavi performing for his cast and crewmates after shooting wrapped — which I sincerely hope nobody in attendance paid to see (although they're drinking, so maybe it sounded better to them).
In terms of video and audio specs, Universal's Unbroken is quite nice. Although Ms. Jolie cranks up the filter settings during the various locations of the film (so, I guess you could call this one "Newey Louis and the Hues" then?), the 1080p transfer is about the only thing here that actually is Unbroken. Sadly, it's so damn perfect, that those god-awful special effects stand out all the more. The default English Dolby Atmos soundtrack delivers admirably, and additional audio options are available in English, French, and Spanish DD 5.1. Subtitles are provided in English (SDH), French, and Spanish. One last gripe: the main menu is horrible, presenting a single blurry frame grab from the film. Universal didn't even bother making their standard generic motion menu montage for this one, which is really saying something.
Ultimately, Unbroken is a thoroughly uneven film. While it will undoubtedly motivate some of you to be better people, its execution is very uninspired, and will leave the rest of you embarking on an unflinching quest to seek out a better movie. Unrecommended.