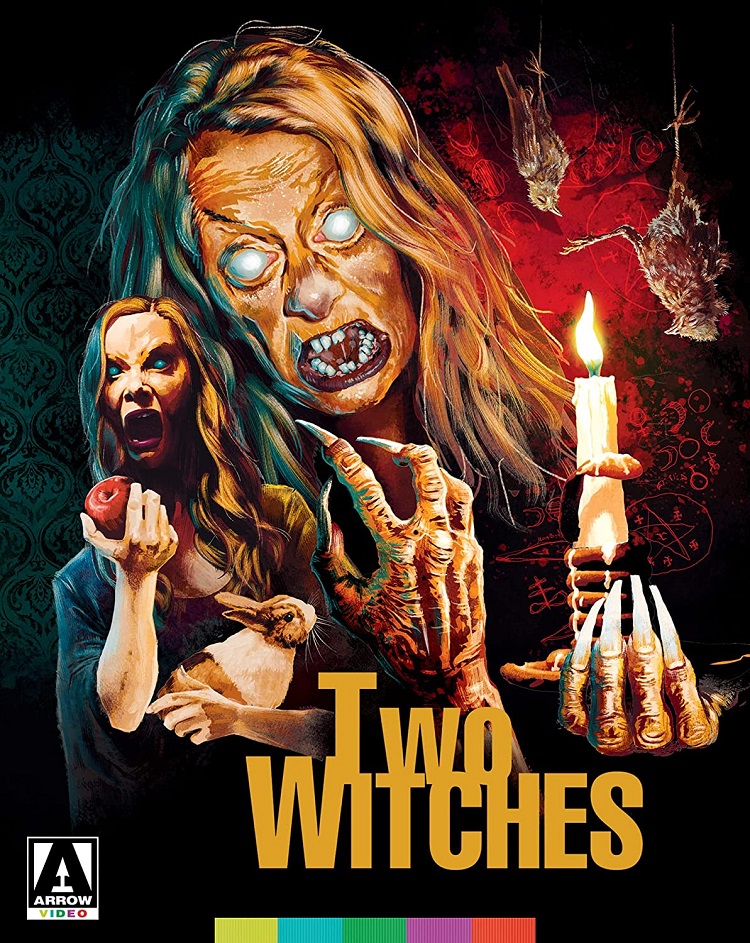 "You're in the dark now" as hinges creak, shadows creep, candles flicker and danger lurks in shadowy places throughout this instant horror classic. From the minds of Pierre Tsigaridis (director/writer/producer/editor etc.) and Maxime Rancon (writer/producer) comes Two Witches (2021). Two twisted, conjoined tales of terror told in two chapters and an epilogue. From start to finish the scares hold you bewitched in your seat and at times jumping out of it. 
Chapter One introduces us to the Boogeywoman (Marina Parodi, Pierre's mum) and her evil witchy ways. After casting the evil eye on Sarah (Belle Adams) while dining at a restaurant, the Boogeywoman begins to stalk Sarah in hopes of eating her, as yet, unborn baby. Sarah begins to slowly freak out as she continues to see the old crone everywhere she and her dismissive boyfriend Simon go. The stalking comes to a head one ominous night at the home of Simon's best friends Dustin (Tim Fox) and his wife Melissa (Dina Silva. also one of Two Witches producers), who is a "professional wiccan/spiritual healer." Sarah tells Melissa of the presence of the witch and Melissa decides it's a good idea to immediately pull out the Ouija board. Wrong! That never ends well. The Boogeywoman arrives in the shadows and begins to drive everyone mad, causing murderous disembowelment and chaos. As Chapter One draws to a close we hear a radio broadcast with breaking news of a murder mystery and a missing person. 
Chapter Two, enter the odd young Masha (Rebekah Kennedy). Masha's ravenous sexual appetite and her deceptively meek persona make the perfect potion for malicious mischief as she grows into full witchy strength. Masha quickly casts her evil eyes on her roommate Rachel's (co-writer Kristina Klebe) lover, Charlie. As Masha hunts her prey and haunts Rachel, we learn how the two chapters are connected and how witchcraft can skip a generation. We also watch as Masha shows us just what her newly acquired powers can do, from conjuring her granny's evil spirit, to being able to change people's forms and invade their minds causing great pain and self destruction. All this murderous madness comes back to burn Masha and puts her in her own world of pain but also brings her to a new coven of fiendish friends. Of course the epilogue raises more tantalizing questions while providing a few short answers, setting up an inevitable sequel.
Two Witches was made by fans of 1970s/80s horror movies for fans of the same genre and it shows. Pierre Tsigaridis and Mixime Rancon express their love well in this genuine homage to classics such as Rosemary's Baby (1968), Suspiria (1977), The Evil Dead(1981) and The Conjuring (2013) with a nod to the eras slashers for good measure. Very visual and very reminiscent of those masterpieces without being over-the-top or gimmicky. This dynamic duo manages to invoke an atmospheric, nightmare world where the terror is as real as the jump scares.
Tsigaridis in his directorial debut uses odd camera angles to great effect, creating suspense, atmosphere, and scares with sideways shots, long zoom-ins, and sometimes jerky, rapid cuts and sped-up frames. This clever use of the camera leaves viewers off balance and just as disorientated as the characters themselves. Incorporating shadows and darkness just as effectively, he emphasizes what we can't see as well as what we think we might see. The choice of practical effects over CGI lends to the '70s/'80s feel and highlights the glory of old fashioned gore.
Two Witches does have some plot holes and a few little mistakes but that's all forgiven with the abundance of good characters and tense scenes. The cast excels in making scenes eerie and suspenseful, employing odd facial contortions (some humorously intended) and movements to up the creep factor as our eyes stay glued to the screen with anticipation. The well-written score adds extra chills and thrills, highlighting the horror while the soundtrack by Here Lies Lucy provides a hard goth edge that helps propel Masha along on her journey to badass, boss witch, villain.
As always with Arrow Video the special features are plentiful and enjoyable. The separate audio commentaries by Tsigaridis and Rancon are enlightening and entertaining as they recall the making of the movie and what inspired their ideas and creativity. The interviews and featurettes with cast and crew provide more fun facts and insight on what went on behind the scenes to bring Two Witches to life.
Special Edition contents includes
High Definition (1080p) Blu-ray presentation.
Original lossless stereo audio and optional 5.1 DTS-HD MA surround audio.
Brand new audio commentary by director, cinematographer and editor Pierre Tsigaridis.
Brand new audio commentary by producer Maxime Rancon.
Behind the Movie, a two part behind the scenes featurette.
Interview with Two Witches actor and associate producer Dina Silva.
The Boogeywoman, an interview with Marina Parodi.
The Original Score, an interview with soundtrack composer Gioacchino Marincola.
The Piano Score, director Pierre Tsigaridis talks about the inspiration behind the piano score for Two Witches.
Test Footage.
Grimmfest 2021 Q&A with Pierre Tsigaridis and Maxime Rancon.
Trailer gallery.
Image gallery accompanied by the film's score.
Reversible sleeve featuring original and newly commissioned artwork by Ilan Sheady.
Reversible Two Witches mini poster.
24 page booklet.
Arrow Video deserves major credit for distributing this little gem of a horror movie. Two Witches is creepy and unsettling at times (not quite Bone Tomahawk unsettling) but fun from shriek to shriek for 98 minutes. I eagerly await the sequel to see what other horrors Tsigaridis and Rancon have in store, where they take the story, and how they will manage to top their debut offering.