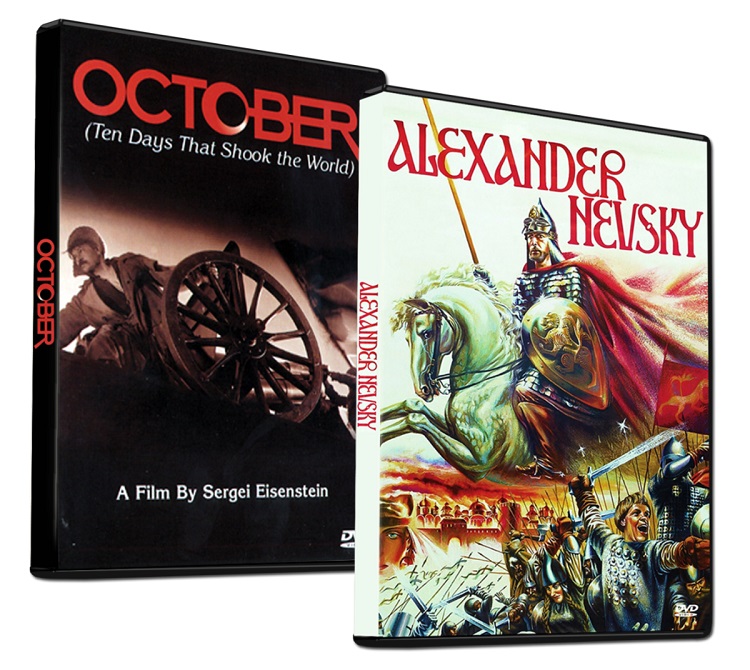 Cinema Sentries has teamed up with Corinth Films to award three lucky readers Two from Sergei Eisenstein: October & Alexander Nevsky on DVD. For those wanting to learn more, read the press release below:
Born in Riga, Latvia in 1898, Sergei Eisenstein brought Russian history to life and to the masses through a blend of avant-garde filmmaking and Communist propaganda. A director and film theorist, he was perhaps best known for being the father of the film montage and despite his relatively small output, he's regarded as one of cinema's chief architects whose influence transcended national and political boundaries.    Utilizing art to propel political ideas following the Russian Revolution of 1917, his first feature film and still one of his most seminal was Strike (1924), about a 1903 factory worker strike. He'd go on to direct Battleship Potemkin (1925), one of the greatest propaganda films ever made, along with a handful of other cinematic achievements including the well-regarded historical epics: OCTOBER (1928) and ALEXANDER NEVSKY (1938).

This November, Corinth Films delivers two of Eisenstein's landmark classics in one specially-priced DVD set: TWO FROM SERGEI EISENSTEIN: OCTOBER & ALEXANDER NEVSKY, priced to add to every cinema lover's home entertainment library at $29.95.

OCTOBER (1928)

Officially produced to commemorate the 10-year anniversary of the Russian Revolution, OCTOBER quickly became another of Sergei Eisenstein's experiments in film form. As in his masterpiece, Battleship Potemkin, Eisenstein uses explosive montage to create the spirit of revolution — in this case, the events in St. Petersburg during the months leading up to the Bolshevik revolt.  Given complete access to the city – including the Czar's Winter Palace — Eisenstein utilized non-actors to recount history from a political perspective. There is no main character in OCTOBER; no one person, not Lenin not a minister or Bolshevik is singled out. The hero of the film, as Eisenstein saw it, is the proletariat. Its triumph, its victory, is the Revolution, and Eisenstein's insistence on speaking the language of pure film shoves his mad rush of images straight into the viewer's mind in an unforgettable way. The film has also been known as Ten Days That Shook the World, its release title in the U.S. (borrowed from the book by John Reed).

ALEXANDER NEVSKY (1938)

Ten years after OCTOBER, upon returning from Hollywood and Mexico, Eisenstein changed his cinematic approach, leaving behind the densely edited style of his celebrated silent films, turning instead to historical sources, contradictory audiovisuals, and theatrical sets for his grandiose yet subversive sound-era work. ALEXANDER NEVSKY, Eisenstein's landmark tale of Russia thwarting the German invasion of the 13th century, was wildly popular and quite intentional, given the prevailing Nazi geopolitical advancement and destruction at the time. In 1242, Russia in being invaded by two sides: from the orient by the Mongols and from Europe by the German Teutonic Knights of the Holy Roman Empire. The last free city in Russia, Novgorod, calls the Prince Aleksandr Nevsky, who had defeated the Swedish in a previous battle, to defend the city. Featuring some of the most beautiful imagery ever put on film, a majestic music score from Prokofiev and a dazzling, climactic battle on a frozen lake, ALEXANDER NEVSKY was a triumph of Eisenstein's vision and talents as a filmmaker.
The contest is only open to residents of the continental U.S. Upon notification, recipients will need to provide their own valid address (within 48 hours of email notification); no P.O. Boxes. Failure to do so will forfeit prize and another winner will be randomly selected. Cinema Sentries does not enter into any contract or guarantee with prize participants or any visitors to our site.
a Rafflecopter giveaway