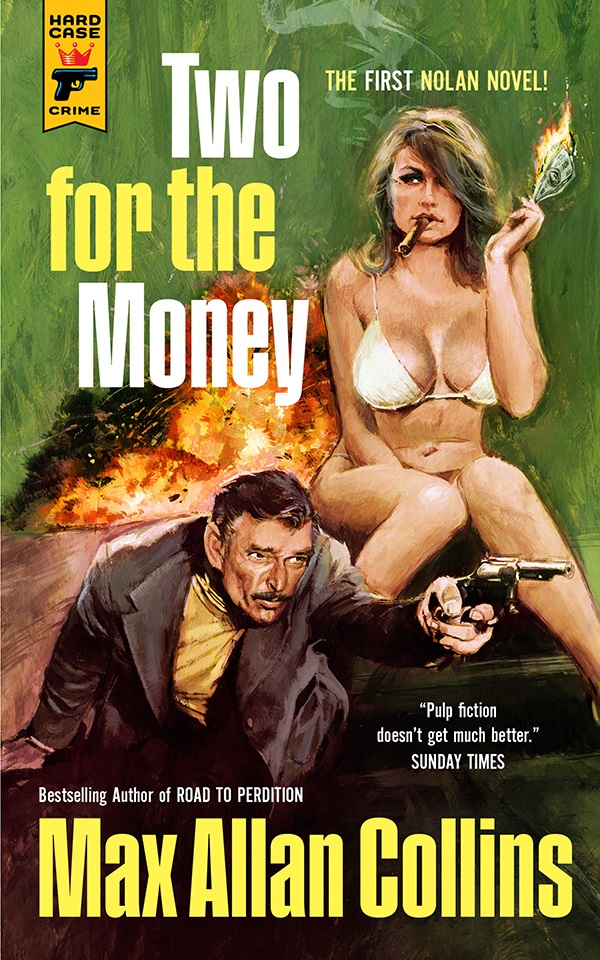 Two for the Money, by Max Allan Collins, is the latest double issue reprint from the almost always good Hard Case Crime book publishers. Two of Collins' early novels are found here: Bait Money and Blood Money.
In the first novel, Bait Money, we are introduced to Nolan (no first name), an aging – all of 49-years-old – master thief who is recovering from a bullet wound in the side that has laid him up for a month. Nolan was shot to settle an old score from the Family, the crime syndicate that dominates Nolan's world and for whom he used to be a well-respected and trusted worker. To broker a truce, Nolan has to throw one last, big crime. But he will need to do it with green around the gills help: Jon, a young comic book enthusiast, and Grossman and Shelley, a young hippie couple looking for enough money to start a new life in a new country. The plan is to execute a big, complicated job of robbing the large bank where Shelley is a teller. Unfortunately, we don't get a whole lot of the bank robbery, though we get enough, as this novel is about how to set up a crime and how to – if all goes as planned – get away with it. The group of four thieves are always interesting together as Grossman has trouble listening and Shelley has trouble staying out of the beds of other people.
The second novel, Blood Money, picks up one year after Bait Money and is a direct continuation of the story. This time around is more about family versus family, as Nolan and his comic-loving protégé, Jon, have become close as father and son over the previous year. The bank robbery, as any reader would expect, had complications, and Nolan and Jon have spent a year apart and letting the heat cool down while the money hides in an antique store run by their good friend, Planner. The other family in this thriller is Nolan's old nemesis from the Chicago-run Family, Charlie, and his son, Walter. The money is stolen, and Nolan and Jon have to seek Family help if they are to find Charlie and Walter and take back that which is theirs.
Max Allan Collins' novels are fast. They start fast, they ramp up fast, and they are over fast. There is a short but very informative afterward by Max Allan Collins that adds interesting details to how Nolan was created and came to be at such an early moment in Collins' career. This collection is recommended, as are all books in the Hard Case series.