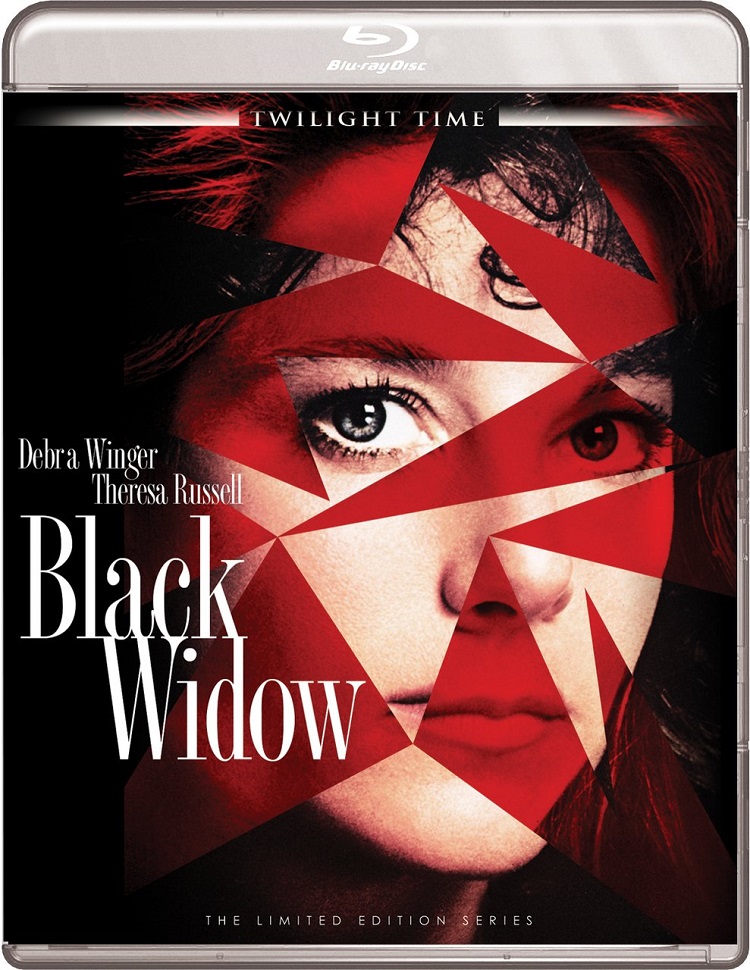 Is it Halloween again yet? Yes, while many members of the commercialized human race rants about nightmarish presidential candidates inciting hate and discontent while obsessing over stocking stuffers amidst various prevailing paranoias concerning an imaginary war on a holiday that wasn't even theirs in the first place, the rest of us are ready to turn back the clock and revel in another ‒ more entertaining ‒ Pagan celebration. You know, the one some folks foolishly perceive to literally be of the Devil itself: Halloween. And since I was so wrapped up in my real life profession of helping people become professionally inebriated, I guess this is as good of a time as any to check out Twilight Time's October 2015 releases ‒ which, naturally, were all of the thrills and chills variety.
While the majority of the films from this six-title selection center upon the more farfetched notions of nocturnal bloodsuckers, celestial visitors, and weird men who truly need to work on their Vulcan nerve pinch skills if they're to make any friends whatsoever, two of the titles from this wave ‒ Black Widow (1987) and Devil in a Blue Dress (1995) ‒ focus on the more fathomable terrors of crooked individuals and psychopaths. You know, the type of people whom we usually see running for President now, or posting videos on YouTube where they talk about how large coffee shop corporations are anti-Jesus. Fortunately, 1987's Black Widow from Five Easy Pieces director (and Monkees co-creator) Bob Rafelson, is far more enjoyable than reality itself.
Here, the great Theresa Russell highlights an all-too-possible tale as a psychopath femme fatale who marries wealthy older men, murders them, and then jots off to start all over again under a new identity. Debra Winger, in an equally superb starring role, is a low-level Justice Department agent who starts to see a potentially unhealthy pattern forming. But, seeing as how the movie takes place in the 1980s, long before the Interwebs made it easy to find any sort of information on anyone almost immediately, Winger has a hard time even digging up photos of her mysterious Black Widow. Fortunately for Ms. Winger, she has a chameleonic gene or two on her side as well ‒ and it's only a matter of time before the two hunters find each other.
Dennis Hopper and Nicol Williamson (in what was probably his only sensitive role ever) are featured as guest victims; Terry O'Quinn is Winger's sexist boss (it's the '80s, after all); and Sami Frey gets the pleasure of one memorable late night swim with a fully nekkid Ms. Russell in this charming neo noir flick that doesn't waste the viewer's time with meaningless expositions (Russell is what she is, and we like her that way). Twilight Time's own Nick Redman and Julie Kirgo provide an audio commentary for their beautiful release of Bob Rafelson's thriller, which is presented in a 1.85:1 aspect ratio with DTS-HD MA 2.0 sound. An isolated Michael Small soundtrack is also on-hand (which is also in DTS-HD MA 2.0), and additional supplemental materials include a trailer, TV spots, and liner notes by the aforementioned Ms. Kirgo.
Made in 1995, Carl Franklin's adaptation of Walter Mosley's detective novel Devil in a Blue Dress takes viewers into the deep waters of yet another neo noir tale. Set in 1948, the versatile Denzel Washington stars here as World War II vet Ezekiel "Easy" Rawlins, who wants nothing more in life than to pay off his mortgage and live a life that is somewhat comparable to his own nickname. Sadly for him, quite the opposite occurs following an unjust dismission from his job, leaving him available to do just about any sort of job asked of him. Sure enough, such a task presents itself in the guise of "Easy" money; though anyone who is dumb enough to take Tom Sizemore's word (Michael Madsen, Jon Voight, Tom Berenger, and Nick Nolte were all unavailable for the role, apparently) on how legitimate something is will surely be in for a most rude awakening indeed.
Jennifer Beals co-stars as the proverbial femme of the story, whom everyone ‒ from creepy killer Tom Sizemore to sleazy politician Maury Chaykin ‒ is trying to find. Don Cheadle takes the cake as Washington's hot-headed pal, Mouse Alexander, who is more than anxious to implant a bullet in someone's flesh at any given second. Twilight Time's excellent 1.85:1 presentation sports DTS-HD MA audio with 5.1 and 2.0 options, an isolated score of Elmer Bernstein's work and a well-rounded jazz soundtrack in DTS-HD MA 2.0, and an audio commentary from director Carl Franklin (also in DTS-HD MA 2.0). Said commentary has been culled from the 2000 Sony DVD, as have two more special features: a Don Cheadle screen test and theatrical trailer. As always, Julie Kirgo provides the liner notes for this Twilight Time release.
Moving away from the inhumanely inhuman human element, we wander over into territories that are range from being not human to superhuman in nature. The first of these, 1983's Strange Invaders managed to solve a vague "I wonder what movie this scene was from" memory from my youth. It wasn't one of those recollections that drove me to the point of madness or anything; in fact, had it not been for my viewing of Strange Invaders in 2015, I would not have even remembered remembering it ‒ which is probably the way a lot of people today feel about Strange Invaders in general. But that just seems to be the fate for every motion picture starring Paul Le Mat, leading certain film scholars to ponder "Does anything actually star Paul Le Mat?"
And when you combine Paul Le Mat with the likes of Nancy Allen and Diana Scarwid (in her second Razzie Nominated performance), you're sure to suffer from a case of box office poisoning. Indeed, poor Michael Laughlin, who had made a similar homage to '50s science-fiction thrillers two years before (when Scarwid won her first and only Razzie Award for Mommie Dearest) with Strange Behavior, wound up aborting his own proposed Strange Trilogy after this (which proved to be the second and final installment) after the film failed to attract an audience wider than people such as myself who would only later accidentally vaguely recall seeing a tiny bit of it some thirty years later. I can't say it's a bad film, however. In fact, when all is said and done, Strange Invaders is a pretty decent (if plenty awkward) film.
One of the few titles in cinematic history to give character actor Michael Lerner a heroic role (that's right ‒ even the movie's hero, Paul Le Mat, isn't the hero of the tale ‒ Strange Invaders finds Paul Le Mat as a plenty puzzled father searching for his missing ex-wife in a small midwestern town that technically no longer exists. As it turns out, Paul's baby mama is actually part of an alien subculture (try topping that, hipsters!) who have disguised themselves as humans (much like hipsters) ‒ which of course begs a peculiarly awkward question about how Le Mat and his on-screen wife (Scarwid) were able to conceive a child. '50s sci-fi hero Kenneth Tobey plays an alien, as do Fiona Lewis and June Lockhart. Wallace Shawn and Charles Lane are also featured.
Mixing contemporary optical effects with some genuinely lovely prosthetic effects by uncredited makeup effects designer James Cummins, Strange Invaders was co-written by Gods and Monsters and Mr. Holmes director Bill Condon (who, sadly, was also responsible for directing two Twilight films as well as the story for F/X2). Twilight Time's Blu-ray presents the film in its original 2.35:1 aspect ratio with DTS-HD MA sound in glorious mono. John Addison's score is included as an isolated track (in DTS-HD MA 2.0), and the Michael Laughlin/Bill Condon audio commentary from the 2001 MGM DVD has received a DTS-HD MA upgrade here. The original theatrical trailer is also included, and Julie Kirgo's probing notes wrap up this failed alien invasion.
Just as all alien invaders cannot be as effective as John Carpenter's The Thing (which featured makeup by James Cummins and was a remake of a film that starred Kenneth Tobey), not all vampire films can be as unique as John Carpenter's Vampires (although we will be examining one heck of a bizarre exception shortly, so stick with me, kids!). At some point in our lives, things we enjoy start to become dull or overtaxing (much like life itself), and filmmaker John Carpenter ‒ the man behind Halloween, Escape from New York, and The Thing ‒ discovered he was no exception after his 1996 lackluster blockbuster Escape from L.A. proved to be just as big of a flop as Strange Invaders did thirteen years before.
Poised with the possibility of hanging up his holster forever, Carpenter found a bit of salvation shortly thereafter when he was approached to make an adaptation of John Steakley's novel, Vampire$. And it was in that project that Carpenter realized he could not only once again strap on his holster and shoot another picture, but get a chance to make a western in the process. A weird modern western with vampires, that is. An always out-of-control James Woods is the head of a vampire slaying outfit working secretly for the Catholic Church (they protect pedophiles but kill vampires ‒ that about evens things out, right?), who runs into all kinds of trouble when a master bloodsucker (Thomas Ian Griffith) ambushes his posse at the beginning of the film, which pretty much sets the tone of the gory story (which features many gruesome KNB special effects).
Daniel Baldwin ‒ the 1990s answer to Paul Le Mat ‒ co-stars as Woods' right hand man. Sheryl Lee is the once-bitten prostitute with a psychic link to the vampire villain, who is on the hunt for an elusive, evil religious artifact. Maximilian Schell is the Cardinal who calls the shots for Woods and his men. Tim Guinee and the great Gregory Sierra both play holy men, while '90s film fixture Cary-Hiroyuki Tagawa is also featured. Twilight Time's Blu-ray presents the feature in a beautiful transfer preserving the 2.40:1 aspect ratio. 5.1 and 2.0 DTS-HD MA soundtrack options are present here. Special features include Carpenter's (isolated) music score and commentary (the latter ported from the old Sony DVD) in DTS-HD MA 2.0, a trailer, making-of featurette, and Julie Kirgo's liner notes.
Though John Carpenter's Vampires became a cult item in its own right, it didn't prove to be a big hit in theaters (although it still fared better than it would have had it starred Paul Le Mat). For our fifth film, we travel back to a time when vampire movies had less gore and more box office appeal, which lands us at a little ditty that had initially set out to be softcore porn film. Miraculously, by the time Count Yorga, Vampire (originally shot as The Loves of Count Iorga, Vampire, which is the actual onscreen title in this instance) hit cinemas in 1970, the film had been fully neutered. Further censoring from AIP removed most of the bloodier bits, but this didn't stop the film from becoming just popular enough to warrant a sequel (mind you, this was back in the illustrious era of good ol' exploitative drive-in cinema).
Here, the late great Robert Quarry inhabits a role that most men have to die for: that of a centuries-old vampire of Bulgarian descent who descends upon modern day (well, 1970) Los Angeles to prey upon the recently liberated ladies and the still-always-ready-to-copulate men who accompany them. Roger Perry and Michael Murphy are the still-acting male leads, while the film's list of beautiful young actresses ‒ including Donna Anders, Judy Land, and Julie Conners ‒ essentially haven't been seen on film since this film. Co-star Michael Macready also served as producer, and hired his better-known father, George Macready, to narrate (and who would return to co-star in the sequel, The Return of Count Yorga). Twilight Time presents the film in a matter 1.85:1 aspect ratio with DTS-HD MA mono sound and an isolated DTS-HD MA 2.0 score by Bill Marx.
Being the genuine cult horror title that it is, Count Yorga, Vampire houses a number of new bonus materials, including three audio-only items: a commentary by historians David Del Valle and Tim Sullivan; a recreation of an interview with Robert Quarry as acted out by the aforementioned duo; and Fangirl Radio's Jessica Dwyer homage to Mr. Robert Quarry. Two still archives ‒ one from MGM's archives, the other from Tim Sullivan's personal collection ‒ allow access into some of the film's alternate side (read: less clothing on some of the ladies), and the original theatrical trailer is also present. Julie Kirgo pens the liner notes for this Twilight Time release, which is now available along with Shout!/Scream Factory's Blu-ray release of The Return of Count Yorga.
Another film from 1970 distributed by AIP, Scream and Scream Again is our final offering here. It is also the weirdest, as strange as that may be to fathom at this point. While hailed in The Overlook Film Guide: Science-Fiction as "one of the best science-fiction films made in Britain," Scream and Scream Again's top-billed star, Vincent Price, once stated he never understood the script at all. Based on The Disoriented Man by Peter Saxon and directed by Gordon Hessler (Cry of the Banshee, The Golden Voyage of Sinbad), the Tigon production from mostly Amicus producers film is a multilayered mashup of muddled mediums, teeter-tottering through horror, sci-fi, politics, and paranoia during its 95-minute runtime (nearly 1/6th of which is devoted to a great car chase).
As police (led by a stalwart Alfred Marks) search for a superhuman psychopath with vampiric tendencies roaming London for women to kill for their live-perpetuating blood, an official within a Communist European country (Marshall Jones) shoots up the ranks by killing those who stand in his way by literally putting the finger on them. Meanwhile, a young doctor (Christopher Matthews) tries to figure out what a seemingly-sane limb/organ transplant surgeon Vincent Price is up to at his all-too-remote country estate with a deadly hidden acid vat, as Christopher Lee (as the head of a mysterious British intelligence organization) tries to figure out what he's doing in the film. Peter Cushing, the third titan of classic British horror, has a very brief (but prominently billed) part as one of the unnamed foreign country's officials.
Thankfully, an alien visitor climax from the original novel (Strange Invaders?) is dropped here, but that doesn't make Scream and Scream Again any easier to follow. A recurring scene of some poor bastard who keeps waking up to find another of his limbs has been removed upset me greatly as a kid (except I remember which movie that scene came from, as opposed to Strange Invaders, which I flat-out forgot completely), when I saw the Vestron Video cut of the film, which featured an entirely different, generic score. While said synth score is not included here, it receives a mention in the excellent accompanying featurette, Gentleman Gothic: Gordon Hessler at AIP, as produced by Ballyhoo Motion Pictures, the inclusion of which makes me wonder if this was originally slated to be a Shout!/Scream Factory release.
An interview with actress Uta Levka is also on-hand, as is a still gallery, radio spot, trailer, Julie Kirgo's liner notes, and isolated score of David Whittaker's musical offerings (in DTS-HD MA 2.0), which will also enable you to enjoy the wonderfully dumb theme song by forgotten Welsh rock group, the Amen Corner, to the fullest. Scream and Scream Again, Count Yorga, Vampire, Strange Invaders, Devil in a Blue Dress, and Black Widow are each numbered to only 3,000 pressings apiece, while John Carpenter's Vampires is limited to 5,000 copies.