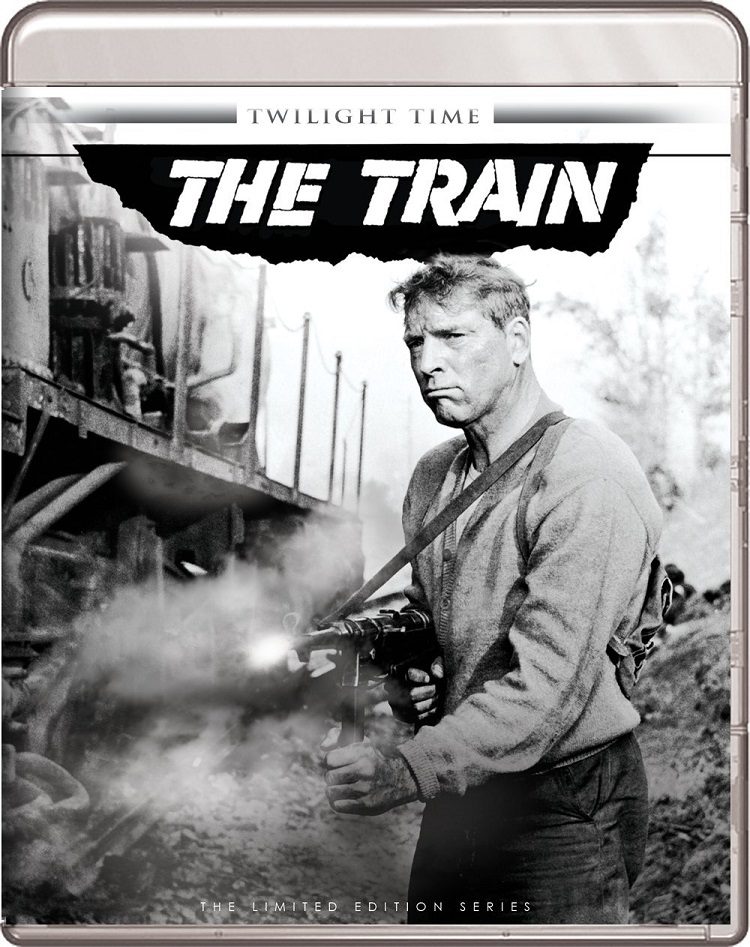 Generally, my attempts at finding a common link between Twilight Time's monthly releases leaves me a lot of room to improvise. In the instance of the label's October 2016 releases, however, I didn't have to delve in too terribly far beneath the surface, especially with titles like Runaway Train, The Train, and Boxcar Bertha staring me right in the face. Combine that with the fact there is an awful lot of Southern drama involved in a large portion of the mix ‒ specifically in The Chase and Hush… Hush, Sweet Charlotte ‒ and, well, I'm sure you get the idea as to why I call this "The Southern Pacific Training Montage."
First on the list is The Train ‒ the incredible 1964 World War II action-drama starring Burt Lancaster ‒ which makes its Encore Edition debut here. Co-starring Paul Scofield and Jeanne Moreau, John Frankenheimer's solid adventure finds Mr. Lancaster as a French railroad inspector and Resistance member who (mostly unwittingly) signs up to "commandeer" a train full of stolen art from the Nazis before the works are moved across the border into Germany. Previously released by Twilight Time in 2014, this classic film sold out during its initial 3,000 unit run, and is back to thrill classic movie enthusiasts once more. Best I can tell, the A/V aspects of this release are the same as the earlier Limited Edition version, so you won't be missing out on any of the exclusive goodies, such as Twilight Time's audio commentary or Julie Kirgo's loving liner notes.
Moving across the globe from the southern half of Europe to the very top of the Pacific, we find ourselves in another world altogether: Alaska. And it is there, within the snowy confines of a state which would later appoint a sportscaster as governor, that the 1985 Golan-Globus production Runaway Train is set. Based on a twenty-year-old, unfilmed screenplay by Akira Kurosawa, this action-thriller from Russian director Andrei Konchalovsky stars creepy ol' Jon Voight ‒ back when he was only somewhat creepy ‒ as an well-known sleazeball with the conscious of an animal (or, "Jon Voight," if you prefer), who has been sealed shut in his cell for three years. When the infallible law permits the incarcerated creature to be released back into the general inmate population, Voight seizes the opportunity to release himself from prison. Unlawfully.
Accompanying our antagonistical protagonist is a young Eric Roberts (who, only a few listings into his 450+ film and television appearances, was already on his way to becoming a B-movie "legend"), who plays a naïve boxer/statutory rapist with an unfounded faith in the prison's false idol. Boarding a short line of discarded railroad engines, the two cons unwittingly sign up for a white-knuckle ride when the engineer of said cars has a heart-attack and sends the titular plot racing down the tracks. A fresh Rebecca De Mornay, still sporting cute freckles, is a railroad worker who is also onboard the ride to doom/salvation; John P. Ryan is the sadistic prison warden (read: prison warden) out to avenge his pride; Kyle T. Heffner and T.K. Carter are two of the engineering geeks on their computers and phones trying to avoid a catastrophe.
Also appearing in this fun ‒ if slightly flawed and outrageous, particularly when Voight is chewing up the rails, though the film still manages to keep most of Kurosawa's social commentary ‒ from the company that brought us most of the Charles Bronson/Chuck Norris filmic output of the 1980s (in many respects, Runaway Train is among their best) are early appearances by Danny Trejo and Tommy "Tiny" Lister. Twilight Time wrangles its little Runaway from the MGM/UA vault and onto Blu-ray with a new HD transfer and an English DTS-HD MA 2.0 track. Trevor Jones' isolated score is included (also in DTS-HD MA 2.0), as is an audio commentary with actor Eric Roberts and film historians David Del Valle and C. Courtney Joyner. A trailer and liner notes by film historian Julie Kirgo complete the journey.
Another prison escapee who hops a train, this time played by a supporting newbie named Robert Redford, whose character is at the epicenter ‒ nay, the subject of ‒ The Chase. Released by Columbia Pictures in 1966, this oddity from director Arthur Penn (Bonnie and Clyde and Sam Spiegel's Horizon Pictures is best described as what might have happened had Harper Lee hired a group of jet set swingers to make Panavision Technicolor noir, only to wind up with a cinematic Southern soap opera instead. Speaking of the late Ms. Lee, Southerner Horton Foote ‒ author of the novel/play this film is based on (so yes, it's a "Foote Chase," kids!) ‒ wrote the screenplay for To Kill a Mockingbird.
While the script is attributed to Lillian Hellman, producer Sam Spiegel had the screenplay rewritten by another, anonymous party. He also refused to let director Arthur Penn edit the film. Thus, Sam Spiegel's Arthur Penn's Horton Foote's Lillian Hellman's U.N. Owen's The Chase is, as I may have just revealed by writing that, something of a hot mess (much like Texas itself). The one and only Marlon Brando stars as one of the few rational minds in a small Texas town rampant with swingers, gun-tottin' racists, and corruption [I'm just gonna let you go ahead and insert your own joke about how much Texas has evolved over the last 50 years]. Alas, ignorance and vigilantism are bliss for the rest of the populace, who ‒ despite their deep-rooted loathing of themselves and burning hatred of everyone else ‒ really know how to party.
If you hop onboard a mind-altering substance, The Chase may make for a darn fine pairing with another Sam Spiegel/Horizon Pictures production, The Swimmer (starring Burt Lancaster). Also included in the cast are the likes of Jane Fonda, E.G. Marshall, Angie Dickinson, Robert Duvall, Richard Bradford, Clifton James, and Henry Hull. James Fox plays Marshall's son here, doing a mighty fine impersonation of Bobby Kennedy in the process, and a young Paul Williams has one of his earliest screen roles. Twilight Time's beautiful Blu-ray boasts a DTS-HD MA 1.0 soundtrack, with an isolated John Barry score in DTS-HD MA 2.0. Lem Dobbs, Julie Kirgo (who also pens the liner notes), and Nick Redman provide a commentary, and the original theatrical trailer is also included.
While we are Southern bound on this trip, I suppose this is as good of a time as any to bring in our next cinematic selection. Though there is nary a train to be seen or heard, Robert Aldrich's 1964 psychological thriller Hush… Hush, Sweet Charlotte is the closest we got to receiving a horror film from Twilight Time this past October (as opposed to 2015's releases). But of course, when your picture opens with a flashback wherein an unknown Bruce Dern ‒ right before his association with legendary B movie filmmaker Roger Corman ‒ is graphically "disarmed" onscreen before also losing his head, you have something to roll with. Said flashback sequence, also featuring the great Victor Buono (who is credited as the film's "guest star"), sets the stage for this tale starring Bette Davis, Olivia de Havilland, and Mercury Theatre players Joseph Cotten and Agnes Moorehead.
Following the runaway success of his previous thriller, 1962's What Ever Happened to Baby Jane? (which also starred Victor Buono), Aldrich assembled this magnificent gathering of golden oldies (Joan Crawford was off, busy being a drama queen), which finds Bette Davis as an aged recluse living in her family's lofty mansion in a Louisiana parish. In the 34 years that have passed since her married lover (Dern) was brutally murdered, the mental faculties and murderous background of Charlotte Hollis (Davis) have become the subject of many local rural legends (note the pre-credit cameo by doomed child actor John Megna ‒ best remembered as little Dill Harris in 1962's To Kill a Mockingbird ‒ playing pretty much the exact same role!). And while Charlotte's world has not changed much, her house is scheduled for demolition in order to build a new highway (also see the story of Arthur Dent).
So, Charlotte calls upon her poor relation Miriam (de Havilland) to come assist ‒ which only causes Charlotte's already delicate sanity to start phoning in sick. Cecil Kellaway, Mary Astor, William Campbell ‒ already associated with Roger Corman ‒ and young George Kennedy also highlight this production. Twilight Time's Blu-ray debut of Hush… Hush, Sweet Charlotte arrives in a stellar HD presentation and three DTS-HD MA audio options to choose from. An isolated score, audio commentary by David Del Valle and Steven Peros, and Julie Kirgo's liner notes are new to this title; with many of the extras from the 2005 DVD (audio commentary by Glenn Erickson, featurettes/interviews, TV spots, and trailer) also included.
Two different casting connections to the film legacy of Roger Corman are sufficient to announce the arrival of our final step in this journey, 1972's Boxcar Bertha. The second feature film to be directed by some guy named Martin Scorsese, this low-budget quickie set in the lynch-happy American South during the Great Depression shows how prepared the man who would later bring us Taxi Driver and Goodfellas already was to break out of his exploitation roots. Fortunately, we get to see both sides of Scorsese at play in this yarn, which finds a frequently nekkid Barbara Hershey (I can't even begin to describe how much I enjoyed watching this movie in High-Definition, especially during that dice game ‒ yowza!) as a fictionalized variation of Ben Reitman's hobo princess who may have never actually existed.
But there's more to see here than just Hershey's kisses: Boxcar Bertha also has the rare distinction of casting both David Carradine and his famous father John in the same film! The former is cast as Bertha's main (older) love interest, union organizer Big Bill Shelly, who ‒ along with Hershey and co-stars Barry Primus and the great Bernie Casey ‒ become outlaws against the big money running the country and ruining its classes. The elder Carradine, whom I recently witnessed in one of the most horrifying things I have ever seen, is cast as one of those big moneybags. Husband and wife writers John William Corrington and Joyce Hooper Corrington ‒ who also penned the final drafts of The Omega Man and Battle for the Planet of the Apes ‒ wrote the screenplay for this fun American International Pictures offering.
Apart from Julie Kirgo's liner notes, the original theatrical trailer, and an isolated score in DTS-HD MA 2.0, Twilight Time's Blu-ray unveiling of Boxcar Bertha (which makes a fine pairing along with two other Depression-era, train-hopping, Carradine-fueled Twilight Time releases: Bound for Glory starring David Carradine, and Emperor of the North, which co-starred Keith Carradine) has no other supplemental features to speak of. But considering how marvelous MGM's High-Def print of this exploitation classic is, as well as the wonderful, accompanying DTS-HD MA 1.0 soundtrack, I can't say there will be any complaints charged on my behalf. (The gratuitous Barbara Hershey nudity, all of which is present because producer Roger Corman insisted it be there, is a marvelous substitute to special features in my dirty ol' book.)
All five titles from this Southern Pacific Training Montage are available while supplies so hop on-board while there's still a spot, boys and girls.