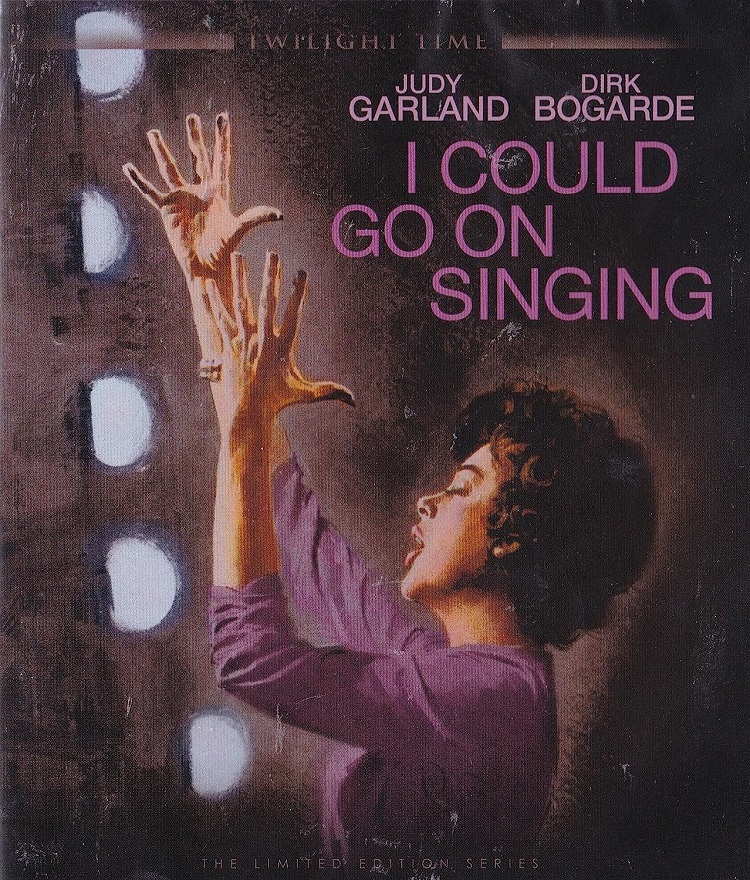 At one point or another in life, we have experienced the passion, turmoil, and frustration that comes from not being able to possess something ‒ sometimes, anything ‒ we wanted more than life itself. For some, it is a material obsession; the desire to acquire great wealth to control others with, or to even take charge of an individual. For others, it is simply the allure of being able to step out of the proverbial limelight for once and lead what they perceive to be a life of normality. And it is in this marvelous line-up of May 2016 releases from Twilight Time that we witness people from various walks of life, experiencing every conceivable (as well as a strictly taboo) urge as they dramatically search for that missing article, singing "Something I Can Never Have" all the way.
I mean, I Could Go On Singing the Nine Inch Nails track I just referenced, but frankly, we're in a whole different ballpark when it comes to the fine art of belting out a tune. In fact, we are in the midst of one of the musical world's greatest showpeople ever (sorry, Trent): Judy Garland. Released just six years before the legendary artist's untimely demise, 1963's I Could Go On Singing finds an aging superstar named Judy as an aging superstar named Jenny, who, at first glance, has booked an appointment with a mild-mannered physician (Dirk Bogarde) in London, England amid her world tour. The reality of the situation, however, is Jenny is the long-absentee mother of the doc's "adopted" son ‒ the product of an erstwhile fling some 15 years prior.
Using her multifaceted charm to see the son she has never publicly acknowledged or seen, Jenny becomes fast friends with the youngster (Gregory Phillips, who vanished from cinema after a small role in Adolf Hitler: My Part in His Downfall four years later). Taking him away from his very British boarding school, Jenny spoils her illegitimate offspring rotten for a few days, much to his father's chagrin. But just how long will the always-on-the-move Jenny be able to keep the charade up before either the truth gets out or she grows bored playing surrogate mother? Jack Klugman and Aline MacMahon (playing the same role as she did in The Mouthpiece 31 years earlier!) co-star in this, Judy's last film (as well as the first film she sang in since 1954's A Star is Born).
Boasting not only fine dramatic but the film's memorable musical performances (which the film is best-known for), I Could Go On Singing arrives on Blu-ray from Twilight Time courtesy the MGM/UA library. Presented in a gorgeous 1080p transfer, the release features four audio options: the original soundtrack in DTS-HD MA 2.0, an isolated score (with some effects) also in DTS-HD MA 2.0, and two audio commentaries (the first with Lawrence Turman, Lem Dobbs, and Twilight Time's Nick Redman; the second with David Del Valle and Steven Peros). Two theatrical trailers (one of which is missing all of its credits, thanks to an old goof MGM never fixed) and a TV spot are also included, with Julie Kirgo bringing the curtain down via her liner notes.
I suppose, since I have already touched upon the subject of people singing on film, it's time to tackle one of those movies many people like to credit as being a "musical." Whereas I Could Go On Singing presented its musical performances in the most "believable" style as possible ‒ as filmed on-stage routines themselves ‒ 1965's western/comedy Cat Ballou starring Jane Fonda and Lee Marvin spares audiences from the fate which later befell them in 1969's Paint Your Wagon (which also starred Lee Marvin). Instead, its moments of singing arrive from the unbeatable Greek chorus combination of Nat King Cole (in his final film role) and Stubby Kaye.
The main story of Cat Ballou itself centers on a young woman of the same name, as played by Ms. Fonda. Though brought up all prim and proper, Cat's ladylike demeanor soon morphs into something wholly other when her dear ol' pappy's ranch ‒ as well as her father himself ‒ come under fire by a nefarious corporation. With the townsfolk too chicken to help out a beautiful damsel in distress (especially when the town's leaders are as corrupt as the organization causing all of the drama itself), three young suitors offer their love and devotion to Cat: an outlaw (Michael Callan), his young uncle (Dwayne Hickman), and the ranch's Native-American hand (Tom Nardini, in redface, but who plays the part with grace).
But it's Lee Marvin that has enabled Cat Ballou to stand out as it has, even after half of a century. Taking on a popular motif from the '60s ‒ the art of the dual role ‒ Marvin plays not only a minor part as an evil killer, but also a superb supporting role as the washed-up gunslinger whom Cat hires (which would earn him a well-deserved Oscar for Best Actor) in this AFI favorite co-starring Reginald Denny, Bruce Cabot, and good ol' Arthur Hunnicutt (as Butch Cassidy!). Twilight Time's gorgeous transfer (on loan from Columbia Pictures) features two audio options (DTS-HD MA 5.1 and 2.0), two audio commentaries, two featurettes, a trailer, (some of which have been ported over from a previous SD-DVD release) and an isolated score. Julie Kirgo's liner notes round this'un up.
With the missed connections within the family tree we have experienced up until now, I can think of no better time to break out Appassionata. But be warned, this erotic Italian drama from 1974 has a great deal to do with keeping it all in the family, presenting a tale of a daughter who yearns to connect with her father in an entirely different sense. Gabriele Ferzetti (who co-starred in The Night Porter with Dirk Bogarde) stars here as an apathetic middle-aged dentist with a loving wife and daughter (more on that later), who is on the verge of a midlife crisis. His wife, a former concert pianist turned part time nutcase (Valentina Cortese), spends her days in a pseudo fantasy world where things seem much brighter.
Meanwhile, in the land of high school teenager drama, the household's princess Ornella Muti (in a role which the freshly-turned-eighteen actress leave no part of her alluring beauty to the imagination) seems to begin a strange passive-aggressive war with her best friend, as played by Eleonora Giorgi to be a little less child-like. Her friend takes it upon herself to not only become the daughter Ornella wishes she had, but also the nice young piece of ass all men facing a midlife crisis long for. But it doesn't stop there, for Ornella herself also longs to be daddy's really special girl! Gianluigi Calderone directs and co-writes this once-controversial, now-forgotten drama about one fully dysfunctional family unit.
Twilight Time's presentation of this strangely entertaining movie (American Beauty showed an underage Thora Birch topless and walked away with an Oscar for Best Picture 25 years later, so I guess I shouldn't feel too awkward for enjoying this one) is a bit soft and not as clear one might hope, but it should be stated this print and all of its supplements come to us from Rewind Film, the owners of the title. An Italian DTS-HD MA 2.0 track is accompanied by a dubbed English option (as well as an isolated score, which is the only extra for this release, apart from Julie Kirgo's fun liner notes). The English subtitles could have done with a lot of proofing, especially since there are moments in the dub with dialogue that whoever did the subtitles simply wrote "???" (?).
Speaking of superfluous question marks, 1983's Eureka ‒ our next motion picture endeavor regarding the desire to possess something you can never have ‒ was directed by one of cinema's greatest enigmas, Nicolas Roeg. For this, one of Roeg's "normal" films, we are presented with a bizarre story, as adapted from an even stranger footnote in history. Based on the rise and demise of Sir Harry Oakes, Eureka finds the great Gene Hackman as prospector Jack McCann, who, as the story opens, bears witness to some truly grisly sights. Momentary salvation in the hands of a fortune telling prostitute (for the record, those are my favorite kind of escorts), who foresees Jack's big break.
Indeed, Jack does strike it rich shortly thereafter, becoming one of the wealthiest men in the entire world overnight, just one of the many things that happened to the real life Harry Oakes, whose eventual fate ‒ though all but obscured from the history books ‒ is as mysterious as can be. Jumping back and forth between a conceivable motion picture reality and a surrealistic fantasy as only Nicolas Roeg can do, a majority of Eureka centers on an aged McCann after his ability to process pleasure peaks early in life and the paranoia sets in (you know, just like all rich old white people!). Roeg's tale then (er, spoiler, sort of) goes one step further, advancing well beyond the timespan of its antagonistical protagonist, into an equally outré courtroom mystery.
Theresa Russell, Rutger Hauer (back when he was still considered leading man material), the late Ed Lauter, early appearances by Mickey Rourke and Joe Pesci (remember him, kids?), and cult actor Joe Spinell also star. Twilight Time's presentation of Eureka, on loan from the MGM/UA vault, looks quite nice overall, boasting a stellar DTS-HD MA Mono mix and English (SDH) subtitles. Special features abound like Harry Oakes' wealth itself here, and include a Q&A Commentary with Nicolas Roeg from the world premiere; an isolated score in DTS-HD MA 2.0; individual interviews with writer Paul Mayersberg, producer Jeremy Thomas, and editor Tony Lawson; the original theatrical trailer (all in HD); and liner notes by Julie Kirgo.
Whereas Eureka presented the moral dilemma of "Where do you go once you have achieved ultimate happiness?", 20th Century Fox asked a similar question nearly forty years before, with their 1954 CinemaScope masterpiece, Garden of Evil. This time, however, the question is more along the lines of "And just what do you intend to do once you get it?" as gold once more enters the lives of not just one, but several lost and desperate men. Temporarily stranded in a small coastal Mexican village while their ship wait to make repairs, three American strangers ‒ bound by the same lusts ‒ find themselves faced with an offer they can't refuse when beautiful redhead Susan Hayward hires them to cut deep into the nearby terrain to save her husband.
Granted, Ms. Hayward doesn't actually love her gold-obsessed husband (the always articulate Hugh Marlowe), who is presently pinned down by some fallen rocks in their mine shaft, which is located in very hostile country. But that doesn't stop our three adventurers ‒ Gary Cooper, Richard Widmark, and Cameron Mitchell (back when hewas still considered leading man material) ‒ from risking life and limb against deadly (and anachronistic) Apaches, as it also means a shot at wealth and, just maybe, a little ginger lovin'. Director Henry Hathaway weaves a captivating psychological western, chockful of beautifully weird composite shots and the finest homosexual subtext I have ever seen in a '50s movie (Cooper and Widmark made a mighty fine pair, no?).
Co-starring Victor Manuel Mendoza and a brief bit by Rita Moreno (as the only other woman in Mexico, apparently), Garden of Evil achieves new life on Blu-ray courtesy 20th Century Fox's splendid transfer. Like most CinemaScope movies committed to home video, the widescreen image has that slightly squished look to it, but it's not a hindrance. Three main audio options are offered, including DTS-HD MA 5.1, 4.0, and 2.0 mixdowns. Bernard Herrmann's isolated score receives a rare DTS-HD MA 3.0 treatment here; while John Morgan, Steven C. Smith, William T. Stromberg, and Nick Redman contribute to an audio commentary. Three retrospective featurettes are also included, as are two trailers, a TV spot, and Julie Kirgo's liner notes.
Though most of the characters in the above pictures may never be able to have that which they covet, all five of these Blu-ray releases from Twilight Time are yours to order now, and come recommended from yours truly for one reason or another (yeah, so I like seeing Ornella Muti naked, all right?).