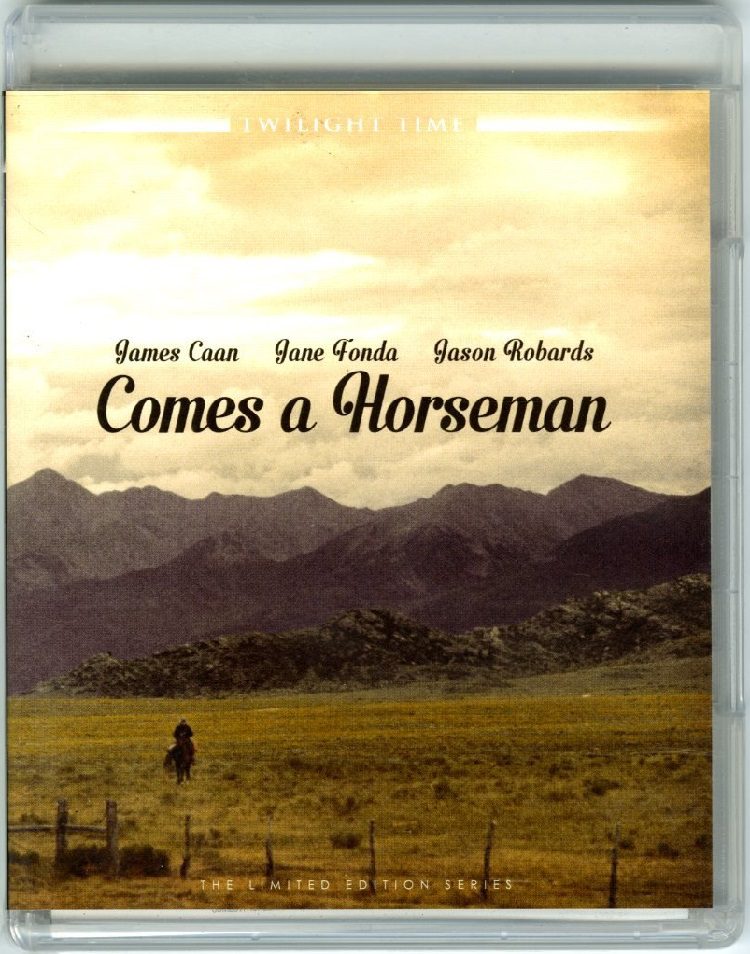 At one point or another, every one of us falls under the jurisdiction of being that which they once called the "odd man out." Maybe you're that unathletic movie nerd who finds himself amidst a group of people talking about sports. Or you're the jock who can't seem to communicate with all of the people talking about a popular television series you've never heard of. I'm sure you get the idea ‒ as do the various protagonists of this batch of Blu-ray releases from Twilight Time, which features a wide array of odd men who are a bit out of their league, as well as the women who either drive them to it, away from it, or straight through it.
And we start with one of filmdom's greatest odd men out, Vincent Price. If there's one thing I learned from an entire youth misspent in front of a television set, it is that Hell hath no fury like Vincent Price scorned. Or scorched, for that matter ‒ something we all learned in the groundbreaking 1953 horror hit from Warner Bros., House of Wax. In fact, House of Wax was so successful, it sparked (ha-ha) the film's producer, Bryan Foy (of The Seven Little Foys fame) to re-hire the same star, cinematographer (Bert Glennon), and writer (Crane Wilbur) in a noble attempt to pull off the exact same stunt at another studio.
Albeit this time in black and white and without nearly the same budget. Hence, Columbia Pictures' The Mad Magician came to pass in 1954, all but cementing Price as a worldwide horror movie star. Here, in an extremely familiar setting, Vincenzo plays an aspiring magician with many tricks to spare ‒ including his cheating wife (Eva Gabor), who has been shtupping her estranged hubby's employer (Donald Randolph). Meanwhile, the boss sticks it to Price by not permitting him to perform onstage or unveil any new illusions, per a contract that is so inhuman, you'd swear it had been drawn up by a cable/internet/phone provider.
Naturally, this leads to our odd man out being driven a bit Mad. Which, naturally, leads to murder and aiming things at the camera a fair bit. With plenty of disguises, chills, 3D money shots, the usual amount of Vincent Price quips, to say nothing of that scene where Vinnie accidentally gets whipped in the face by an extra, The Mad Magician makes for the perfect companion film to House of Wax. Mary Murphy, John Emery, Corey Allen, and a young Patrick O'Neal (making his film debut as he secretly preps for a future starring role in Chamber of Horror) also appear in this fun fright flick from the '50s, which looks better than ever courtesy a smashing HD transfer.
The Mad Magician is presented in a 1.78:1 aspect ratio with DTS-HD MA 2.0 Mono audio, and optional English (SDH) subtitles are also available. An alternate audio track featuring the movie's isolated score (by composers Arthur Lange and Emil Newman) is also provided in DTS-HD MA 2.0 Stereo, and there's even an audio commentary with David Del Valle and Steven Peros to keep you well informed of the film's history ‒ as well as that of its famous star. Were that not enough, Twilight Time has even included a new featurette from the fine folks at Ballyhoo, which digs up plenty of more dirt on The Mad Magician.
The first film to be broadcast on television in 3D (in marvelous, headache inducing anaglyph 3D), The Mad Magician isn't the only gem from Sony's vaults to find its way to this Blu-ray release. We also get two short subjects, Pardon My Backfire and Spooks (both from 1953). Starring an entire trio of odd men out, these were the only two efforts of The Three Stooges (from the illustrious Shemp era) to have been shot and shown in 3D (which also used to air on television, frequently at that). Previously released on DVD in anaglyph 3D, this pair of two-reelers make their HD debut here (in 3D and 2D), and both comedy classics are amazing to behold.
Whereas Vincent Price may have had his fair share of matrimonial issues in our previous film, the feelings towards one's spouse focus much less on such time-honored traditions such as mariticide and uxoricide in Stanley Donan's 1967 dramedy Two for the Road. In fact, there's nary a killin' to be seen or heard here (so consider that your warning). As mid-to-late '60s as you can possibly get (complete with a score by Henry Mancini, at that), this starring vehicle (with plenty of driving) for two renown performers at the height of their careers ‒ Audrey Hepburn and Albert Finney ‒ in what would prove to be their one and only cinematic pairing.
But what a pair they make in this sometimes silly but all too somber look at married life from a time when the traditional boundaries of relationships were being stretched both near and far. In this case, the emphasis is on far, as Two for the Road (an expression your bartender does not want to hear, just so we're all clear on that) covers a great deal of ground during its nearly two-hour runtime. The basic premise of the film, which finds successful architect Finney and his wife Audrey heading to Saint-Tropez, merely serves as an introduction to a long reflection on married life via numerous flashbacks.
If non-linear stories tend to confuse or annoy you, you may wish to exclude Two for the Road, as the movie darts all over the map in terms of locations and times. This enables various incarnations of our odd man out and his surprisingly patient spouse to exercise their own personal solicitudes and emotional solitudes from the past twelve years. Anyone who has ever been in a lengthy relationship will probably be able to relate to the pains and pleasures contained within (although I only wish I could pick up a chicks on the road like Albert Finney). The movie would later receive a royal parody in an episode of The Simpsons.
Also starring in this melodrama are Eleanor Bron, William Daniels (whose one-of-a-kind voice would later bring K.I.T.T. to "life" in the original Knight Rider), Claude Dauphin, Nadia Gray, Georges Descrières, and some newbie named Jacqueline Bisset. Sadly, a "skinny dipping scene" the late Ms. Hepburn claimed was difficult to shoot has still not been proved to have been filmed (uh, Stanley Donen, is there something you would like to share with the rest of the class?), but this immaculately gorgeous HD presentation from the 20th Century Fox archives is well worth it to not only fans, but classic swingin' jet set '60s movie lovers alike.
Twilight Time release of Two for the Road does include lots of pairs, starting with a choice of DTS-HD MA 2.0 Stereo and Mono soundtracks for the feature film, and concluding with two audio commentaries. The first track is with Stanley Donen, as ported over from a previous Fox SD-DVD release. The second is a new recording from Twilight Time's resident historians, Julie Kirgo and Nick Redman. An isolated score in DTS-HD MA 2.0 is a must for Mancini fans, as it was his reportedly his favorite score. English (SDH) subtitles, a vintage Movietone newsreel clip (with no original audio), and a trailer make this one ready for the road.
All sorts of odd men are out ‒ in full force, at that ‒ in our next feature, United Artists' Comes a Horseman from 1978. Directed by Alan J. Pakula, this heavy western/drama is set out in the middle of nowhere ‒ or "Montana" as some people prefer to call it ‒ during the last part of World War II. Jason Robards is the more than effective villain here, who is driven to maniacal determination in order to regain control of his family's two former ranches in the area, which have since fallen into the hands of a struggling, recently fatherless Jane Fonda and a struggling, recently discharged WWII veteran James Caan.
In fact, Robards is a little too obsessed with adding a few extra acres back to his empire, which he subtly announces to Caan by having one of his men shoot his brother dead (although I have it on very good authority that that's a pretty standard form of greeting a feller in Montana). Soon, the slightly unhappy Caan is forming an alliance with Fonda, who has her own (completely appropriate) reasons for hating Robards. But the real star here, hands down, is the great Richard Farnsworth, who gives us one of his many magnificent performances here as Fonda's wise and grizzled farmhand; a role that would earn him an Oscar nomination.
Twilight Time brings us this neglected, troubled film (tragically, a stuntman was driven to his death during the filming of the climax) courtesy an old HD master from MGM/UA. It isn't the best transfer ever, but I can safely see I've seen worse (take it up with MGM, purists). And besides, any chance to see the breathtaking skills of cinematographer Gordon Willis in widescreen, High-Def, and in color should be seized like land that used to belong to your family. The DTS-HD MA mono soundtrack comes through just fine, and the isolated Michael Small score is in DTS-HD MA 2.0. English (SDH) subtitles are provided, and the only other extra here is the theatrical trailer.
Jane Fonda is at it once again in our fourth and final feature, Stanley & Iris, which ‒ sure enough ‒ finds another odd man out. In the instance of this 1990 romantic drama for middle-aged folk from director Martin Ritt and the husband and wife screenwriting team of Harriet Frank Jr. and Irving Ravetch, the odd man in question is Robert De Niro, who tones down the violence considerably as Stanley Cox ‒ an inventive, hardworking man and devoted son who works at the same bakery factory as grieving widow Iris King (Miss Jane), who tries his darndest to hide his deepest, darkest secret: he's illiterate.
And while his inability to read or write could very well earn him an illustrious seat in politics today, it doesn't do much for his game in 1990. But it does, however, make way for a very charming, very human story of a working-class trying to make it in a world that will soon replace them with automated machines (of Stanley's own devising, the poor dumb clod) as the patient (but very pained) Iris takes it upon herself to drive our odd man to success by teaching him how to read. Swoosie Kurtz, Martha Plimpton (as Fonda's daughter), Feodor Chaliapin Jr. (as De Niro's classy pops), and Stephen Root also appear in this adaptation of Pat Barker's Union Street.
Twilight Time brings us this required piece of viewing for anyone who is single and over the age of 40 to Blu-ray via a stellar HD transfer from MGM/UA. The cinematography from Australia's own Donald McAlpine comes through with nary a hitch here, and the DTS-HD MA 2.0 soundtrack is also quite clear and crisp. Optional English (SDH) subtitles are included, as is the isolated score (also in DTS-HD MA 2.0) highlighting one of Star Wars composer's John Williams' lesser-known efforts.
Additional special features for Twilight Time's release of Stanley & Iris includes an audio commentary by historians Julie Kirgo and Nick Redman, and the film's original theatrical trailer. Liner notes from the aforementioned Ms. Kirgo are included for this and the other three titles referenced in this article. Each release is limited to just 3,000 copies apiece. Enjoy.