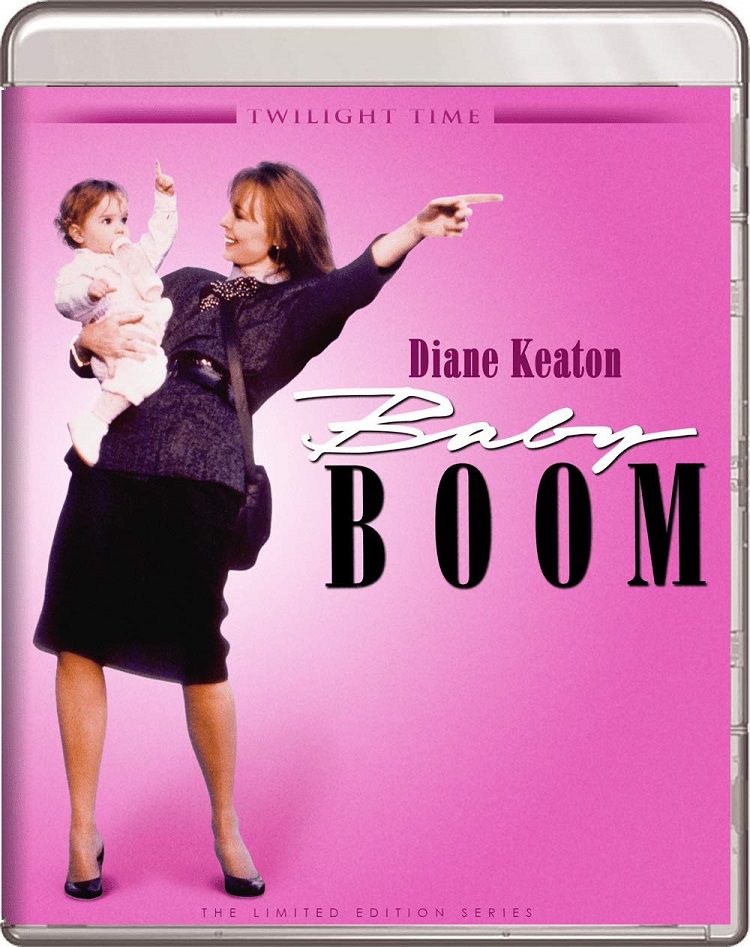 Even if you're just now joining us here on Planet Earth, there's a fair chance you've already heard someone utter that annoying catchphrase people who post nothing but inspirational memes on their Facebook page tend to use: "Go big or go home." In all honesty, however, there is absolutely nothing wrong with heading off someplace other than one's former place of residence if things don't go as "big" as you had hoped. Indeed, the protagonists of this quartet of Twilight Time releases certainly have no intention of returning home in the unlikely event of failure. But then, with an assortment of wonderful motion pictures such as these, failure is not an option.
We begin in one of the most toxic towns ever put down on paper: Peyton Place. A torrid tale of the sordid sort of drama most (if not all) small communities seem to be comprised of, this acclaimed hit from producer Jerry Wald and director Mark Robson broke many a mold when it first hit screens in 1957 ‒ becoming the first American motion picture since the induction of the Hays Code to depict such taboo subjects as incest, rape, and an all-around lack of morals most small towns publicly claim to support. You know, the very things you see on soap operas (to say nothing of websites like PornHub) regularly now.
Even with its subject matter heavily sanitized from its source material (novelist Grace Metalious made it big with her controversial 1956 best-seller; a graphic expose of the quaint New Hampshire community she grew up in, which resulted in her never even being allowed to go back home!), Peyton Place finds newbie Diane Varsi as the young high school girl surrounded by a venerable nest of vipers such as her repressed mother (top-billed Lana Turner), whom the horny new silver-fox school principal (Lee Philips) wants desperately to control. Then there's her bestie, Selena (Hope Lange), who has an alcoholic step-father (The Lusty Men co-star Arthur Kennedy, as an even worse lusty man).
Russ Tamblyn is the mama's boy named Norman (well, duh!). Lloyd Nolan, still with a bit of Michael Shayne in his blood, is the town doctor keen to use a little private information as blackmail if it helps the community. Also appearing in this drama that somehow made it past the censors in '57 are Terry Moore, David Nelson (Ricky's brother), Barry Coe, the great Leon Ames, and a very young feller calling himself Lorne Greene. The (in)famous classic earned nine award nominations at the Oscars that year, but nabbed nary a one of 'em. But that wasn't going to stop them from continuing the franchise via a number of TV series and spinoffs. After all, they certainly weren't going home!
Twilight Time's beautiful 1080p presentation (courtesy 20th Century Fox) of this CinemaScope affair with color by De Luxe comes complete with a number of bells and whistles, including DTS-HD MA 2.0 and 5.1 audio options (the latter being a remix of the original 4-Channel Stereo sound) and English (SDH) subtitles. Two audio commentaries are also included. The first is a newly-recorded track with filmmaker/historian Willard Carroll, while the second selection with actors Terry Moore and Russ Tamblyn hails from the previously-released Fox SD-DVD. Willard Carroll returns for On Location in Peyton Place, which he also provides an optional commentary for.
Lastly for this recommended release (note: this is one of those rare instances where Twilight Time has not included an isolated score), we have an episode from AMC's long-running Backstory series, which sheds a little light on some of the secrets from behind-the-scenes, including a well-published incident concerning Lana Turner that very well could have been ripped directly from the pages of Grace Metalious' own book. Several newsreel clips are also included, as are two trailers (a teaser and another from the general release of the picture). Julie Kirgo's well-written liner notes wrap up this enjoyable romp through shady seedy small town shenanigans.
Another literary adaptation in this lot, 1959's Our Man in Havana marked the third and final collaboration betwixt author Graham Greene and filmmaker Carol Reed. Here, Alec Guinness (the old old Obi-Wan Kenobi, Millennials) stars as Englishman James Wormold: a mild-mannered vacuum cleaner salesman in the capital city of Cuba in the pre-revolutionary days. While business isn't what you'd call "big," Sir Alec still manages to keep busy just the same, perpetuating a delicate balance between work, playing single supportive parent to his high-maintenance daughter Jo Morrow, and evenings spent drinking daiquiris with German scientist Burl Ives.
After all, who in their right mind would refuse nightly cocktails with Burl Ives? But all of that changes one fateful day, however, with the arrival of a fellow British citizen named Hawthorne (effectively portrayed by Noël Coward) ‒ who happens to be a secret agent with Her Majesty's government. Moreover, Hawthorne is looking for someone to be an operative in the area. But Wormold doesn't immediately see the position as something to take too terribly seriously, opting to invent his own agents just to take full advantage of the extra pay that comes with having them to pay for his daughter's increasingly lavish lifestyle. (It's either that, or go back to England, which he isn't keen on.)
Wormold even goes so far as to design sketches of a nonexistent Cuban base using a vacuum cleaner as the source of his inspiration; a simple gag which not only lands him a hot secretary, but also places him in a bit of hot water once enemy agents start to emerge from the shadows. Solemn, but laced with heavy doses of that delightfully dry British wit, Our Man in Havana was one of the first films before the actual spy subgenre formed, expertly photographed by Moby Dick's own Oswald Morris.
Perfectly placed within Morris' beautiful black-and-white framing is an equally impressive cast. Before you go chuckling over the notion of Burl Ives portraying a German doctor, don't. Because he nails it. In fact, everyone in this superb little flick gets it right, including famed comedian Ernie Kovacs. Cast as a sleazy and corrupt Cuban cop with a strong hankerin' for Guinness' on-screen daughter, Kovacs commits one of the most sublime performances ever in the process (and if the dynamic climactic chess game between Guinness and Kovacs fails to awe and tickle you, you should probably ask your doctor if Prozac is right for you).
Also starring the undeniable presence of Sir Ralph Richardson, Columbia Pictures' Our Man in Havana arrives to Blu-ray courtesy Twilight Time and the Sony vault. Looking positively dynamic throughout (especially if you have only ever seen this via the fuzzy US DVD), this 1080p presentation shows just how atmospheric black-and-white cinematography can be when it is not only filmed by the right people, but also preserved by them. The stalwart imagery is accompanied by a DTS-HD MA 2.0 Mono soundtrack (which doesn't disappoint, either) and English (SDH) subtitles. Extras include an isolated DTS-HD MA 2.0 score, trailer, and (of course) Julie Kirgo's loving liner notes.
Perhaps one of the most adamant worries we face in our various attempts to "make it big" (you're welcome, Wham! fans) in the world is the overwhelmingly humiliating prospect of complete and utter failure. Fortunately for all, there's a modest little musical from 1967 which can tell you How to Succeed in Business Without Really Trying. Based on the sensational 1961 musical play (which was inspired by a satirical 1952 publication), this big-scale production from screenwriter/director/co-producer David Swift expertly mixes song with satire as it pulls no punches as it mocks the bustling, backstabbing world of big business which later became the corporate hell of today.
Here, in a role he was undoubtedly born to play, the manic Robert Morse ‒ fresh from nearly destroying his film career before it even officially started by appearing in Quick, Before It Melts ‒ stars as a meager Big Apple window washer whose whole life changes for the better one day after he picks up a copy of an instructional booklet entitled How to Succeed in Business Without Really Trying. Filled with step-by-step directions on how to worm your way in and work yourself up to the top via a variety of shady and often amoral ploys and schemes, J. Pierpont "Ponty" Finch (Morse) quickly makes a good impression on his superiors by weeding out the weaklings.
Alas, despite having his newfound sense of street smarts, there are some things the book just doesn't teach very much about. Things such as love and fidelity. Ne'er fear, however: Ponty is all set to receive a private crash course in his after-hours job when pure-hearted secretary Rosemary Pilkington (Michele Lee) catches his attention. But will the amorous advances of the big boss' busty mistress (Maureen Arthur) ‒ determined to get ahead in an entirely different fashion ‒ get him in hot water? And will said trouble be confined solely to Rosemary or the big boss himself (the great Rudy Vallée)? Time will tell in this madcap, frantic rat race in a world of groundhogs and chipmunks.
Sporting many leads from the iconic stage production, How to Succeed in Business Without Really Trying may not have succeeded in going big at the box office when it was first released, but it has since gone on to become a revered classic. Also starring in this, one of the better musicals from the late '60s, are the timeless talents of Anthony Teague, John Myhers, lots of young attractive women in solid color dresses with big hairdos, a number of blokes straight out of Mad Men, and two great names from the classic days of quiz shows: Robert Q. Lewis, and the man Groucho Marx allegedly once referred to as "the male Margaret Dumont," Mr. George Fenneman.
Presented in a stellar HD presentation on loan from the MGM/UA library, Twilight Time's Blu-ray release of How to Succeed in Business Without Really Trying is most assuredly a success in my book. The transfer is well-balanced, bringing out the best of the film's multifaceted color palette whilst never looking too oversaturated. Burnett Guffey's cinematography and Bob Fosse's carried-over choreography (originally made for the stage production) certainly shine through here, and the release includes a choice of soundtracks for the aural and visual aficionado: a DTS-HD MA 5.1 selection, as well as a DTS-HD MA 2.0 Mono option. English (SDH) subtitles are included.
Special features for this Twilight Time title start off with an isolated score in DTS-HD MA 2.0. While it may seem a bit odd there isn't an audio commentary for this one (the SD-DVD released by MGM in the early 2000s was also lacking any such track), this release more than makes up for it by including two new High-Def featurettes produced by the folks at Ballyhoo Motion Pictures. The first is an interview with Robert Morse himself, who is a blast to listen to as he discusses his career. Similarly, Ms. Michele Lee has just as much to say in the second newly-produced bonus item. The original theatrical trailer (in Standard-Def) is also on-hand, as are liner notes from Ms. Julie Kirgo.
Sometimes, success comes in the most unlikely of ways. And this is certainly true when it comes to our final motion picture about busybodies, the 1987 rom-com Baby Boom. Starring the great Diane Keaton ‒ who is well on her way to being the most frequently seen actress in the Twilight Time catalog, thanks to her numerous collaborations with Woody Allen that have been put forth onto Blu-ray ‒ this light-hearted dramedy became an unexpected hit after it first hit theaters, even earning two Golden Globe noms and a short-lived TV series of the same name. And, although that TV show may have starred one of my favorite crushes, Kate Jackson, the original is still where it's at.
Set in the trendy, hipster world of big city corporate yuppies of the late '80s ‒ a tragic byproduct which can be directly attributed to the very businesses J. Pierpont Finch succeeded in ‒ Ms. Keaton stars as a sophisticated and powerful businesswoman in Manhattan. Well, perhaps "powerful" isn't the most appropriate word to use here, since Keaton's unfortunate tendency to have been born a woman makes it very difficult to truly succeed in business (even with trying, mind you!), especially when there's a handsome, young, and utterly slimy James Spader lurking about ready to take credit for every good idea (check his pockets for a handbook, quick!).
Worse still, Keaton's natural womanhood becomes less natural after her last remaining (and quite distant) relative passes on and leaves her their infant daughter. Now faced with the horror of working a high-profile, high-maintenance, high-pay job coupled with the burden of raising a child alone, the change in lifestyle instantly alienates her yuppie romantic partner (as played by the late great Harold Ramis), leaving her even less of a chance of going big. Fleeing the fast-paced life of the high-priced city, our heroine decides to buy a dilapidated farmhouse (complete with an apple orchard) in the country ‒ only to find things aren't necessarily as idyllic and peaceful there as they appear to be.
Also starring in this cutesy yarn about going independent in a corporate world from the equally independent husband and wife filmmaking team of Charles Shyer and Nancy Meyers are Sam Shepard (as the simple country veterinarian all the ladies drool over, including Diane!) Sam Wanamaker and Pat Hingle (as the very same sort of greedy capitalist jerks whose privileged ignorance paved the way for the world we live in today), character actor Britt Leach, and a post-SNL Mary Gross (who would later appear on Boston Legal with James Spader, whose role here is so much like a young Alan Shore, it hurts). Bill Conti provides the "very '80s" late '80s music score.
A nice upgrade to the out-of-print MGM DVD, Twilight Time's Blu-ray presentation is as good as it's likely to get when you consider the era it was produced in (and the budget the surprise success was produced with). The more than decent transfer includes a DTS-HD 2.0 Stereo soundtrack, which delivers its sales pitch admirably, and there are English (SDH) subtitles accompanying. Conti's score is presented in an isolated DTS-HD MA 2.0 option, and Twilight Time's own Nick Redman and Julie Kirgo give us their thoughts in their included audio commentary. The film's original theatrical trailer and another round of liner notes from the aforementioned Ms. Kirgo's complete the sale.
As Jerome "Curly" Howard once said, "If at first you don't succeed, keep on sucking 'til you do succeed!" And while said advice may solely be limited to the mistresses of your employers in this day and age, there's something here for anyone who enjoys looking in on other people's business ‒ whether you're just starting out in business or have already kissed the daily grind adieu. All four titles are limited to 3,000 pressings apiece. Happy succeedin', kids.