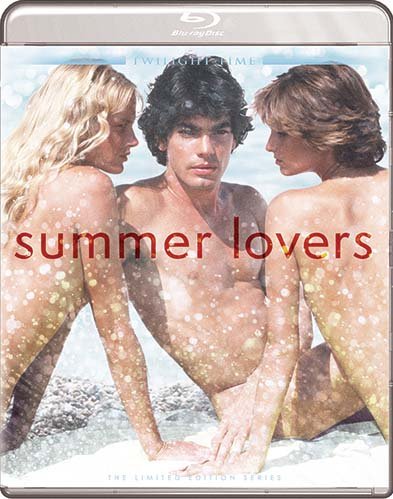 Once again, a seemingly brief period of time has passed by, leaving in its wake a stack of movies on my proverbial workbench that is almost as long as summer itself. So it's only fitting I start my analysis of this quintet off ‒ which was made available to the public during the summer ‒ examining the titles that blatantly exploit said season. Speaking of "exploit," the term "exploitation" certainly comes to mind for many whenever Randal Kleiser's 1982 flick Summer Lovers is brought up. That, and the occasional "had me a blast" joke when people realize Kleiser also directed the far more famous Grease (to say nothing of Honey, I Blew Up the Kid). Here, Mr. Kleiser brings us another coming-of-age-in-the-buff tale ‒ a trait he picked up two years before with the still-infamous Brooke Shields cult classic, The Blue Lagoon.
This time around, instead of a female lead with noticeable eyebrows, we have both Peter Gallagher and Daryl Hannah taking the lead as a young American couple who head to Greece (heh-heh, it's "Grease" ‒ get it?) after graduating college. While two people of that age group would have already experienced the joys of numerous encounters with blood alcohol poisoning, STDs, the future humiliation of having appeared in an amateur pornographic production, and downright terrible tone-deaf bass-thumping club tracks today, Peter and Daryl have the benefit of being in the '80s here. This of course means kick-ass tunes (two words, kids: Depeche Mode) and the benefit of discovering themselves sexually in a setting infinitely more suitable than the vomit-strewn parking lot of a college kid bar a few blocks away from campus.
Doomed actress Valérie Quennessen (who died in an automobile accident seven years later) co-stars as a French archeologist who catches the ocular organ 'neath Gallagher's forehead caterpillars. Barbara Rush, trying to regain any respect she still had with theater patrons everywhere after appearing in Can't Stop the Music the same year Kleiser sailed us to The Blue Lagoon, shows up at some point cast as Hannah's mum in order to instill a little morality on the promiscuous heathens of our relatively storyless story. Frankly, I prefer Olga (Zombi 2) Karlatos' version of the Barbara Rush part in the Italian rip-off, Senza Buccia (aka Skin Deep), who winds up joining in on the festivities. But beggars can't be choosers, so the original will have to do.
Twilight Time's surprising addition to their library presents the film in its intended 1.85:1 aspect ratio with a beautiful 1080p transfer and DTS-HD MA 2.0 audio track and optional English subtitles in accompaniment. Special features for this somewhat forgotten semi-cult item begin with two additional audio options: the first being a newly-recorded commentary from Randal Kleiser himself, the second a DTS-HD MA 2.0 isolated score and effects track that highlights composer Basil Poledouris' efforts. The late maestro is also the center of attention on a documentary from 1997 (Basil Poledouris: His Life, His Music that was co-produced by Twilight Time's Nick Redman). A vintage making-of featurette, two trailers, and a handful of screen tests (including some guy named Patrick Swayze) are also on-hand here, and Julie Kirgo's liner notes wrap the whole euphemistic package (because everyone's nekkid in this movie, you see) up.
Released the same year as Summer Lovers (1982 was an incredible year at the cinema, bringing us not only comedies and romances galore, but sci-fi and horror hits to boot ‒ to say nothing of They Call Me Bruce?!), Woody Allen's A Midsummer Night's Sex Comedy presents a much lighter look at the world of love amongst friends and strangers alike. As if picking up where his final shot of Love and Death left off, Mr. Allen continues to pay homage ‒ whilst at the same time, poking fun at ‒ the work of Ingmar Bergman (with a twist of Shakespeare for zest). Set in the early 1900s, the story finds three couples getting together for a weekend at the secluded country home of crazed inventor Andrew (Allen) and his wife Adrian (Mary Steenburgen, who had already fulfilled her nudity clause two years before ‒ yes, the same year as The Blue Lagoon ‒ in Melvin and Howard, so don't expect any crazy skin in this picture, kiddos).
Among the visitors are Adrian's big shot philosopher cousin, Leopold (José Ferrer), who is accompanied by his young fiancée Ariel (Mia Farrow); and Andrew's philandering physician friend Maxwell (Tony Roberts), and his new nurse conquest, Dulcy (Julie Haggerty). As it turns out, Andrew and Ariel once shared a severe case of puppy love at the same estate, several years before; a romance that never achieved fruition (boy, do I know all about those) due to his own insecurities (boy, I know all about those, too!). But the arrival of the adorable young pixie may just be what Dr. Maxwell would order up for himself, as Andrew and Adrian's sex life is in the dumps. Now if Andrew could just find the time to pencil her in (ahem) as all of the men in the area (and perhaps in the land beyond) try to get with that delightful young beauty in-between their various sneaking out to meet up with every other woman there in the process!
A Midsummer Night's Sex Comedy makes its High-Definition debut in a splendid 1080p 1.85:1 transfer from the MGM/UA vaults. Aurally, the new-to-Blu-ray release sports an equally enjoyable DTS-HD MA 1.0 soundtrack that can bring serious weight to any argument someone may have over whether or not 7.1 is superior to Mono. Optional English subtitles are also available. Like most (if not all) of their Blu-ray offerings of the films of Woody Allen, Twilight Time's presentation of A Midsummer Night's Sex Comedy is a fairly bare-bones affair, sporting a secondary soundtrack that features an isolated (mostly Mendelssohn) score in DTS-HD MA 2.0 and the film's original theatrical trailer as bonus materials. Julie Kirgo once again pens the insightful and enjoyable liner notes for this comedic look at life and love made at a time in history when damn near everyone in "the biz" was off snorting cocaine in-between takes.
Sorry, was that last remark insensitive of me? Or out of left field? Well, it's nowhere near as insensitive or out of place when compared to the daily embarrassments to the human species that I have the misfortune of seeing shared (and thankfully, sometimes bashed) on social media platforms, as culled from the speeches of various deranged public officials and clueless politicians who are against the very harmless idea of same-sex marriage. It seems like it was only yesterday in America's history of being offensive to its own citizens that people were making the same asinine arguments against interracial marriage, which takes us away from the summer aspect considerably, and places us in a winter of discontent for Stanley Kramer's groundbreaking 1967 comedy-drama about life and love made at a time in history when everyone out of "the biz" should probably have been indulging in more drugs: Guess Who's Coming to Dinner.
Though the interracial element doesn't seem as being out of place to today's slightly more enlightened society (naturally, I'm excluding certain varieties of bigoted county clerks who dress like Quakers and refuse to do their jobs), it was a whole different ball game back in '67. Unlike many (mostly exploitation) films of the time that held less-than-favorable views on miscegenation, Kramer's film was one of the first to embrace a positive look on the subject. Here, the dynamic talents of a rising African-American actor by the name of Sidney Poitier meets ‒ and clashes with ‒ one of the nation's best-loved partnerships from the previous generation, Spencer Tracy and Katharine Hepburn, after the latter's on-screen daughter (as played by Hepburn's niece, Katharine Houghton) abruptly returns home over her (summer?) vacation in Hawaii to introduce her family to the kindly, intelligent, widowed physician she met and fell in love with there.
The well-to-do San Francisco-based parents of Joanna Drayton (Miss Houghton) raised her to be just as liberal-minded and accepting as they. But when young Miss Drayton brings Dr. John Wayde Prentice, Jr. (Poitier) home to meet her parents, she discovers that most of that may have been the parental equivalent of pillow talk after her mother and father (Hepburn and Tracy, respectively) show little to no enthusiasm over the fact their daughter has fallen in love with a black man. But it's not just a concern for Joanna's parents, as even the Draytons' black maid (Isabel "Weezy" Sanford) is upset, believing John may be trying to prove he's something he is not. It doesn't end there, either: John's own parents (Roy E. Glenn and Beah Richards) are against the marriage once they learn their would-be daughter-in-law is white. Cecil Kellaway co-stars as one of filmdom's most godly men of God in this, the last film for actor Spencer Tracy.
Wisely opting to not include the godawful 2005 comical remake Guess Who with Bernie Mac and Ashton Kutcher as a special feature, Twilight Time's Blu-ray presentation of Guess Who's Coming to Dinner instead has ported over most of the (specific) extras from the earlier 40th Anniversary Special Edition DVD released by Sony. Said goodies ‒ which are now presented in High-Definition ‒ include introductions for the film from Stanley Kramer's widow Karen, Steven Spielberg, Tom Brokaw, and Quincy Jones; featurettes A Love Story for Today, A Special Kind of Love, and Stanley Kramer: A Man's Search for Truth; and two archival award presentation clips (that have nothing to do with the feature film itself). New to this release are an audio commentary, isolated score in DTS-HD MA 2.0, and two trailers, and Julie Kirgo's liner notes wrap up yet another excellent presentation.
And now I not only take you to a film that saw its initial theatrical release in the early part of the Summer, 1955 (look, that's about the only way I'm going to connect this one, also), but one which takes place in the Land of the Rising Sun to boot. Essentially a loose remake of 1948's The Street with No Name, Samuel Fuller's CinemaScope/Color by DeLuxe film noir House of Bamboo is the usual type of hard-hitting filmmaking we have come to love from the late director, which is often cited as being a cinematic variation of tabloid journalism. Here, in this tale of in-your-face action 1950s style, the always straight-faced Robert Stack ‒ only some thirty-odd years away from becoming a parody of himself hosting Unsolved Mysteries ‒ plays his usual serious tough guy who shows up in post-World War II Tokyo to seemingly do little else other than muscle some pachinko parlor owners out of their hardly-earned yen.
Ah, but there's always something more lurking just beneath the surface of every coy fish pond, and soon, Mr. Fuller starts unraveling the seaweed wrap in this tale of mobsters on the loose. Top-billed Robert Ryan shines as the deranged leader of an occidental criminal organization which has stolen from Uncle Sam too many times, and now has eyes from all over the globe focuses on finding them. Shirley Yamaguchi is the secret (widowed) wife of a fallen hood, determined to discover just who exactly had her hubby hit. Future horror and sci-fi b-movie regular Cameron Mitchell ‒ still at that short-lived moment in his career when he actually had a career ‒ has a magnificent co-starring role as Ryan's number one man. Robert Quarry, another future regular in low-budget genre pictures best known for his performance as Count Yorga, Vampire in two AIP movies from the sexually liberated '70s can also be seen at play here.
But that's not all, folks! DeForest Kelley (Star Trek's legendary Dr. McCoy himself) also co-stars as a baddie, which was nothing new for the late actor, who had started out as a background heavy in westerns. Speaking of westerners, Brad Dexter from The Magnificent Seven (an uncredited remake of the Japanese classic The Seven Samurai), and Harry Carey, Jr. also appear in this well-loved gem, which receives a marvelous new 1080p 4k scan transfer and is presented in its 2.55:1 aspect ratio. The original 4-Channel soundtrack gets a nice DTS-HD MA 5.1 makeover for this release, and an isolated score in DTS-HD MA 2.0 is also included, as are two silent Fox Movietone Newsreel clips from yesteryear, a trailer, and two audio commentaries. One commentary is ported from the 2005 DVD, the other made especially for this release and conducted by Twilight Time's Nick Redman and Julie Kirgo, the latter of whom returns for the disc's liner notes.
Lastly for this batch of summer baked goodies, we remain as many post-war expats did ‒ in Japan ‒ travelling to The Little House (or, Chiisai Ouchi, as it is known in its native country) for another tale of life in the Far East. But whereas our previous filmic odyssey was a noticeably fictional yarn, Yoji Yamada's 2014 domestic drama ‒ the most recent film to hit Blu-ray courtesy of Twilight Time ‒ instead delivers a far more believable narrative. Following the demise of ornery family elder Taki (Chieko Baishô), her great-nephew Takeshi (Satoshi Tsumabuki) soon gets the unenviable task of going through someone else's memories after Taki leaves the young man her diary. As Takeshi thumbs through the emotionally driven pages, the title weaves from earlier moments in time to when Takeshi helped his great-auntie pen her memoirs to pivotal points in younger Taki's life (wherein the character is portrayed by Haru Kuroki) during the '30s and '40s.
An emotional pitfall for anyone who hasn't had to stop and ask themselves if they're presently feeling very happy about life, The Little House hails from the same creative mind behind an earlier Twilight Time release, The Twilight Samurai. The film is presented in its theatrical 1.85:1 aspect ratio with a DTS-HD MA 5.1 soundtrack in accompaniment ‒ even though this isn't necessarily the type of title that needs one. That said, it is quite good, and an isolated score in a rare 5.1 mix is also available with this release. Additional supplemental features are fleeting, consisting of a theatrical trailer and a few teasers, but after having had to stare at Peter Gallagher's eyebrows in High-Definition, witnessing the sight of elderly José Ferrer getting down and dirty, hearing far too many uses of the word "Negro" than I should have to hear in lifetime (which is zero, just so we're clear on that one), and seeing one of my all-time favorite b-movie stars gloriously executed in a bamboo bath tub, I guess that's not so bad.
Like the other titles in this article, The Little House is wrapped up with lovingly written liner notes by Julie Kirgo. All titles from this wave of Twilight Time releases are limited to 3,000 units a piece.