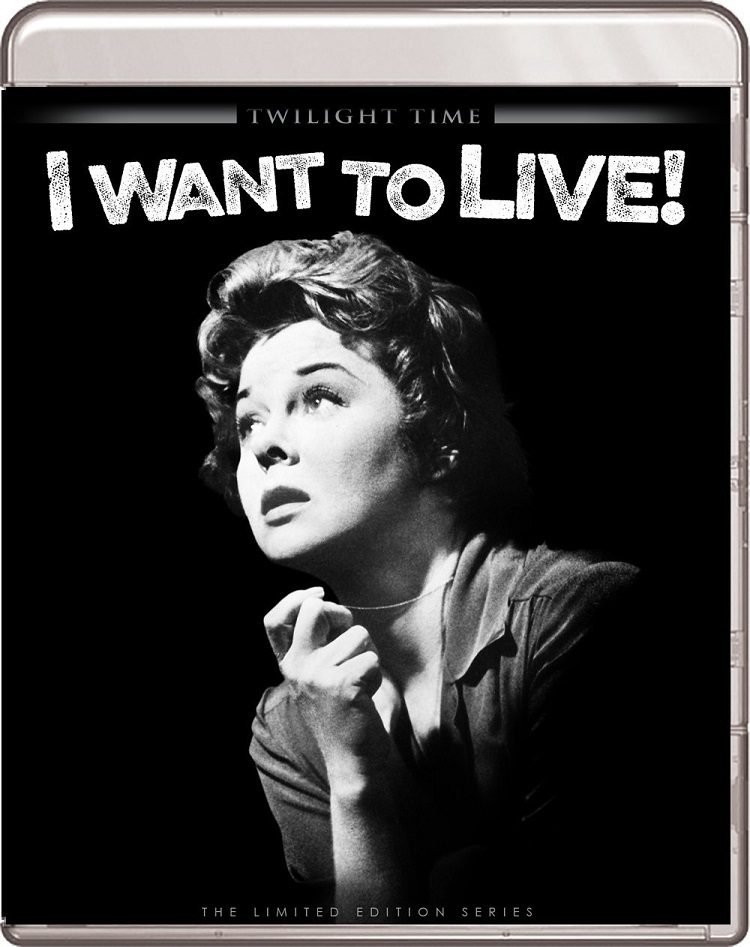 As it has been stated time and time again, the only two things we can be certain of in life are death and taxes. Onscreen, however, within the magical realms of cinematic art (where applicable), the subject of taxation ‒ with the notable exception of various legends hailing from Loxley and perhaps a song by The Beatles ‒ is one of the dullest subjects to spend your money on. Death, on the other hand, is a timeless and bankable topic. Few people would take note of a newspaper headline reading "Taxes Paid" (unless it's a politician or religious leader), but just about everyone will stop in their tracks to see what's up if they see the words "Corpse Found" (especially if it's a politician or religious leader).
Death is all the more fascinating for those of us who love a good murder. Not the actual act, mind you, but rather the reading or ‒ were I trying to actually get to the point ‒ viewing of a motion picture focusing on the taxing life (ha-ha) of a killer. There was certainly no shortage of such from Twilight Time in November, wherein the four releases we're about to explore debuted on Blu-ray in the US for the first time ‒ including several features inspired by real life killers, because, if we've learned nothing else from the year 2016, there is nothing more frightening than real life.
(Well, maybe taxes, but that's neither here nor there, really.)
In fact, the only thing that can enrich the experience of a nice exploitable death is if you somehow work sex into the fray (preferably beforehand, but I understand there are a lot of Jörg Buttgereit fans out there), which is one of the reasons film noir is so gosh-darn appealing. And as it turns out, our first peek at the life of a killer is a nifty little 1958 noir from United Artists which bears the exact same phrase I wind up crying out to my therapist every week: I Want to Live!. Here, the late great Robert Wise directs an enthralling, grainy biography of Barbara Graham ‒ a convicted murderess who is only a footnote in the book today for being California's third woman in to be executed in the gas chamber.
Maintaining the perceived illusion (sadly, the truth may never be known) our anti-heroine was innocent, Wise's tale wisely casts the one and only Susan Hayward as Barbara Graham, who portrays the condemned with an iron fist. As the story opens, we learn our positive female role model is not only a convicted prostitute, but a perjurer to boot ‒ a slight personality flaw which may make her pending murder trial a bit cumbersome. Psycho's Simon Oakland (who has been popping up in Twilight Time releases quite a bit lately) takes on an early, meaty role as journalist Ed Montgomery (who, ironically, won a Pulitzer for a series on tax fraud), who goes from Graham's strongest critics to one of her biggest supporters.
Virginia Vincent, Theodore Bikel, and TV greats Dabbs Greer, Gavin MacLeod, and Stafford Repp (that's right, you get to see Reverend Alden, Captain Stubing, and Chief O'Hara all in the same film!) also star in this superb flick. While I'm sure no one other than me will be disappointed to discover the 1983 TV remake of I Want to Live! with Lindsay Graham and Martin Balsam is not included with this release, the beautiful 1080p transfer, crisp 1.0 DTS-HD MA soundtrack, isolated Johnny Mandel jazz score, audio commentary by Robert Wise associate Mike Matessino, theatrical trailer, and liner notes by Julie Kirgo should warrant a visit to the best hot seat in the house.
Seeing as how Barbara Graham met her maker courtesy a handful of poison, we may as well use that as a diminutively clever segway into our next feature, 1968's Pretty Poison. Here, Simon Oakland's better-known Psycho co-star ‒ the late Anthony Perkins ‒ stars in yet another film to feature him as a murderous loon. That said, director Noel Black's black comedy gives Perkins a chance to do something he would pretty much have to wait until Hitchcock died to do with the role of Norman Bates: have a bit of fun with it. And who better to pit Perkins with than an alluring, underage Tuesday Weld? It's Pretty Poison indeed; one which is heightened by an excellent script by cult favorite Lorenzo Semple, Jr.
After being released from a mental institution, Dennis Pitt (Perkins) relocates to a small community where the most intriguing thing to be found is young cheerleader Sue Ann Stepenek (Tuesday Weld). Introducing himself as a secret agent [note to self: try that one sometime], Dennis soon occupies his spare time by recruiting his seemingly-gullible nubile playmate with "special missions." Alas, the games become deadlier as the week progresses in this film which would also receive an unneeded TV remake (in 1996). Former Roger Corman regular Beverly Garland and John Randolph (as well as his wonderful, distinctive voice) also star in this filmed adaptation of Stephen Geller's She Let Him Continue.
Another connection betwixt I Want to Live! and Pretty Poison is composer Johnny Mandel ‒ whose work is included in Twilight Time's release of this 20th Century Fox "classic" as an isolated 2.0 DTS-HD MA score/effects track. The main soundtrack is presented in 1.0 DTS-HD MA, and two more aural options are available in the form of audio commentaries: the first by executive producer Lawrence Turman and historians Lem Dobbs and Nick Redman; the second with director Noel Black and historian Robert Fischer. The latter two gents also provide commentary for a (text-only) deleted scene. A trailer and liner notes penned by Julie Kirgo wrap this Pretty Poison up quite nicely.
If there's one thing I learned from this wave of Twilight Time releases, it's that filmgoers in the year 1968 must have been really fascinated with murderers. For less than a month after Pretty Poison premiered, cinemas all over received a deadly gentleman caller in the guise of The Boston Strangler. Here, in a strange reminder to the world we once had such a thing as serial killers (seriously, did the Internet and Reality TV really kill them off, or what?), director Richard Fleischer weaves a web of paranoia in this take on the real life atrocities committed by Albert DeSalvo between 1962 and 1964.
Interestingly, the character of DeSalvo himself isn't even seen within the first half of the film, giving our tale's second-billed hero, the venerable Henry Fonda, to put the pieces of one incredibly flabbergasting puzzle together in an era when scientists were only just beginning to convince the world mental illness existed. And for the most part, it appears Fonda and sidekick George Kennedy (aka The Airport Franchise's Greatest Recurring Gag) are the main characters. But everything ‒ from storytelling to noses ‒ changes once an almost unrecognizable Tony Curtis walks into the picture and shows us just how serious the industry's perennial pretty boy could be, sending shivers up everyone's spine in the process.
Also featuring Hot Lips (Sally Kellerman, in her debut), the Mayor of Shark City (Murray Hamilton), Blacula (William Marshall), Moe Greene (Alex Rocco), and Van Johnson of Rock Ridge (George Furth), The Boston Strangler gets a much-needed upgrade. The beautiful 1080p presentation is accompanied by 3.0 and 2.0 DTS-HD MA soundtracks, the (related) extras from the old US DVD, two must-see featurettes from Robert Fischers German-based outfit Fiction Factory (hey, that's my favorite '80s Scottish New Wave group!) which were included on a French Blu-ray, an isolated score/effects track, audio commentary by film historians David Del Valle and Steven Peros, and liner notes by Julie Kirgo. Now that's something worth killing for!
Figuratively, I mean. There's enough killing going on in these movies to begin with, but everything gets a complete makeover ‒ literally ‒ in our final killer feature, Gran Bollito. Also known under the English-friendly title Black Journal (though it would appear the film was rarely screened outside of Italy), this bizarre 1977 Italian movie is unlike anything else to be seen or heard thus far here. The latter attribute is due to the fact Gran Bollito is only presented in Italian with English subtitles, while the former honor goes to director Mauro Bolognini's very odd and interesting casting choices. First, there's nutty ol' Shelley Winters (at the tail-end of an Italian phase, including the stinky '77 Jaws rip-off, Tentacles, which also starred Henry Fonda) ‒ as a serial killer.
OK, well, maybe Shelley Winters as a murderess isn't that uncommon of a cinematic trait. But she's just the tip of the Italian iceberg in Bolognini's demented take on real life killer Leonarda Cianciulli, who murdered three women and turned their bodies into ‒ you may want to take a seat ‒ soap and teacakes. Were that not enough to pique your curiosity, what say you to cinematic titan Max Von Sydow cast as a giggity horny old broad? Strangely enough, the only performer to bridge the gap between Flash Gordon and Star Wars is one of three male actors to inexplicably appear in Gran Bollito as a woman (in drag, naturally), along with Renato Pozzetto and Alberto Lionello ‒ all of whom also appear as men, too! This could makes for a fine pairing with either La Cage aux Folles or Dressed to Kill.
Also starring Mario Scaccia as Winters' concerned invalid husband, Antonio Marsina, Laura Antonelli, Rita Tushingham, and Adriana Asti, Gran Bollito makes its overdue US debut courtesy Rewind Film. While the lack of an English audio track is more disconcerting than, say, the absence of a bad Lindsay Graham TV remake, Gran Bollito is just weird and gory enough (the film sports male and female nudity, too, kids!) to forgive European dubbing maestro Nick Alexander for never recording one. Twilight Time's Blu-ray features a 1.0 DTS-HD MA soundtrack with removable English subs, an audio commentary by Derek Botelho and David Del Valle, an original (Italian) trailer, and liner notes by Julie Kirgo. Break out the freshly-baked teacakes and enjoy.
All four of these killer titles are limited to 3,000 pressings each.