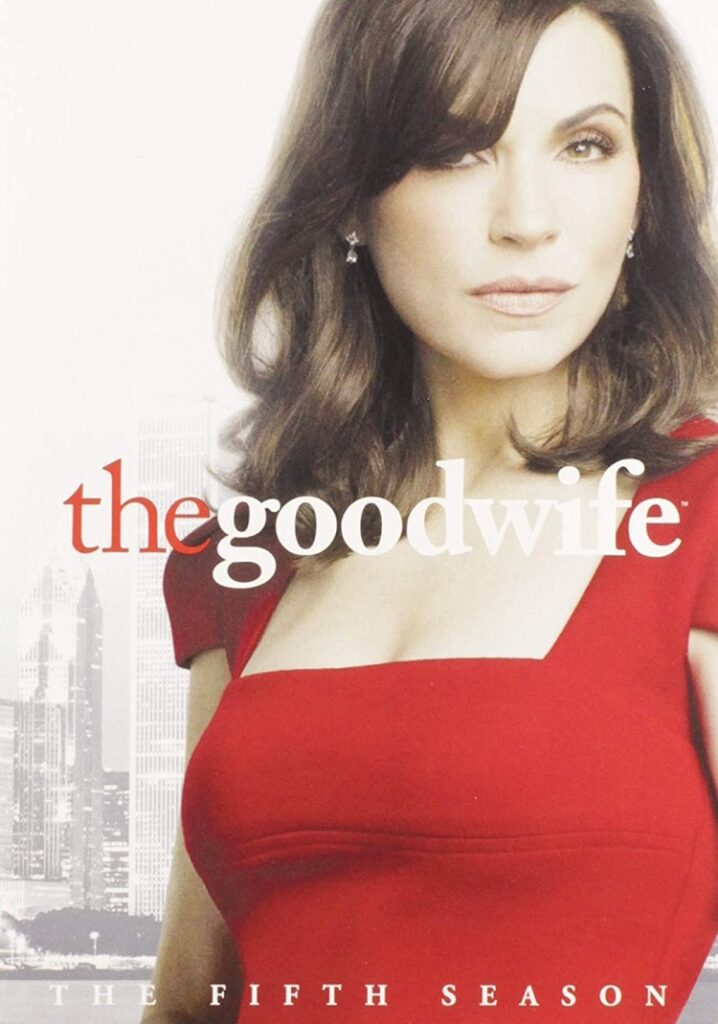 I think The Good Wife is consistently one of the best shows on TV. But now that we're midway through the fifth season – a troublesome time for many a series – I see some reasons for concern.
[Note: Spoiler alerts for those who haven't yet seen Episode 10, "The Decision Tree," and Episode 11, "Goliath and David," which aired January 5th.]
Two words: Peter Bogdanovich. Really? He's the "Peter" that made Eli Gold freak out when Marilyn Garbanza told him the name of her unborn baby (by the way, nice spit-take from Alan Cumming). I have nothing against Peter Bogdanovich, but the use of such an inside-old-Hollywood person as a punch line is way, way too meta.
(Speaking of Alan Cumming, I really enjoyed his romanceius interruptus with America Ferrara in Episode 8, "The Next Month". You totally get why each of them is attracted to the other. They're both smart, they know what they want, wary of the world and full of defenses. Nice to see Eli being human and vulnerable instead of just manipulative and frustrated.)
Also, what has happened to the feisty, funny Diane Lockhart that we knew? Has marriage to the Second Amendment freedom fighter taken the fight out of her? It's true that she's been through a lot this season, losing out on the Illinois Supreme Court appointment, Alicia and Cary's defection, Will's testosterone-fueled grudge matches. I'm really hoping she bounces back; Christine Baranski is that rarest of things, a really good comic actress who can also do drama, and she needs to have – and show – a sense of humor.
A few more nagging questions:
Does every rich wacko who meets her fall in love with Alicia? Episode 10, "The Decision Tree," showed us hyper-litigious, Bach-loving paranoid Matthew Ashbaugh (John Noble from Fringe) leaving her $12 million because of his infatuation with her. We already know that Colin Sweeney (Dylan Baker) has a hard-on for her. By the way, it's satisfying to learn that, as Ashbaugh insisted, the NSA really is listening in, as we discovered in Episode 2, "The Bit Bucket." Just because you're paranoid doesn't mean they're not really out to get you.
Is every woman in law enforcement a lesbian/bisexual? Kalinda (Archie Panjabi) had her thing with FBI agent Lana Delaney (Jill Flint) a few seasons ago, and now she has seduced Jenna (Jordana Spiro), the cop that's in cahoots with the new, morally questionable partner, Damian Boyle (Jason O'Mara). The Good Wife has been great about avoiding stereotypes involving race, ethnicity, religion, and sexual orientation, but is this a case of sticking to old ideas about butch (or lipstick) lesbians in traditionally "male" jobs? Or is it me that's being old-fashioned?
Speaking of Patrick O'Patrick, Esq., I'm not loving the confrontation/foreplay between him and Kalinda. His brogue sounds too real to be real. (O'Mara is from Ireland, so it probably is real, but I'm talking about effects, not sincerity.) Of course, this may be the point, since we're not sure what to believe about him. But I keep looking for little men with shillelaghs and crocks 'o gold to be gamboling about his feet whenever he opens his mouth.
Through the years, The Good Wife has been terrifically matter-of-fact about Kalinda's sexual preferences – whatever they actually are or might become. She's a situational bisexual, if there is such a thing. But why do they keep pushing her into competitions with sinister rogues? There was the rival male investigator in season 2, Blake Calamar (Scott Porter), her lout of an ex-husband Nick Saverese (Marc Warren), and now this guy.
I get that Kalinda is alone and a loner, no roots, no ties, no solid definitions or certainties. And dramatically the show's writers do need to pinpoint and display her weak spots, since she's so superhumanly good at what she does (now a world-class driver too! Is she also a jet pilot and a submarine captain in her spare time?).
Well, these are some of the perils of catching up on a show via binge-watching, as I did last summer: you see recurring patterns that might have seemed less obvious if you'd watched it with the discontinuities of weeks and years that more traditional viewers had.
And it's not that this season hasn't had some great material. As others have pointed out, Alicia and Cary's defection has opened up a buffet of dramatic possibilities. It's also a logical extension of Alicia's character arc, her long, long road from shamed, slighted wife-of-straying-politician to her own confident – maybe over-confident – current incarnation.
Nor was Episode 11 a total loss, far from it. The contrasting "Thicky Thick" videos are terrific, and there's a fun one on the show's website showing the cast and crew dancing and bopping to the song. Matthew Lillard as Rowby was excellent, his enthusiasm at winning and anger at being ripped off a refreshing change from the coolness of the lawyers and the pathos/seriousness of most of the clients.
There was also a delectable moment with Lillard's musical partner Marshall, played by the wonderful Broadway singer/actor Christopher Fitzgerald. Fitzgerald was Og the Leprechaun in the recent Finian's Rainbow revival, and was one of the few good things in the monstrosity that was the Mel Brooks' Broadway musical version of Young Frankenstein.
After Alicia and Cary have finally won their case, the enthusiastic Lillard grabs Florrick/Agos investigator Robyn Burdine (Jess Weixler), who has found the musical clue that gave them the win, in a big bear hug. Cut to Cary (Matt Czuchry) patting Fitzgerald on the back in a friendly gesture, and Fitzgerald reaching out as if to hug him as well, then pulling back, uncomfortably embarrassed, as Cary turns away. Closeted gay guy trying for a little contact with the boyishly cute Cary, or just a socially awkward musician who normally lets his more outgoing partner do the talking for the two of them? Either way, it was one of those painful, funny, human moments that reward careful viewers.
One of this show's biggest strengths is the way it lets actors stretch and play parts so seemingly antithetical to our usual expectations of them and their characters. Nathan Lane, flamboyant musical comedy queen, is not just a lawyer on The Good Wife; he's a conscientious accountant – as if he's the pre-transformation Leo Bloom in The Producers rather than Lane's actual part, Max Bialystock. The dark suit, the glasses, the pursed lips, the voice in the lower register, the slight hesitation before he speaks; compare this to his over-the-top screaming queen performance in Lane's intermittently recurring role as Pepper on Modern Family, where he exists to put Jesse Tyler Ferguson and Eric Stonestreet's characters' gay behavior into a range that's acceptable to the masses.
Michael J. Fox as master strategist/manipulator Louis Canning, using his illness and disability (jerky movements, shakes, head tilted slightly to one side) to disarm people and gain sympathy, the better for him to stick a knife into their soft underbellies.
Martha Plimpton as corporate lawyer/shill Patti Nyholm, using her pregnancies and children (how many has she popped out by now?) the way Fox uses his Parkinson's symptoms, as an automatic humanizer/sympathy generator. It's as if The Good Wife's writers and directors know how we're programmed to respond to things that make you go "aww," by revealing them as tools in the hands of the nastiest, slyest, greediest corporate lawyers. Fun for the whole family!