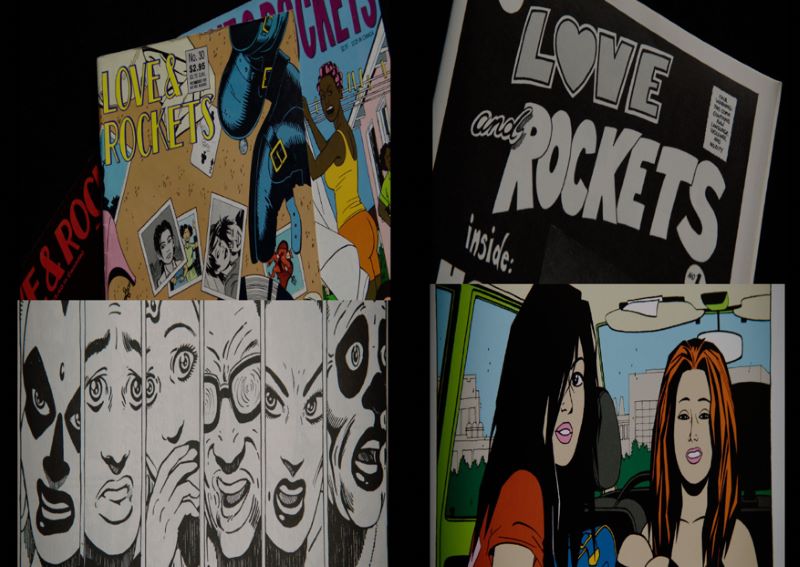 After 40 years of ongoing publication, the Love & Rockets comic book is long overdue for a celebratory retrospective. Thankfully, Southern California's PBS station KCET has a perfect venue for a look at this monumental work: their arts and culture series, ARTBOUND. The new season kicks off this Wednesday, October 5th with an hour-long look at the signature comic book creation of the Hernandez Brothers, affectionately known as Los Bros Hernandez.
The show covers the scrappy origins of the comic as it arose from the Bros' shared love of comics, the LA punk scene, and its surrounding DIY culture. Originally created by three of the brothers, the comic started as a self-published one-off with no long-term vision other than getting it out on the streets somehow. Thankfully, they sent a copy to an emerging indie publisher named Fantagraphics in the hopes of getting some press in their well-regarded magazine, The Comics Journal. This brought the book to the attention of Fantagraphics publisher Gary Groth, who extended an offer to publish the comic as an ongoing title, leading to a professional and personal relationship that still continues to this day.
The show details this history via new interviews with brothers Gilbert and Jaime (Mario largely left after the first few years to pursue a more stable career), as well as Groth, Fanta VP Eric Reynolds, and a few other subject matter experts. The episode is so current that it includes footage shot at this year's San Diego Comic-Con in late July, providing a full 40-year look at the book. I especially enjoyed new scenes of each brother sketching their characters as they explained their process, a nice look at the intricate craft needed to bring the book to fruition.
Since indie comic books aren't especially well-documented, there is little in the way of archival video footage about the book, but the brothers and Fantagraphics provided a treasure trove of old pictures of themselves and old issues including that first self-published comic. The show does a fine job of explaining the book to people unfamiliar with it, detailing Gilbert's emphasis on tracking the lives of the residents of a fictional Mexican border town named Palomar as well as Jaime's focus on Maggie and Hopey, two girls who came up in the LA punk scene and are now trying to find their way through middle age. That's a fascinating thing about the book: it's not just 40 years old, its characters have also been aging right along with it for 40 years, just like its creators.
Both Gilbert and Jaime have published comics work outside of Love & Rockets and continue to do so from time to time, but the show keeps singular focus on their primary creation with no mention of other work. While the flagship title does have some periodic publication pauses and format changes, it's miraculous that it is still very much a vibrant, ongoing concern after all these years. In celebration of its anniversary, Fantagraphics is publishing a hardcover box set retrospective this fall featuring the first 50 issues reproduced exactly as they were first published. The series has been collected in other affordable softcover editions that remain in print, ensuring that fans new and old can enjoy the entirety of this great American comic book.
The pairing for this episode is especially appropriate given both the comic and show's independent nature and origins in Los Angeles. The episode is such a great idea that it's somewhat surprising it hasn't happened before. The show kicks off the new 13th season of ARTBOUND, which will also take a look at LA-based Giant Robot magazine among others in the weeks to come. In fact, there's a double dose of ARTBOUND this week, as the Love & Rockets episode airing at 9PM PT leads directly into Duchamp Comes to Pasadena at 10PM. If you miss the debut airing, the Love & Rockets episode will also air on PBS SoCal on Friday, October 7th at 8PM PT and on Link TV on Tuesday, October 11th at 10PM ET/PT. The show will also be available to stream on demand at kcet.org/artbound and the free PBS App.