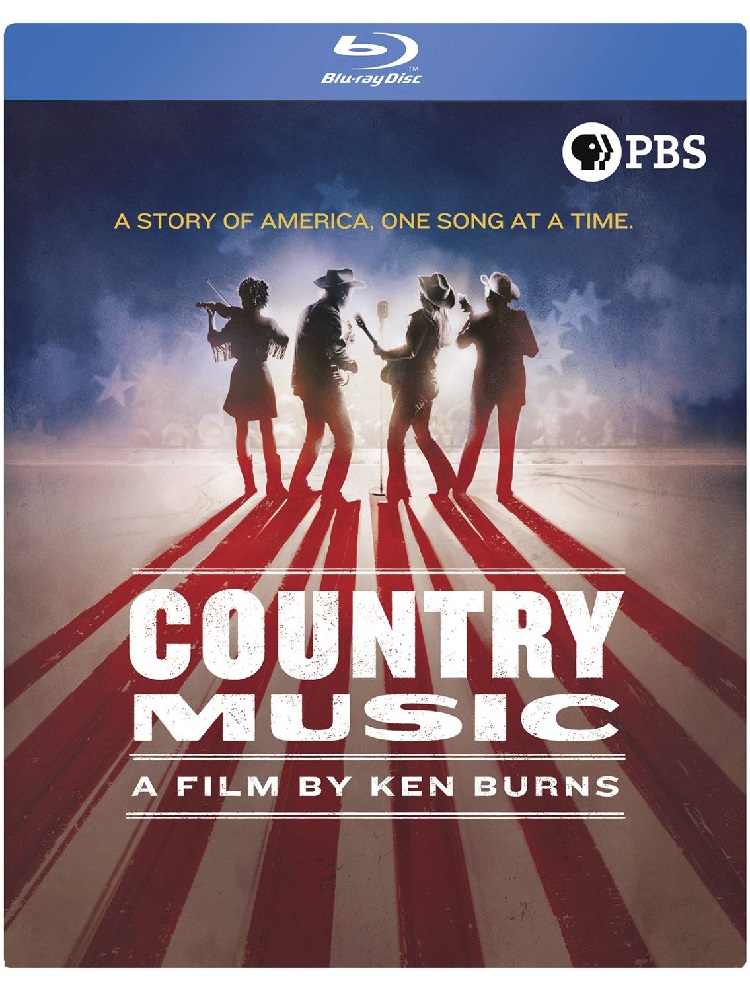 Ken Burns's latest examination of the fabric of the United States sees him focus on another musical genre, Country Music, in an 8-episode, 16-hour documentary airing on and streaming through PBS. The story is narrated by Peter Coyote and supplemented by a wealth of interviews ranging from country artists, giants in the business like Dolly Parton and Kris Kristofferson to lesser-known artists keeping the spirit alive like Ketch Secor from Old Crow Medicine Show and Rhiannon Giddens; from those who lived through it like session musicians and radio DJ Ralph Emery to the children and grandchildren of beloved musicians. Much like Shelby Foote served as a frequent contributor to Ken Burns's The Civil War, Marty Stuart performs the same role, sharing stories, offering opinions, and even playing instruments. Episodes One and Two have previously been reviewed.
Episode Three "The Hillbilly Shakespeare" (1945 – 1953)
Since the episode title is one of his nicknames, it's no surprise that Hank Williams, whose vocals and intimate lyrics about his life made an indelible mark on music, has a major presence throughout. His spectacular rise and tragic fall, culminating in his death on New Year's Day while riding to a gig as the episode concludes, are chronicled. It's hard to believe with all he accomplished and experienced that he was only 29.
The world was changing after the war and country music was no different. Honky tonks served as a place for people to drink, dance, and fight. Honky tonk music derived from western swing. Drums and twanging guitars were finding their way into arrangements. Eddy Arnold became the first to crossover onto the pop music charts, and it's easy to hear why with his lilting voice and focus on love songs. After splitting from his brother, Bill Monroe hired singer/guitar player Lester Flatt and Earl Scruggs, who played banjo at a furious pace, but they eventually left to form their own band, which Monroe took as a betrayal.
The Maddox Brothers and Rose were talented as musicians and in their showmanship. Marty Stuart said they were a precursor to rock and roll. Speaking of which, Hank Williams Jr. says "Rock Around the Clock" is not the first rock song as some say. He may be a little biased, but he claims it's a "direct steal" of his father's "Move It On Over." Little Jimmy Dickens was notable for being the first to wear the rhinestone-studded Nudie suit, named after its tailor, and one of his first hit songs, "Country Boy," was written by Boudleaux & Felice Bryant, who moved to Nashville to become songwriters.
The changes kept coming as time passed. Maybelle Carter began playing with her daughters and on guitar was Chet Atkins, whose playing had a jazz influence from Django Reinhardt. Billed as the Carter Sisters, when first asked to play the Opry, the invite wasn't extended to Atkins because the other guitarists in town were intimidated by his talents and were worried about losing work. The Carters refused. The Opry finally relented, and the guitarists' fears proved right, as Atkins was in high demand.
Hank Thompson sang "Wild Side of Life" about a husband losing his wife to the honky tonk. Soon after a response with the same melody came from Kitty Wells on "It Wasn't God Who Made Honky Tonk Angels," the first song by a female artist to top of Billboard's Country &Western chart. It presented a more authentic female perspective, and more independent women were on the horizon.
Episode Four "I Can't Stop Loving You" (1953 – 1963)
This ten-year period had the greatest volatility as the boundaries of country music were pushed as far as they had been. The seismic changes came from without and within Nashvile. Two major ones were a pair of men who got their start 200 miles west on the I-40 in Memphis and went onto to become two of the biggest stars in music: Elvis Presley and Johnny Cash. Presley, in particular, was an evolution of country music, which started as a blend of cultures. His first single at Sam Phillips's Sun Studios was a blend of cultures, taking Arthur Crudup's "That's All Right, Mama" and Bill Monroe's "Blue Moon of Kentucky" and making them both his own. He and Cash helped lead this revolution, which saw them joined by the likes of Wanda Jackson, Roy Orbison, Jerry Lee Lewis, Buddy Holly, and Carl Perkins, which would be rockabilly.
Back in Music City, producers were adding violins and background singers as they focused on crooners in an attempt to sell more records, which would be called "the Nashville Sound." And it worked though the polishing off of the rough edges turned off some traditionalists. Jean Shepard says very matter of factly, "if you ain't got a steel guitar or a fiddle in your band, you ain't got no country band." However, the producers were more interested in sales than purity tests.
Patsy Cline had initially fought it, but the success softened her stance. She survived a car accident that left her in the hospital for a month. She met with newcomer Loretta Lynn and offered to be her mentor, Later, she staged a comeback with the help of songwriter Willie Nelson who had penned "Crazy." Luckily, Nelson had gift for writing because previously, out of desperation, he sold the rights to "Night Life," which went onto sell 30 million records.
Interestingly, it was "outsiders" who helped draw attention to how special country music is. The San Francisco folk trio Kingston Trio led a resurgence of classic country sounds with their cover of the sweetheart murder ballad "Tom Dooley." When Ray Charles was first given creative control, he recorded Modern Sounds in Country and Western Music because he knew the truth: "You take country music, you take black music, and you got the same god damn thing exactly." Willie Nelson said of thst 1962 album, "Ray Charles did more for county music than any one artist has ever done."
An intriguing concept in this episode is that in addition to talent, chance encounters can be just as important to an artist's career. Cash played at Folsom prison and inspired inmate Merle Haggard. Mel Tillis befriended a bell hop at the hotel he was staying at and it turned out to be Roger Miller. Boudleaux Bryant was pestered by his barber to listen to his sons who were trying to make it as country musicians. He did reluctantly, but let Mr. Everly's two boys, Don and Phil, record and create a huge hit with "Bye Bye Love." The partnership would also see the release of "Wake Up Little Susie" and "All I Have to Do Is Dream."
Unfortunately, fate can cause just as much sadness as it does happiness. Johnny Cash and June Carter started up while still married to others and didn't make much effort to keep it a secret. Even more devastating, Hawkshaw Hawkins and Patsy Cline performed at a benefit for "Cactus" Jack Call, who had died in an automobile accident. On their flight home, the plane crashed and all perished.
At the halfway point, Burns proves to be an accomplished storyteller. I am intrigued by what I have seen and want to listen to the music of all the artists so far presented while also wanting to dig into the rest of the chapters and adding to that list. I can't wait to hear more stories by the interviewees and hope more have taken part. It was nice to see Dwight Yoakam and Paul Simon unexpectedly appear and share opinions and stories. The remainder of the series continues next week.