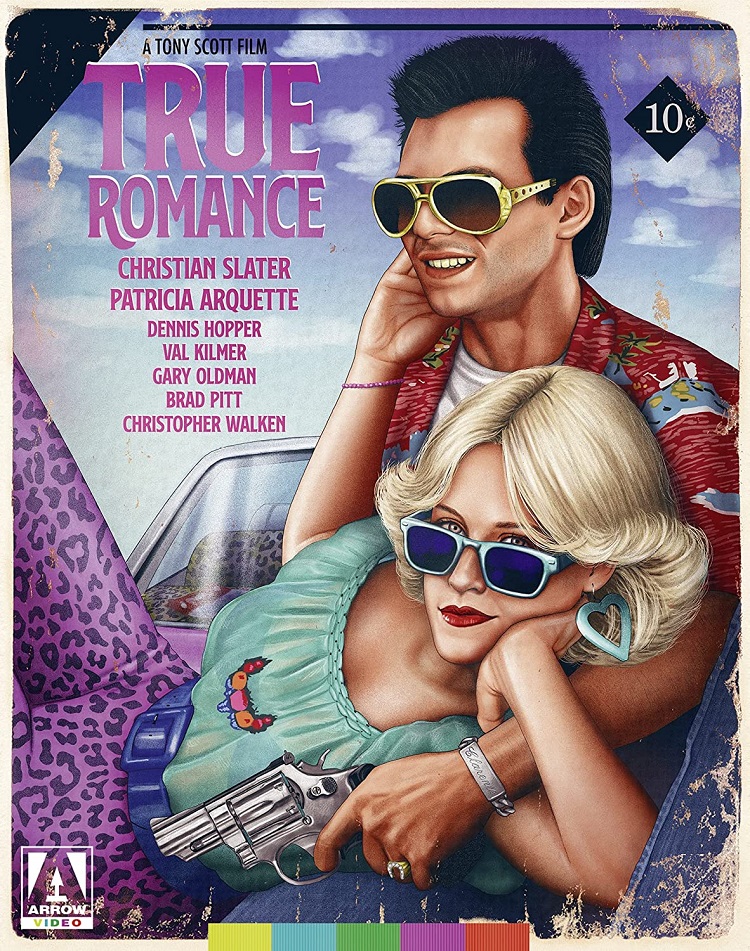 I wouldn't exactly call the 1990s the greatest decade, but I will say that the movies that came out of it are a very different story. Some of these films are still rightly justified in their beloved legacies, such as Pulp Fiction, The Silence of the Lambs, Goodfellas, Schindler's List, and more, meaning that they can be considered as some of the best films ever made. Personally, I would include late director Tony Scott and writer Quentin Tarantino's incredible and highly original 1993 classic True Romance, an often quotable and unpredictably twisted Romeo & Juliet, with lots and lots of bullets.
Christian Slater and Patricia Arquette star one of the great movie couples of the '90s: Clarence, an Elvis-obsessed comic book store employee, and Alabama, a spirited call girl. They meet in a movie theater and sparks instantly fly. They bond over everything including movies and pie. Withing 24 hours, they get married and are one for life. Clarence decides to go and get Alabama's possessions from her sadistic pimp (Gary Oldman, in another iconically chameleonic performance) where he also kills him. He takes her suitcase and brings it back. However, they open it and find cocaine…lots and lots of cocaine. In order to pursue their own American Dream, they drive across the country to Hollywood to sell it. Meanwhile, everyone, from the Mafia to the police are after them. Will they make it out alive and grow old together, or be buried side-by-side like Bonnie & Clyde?
When I first saw this film several years ago after checking out the DVD from a library, I spent the entire weekend watching it. I could not have been more fascinated by its originality and bonkers style. Tarantino's name is written all over it and it's the best film he never directed. Credit should also go to Scott for his amazing and action-filled direction of Tarantino's baby. From the first frame to the last, you are completely along for the ride and every moment get better and better. You are riveted and intensified right from the start.
Besides Slater and Arquette's wonderfully committed performances, there is also an extremely stunning series of cameos left: Oldman, Dennis Hopper, Christopher Walken, Chris Penn, Tom Sizemore, Brad Pitt, Michael Rapaport, Bronson Pinchot, Saul Rubinek, Val Kilmer (as Clarence's Elvis-studded guardian angel), Samuel L. Jackson, and the late, great James Gandolfini in a very sinister role as brutal gangster Virgil. Just really great actors doing their thing and leaving the audience breathless as they do it.
The release from Arrow (also available in limited 4K and steelbook editions) includes both the Theatrical and Director's Cut and is stacked with both vintage and new special features that are just as great as the film itself.
There are four commentaries by Scott, Tarantino, Slater & Arquette, and a new one with critic and diehard fan Tim Lucas. Select scene commentaries by Hopper, Kilmer, Pitt, Rapaport, and brand-new ones with Pinchot and Rubinek; deleted and extended scenes with optional commentary by Scott; alternate ending with optional commentaries by Scott and Tarantino; new interviews with author Larry Taylor, co-composers Mark Mancina and John Van Tongeren, co-editor Michael Tronick, and costume designer Susan Becker; electronic press kit featurettes, behind-the-scenes footage and interviews with Scott, Slater, Arquette, Hopper, and Oldman; trailers and TV spots; and image galleries.
This edition also comes with double-sided posters featuring original and new artwork by Sara Deck, six postcards, and a 60-page booklet featuring new essays by critics Kim Morgan and Nicholas Clement, a 2008 Maxim oral history featuring interviews with cast and crew, and filmmaker Edgar Wright's 2012 eulogy for Scott.
The film is just a highly entertaining, relentless, and fearless modern cult masterpiece that remains as watchable and timeless as it was in the '90s. The folks at Arrow did everyone a great service of giving it the release it so rightly deserves.