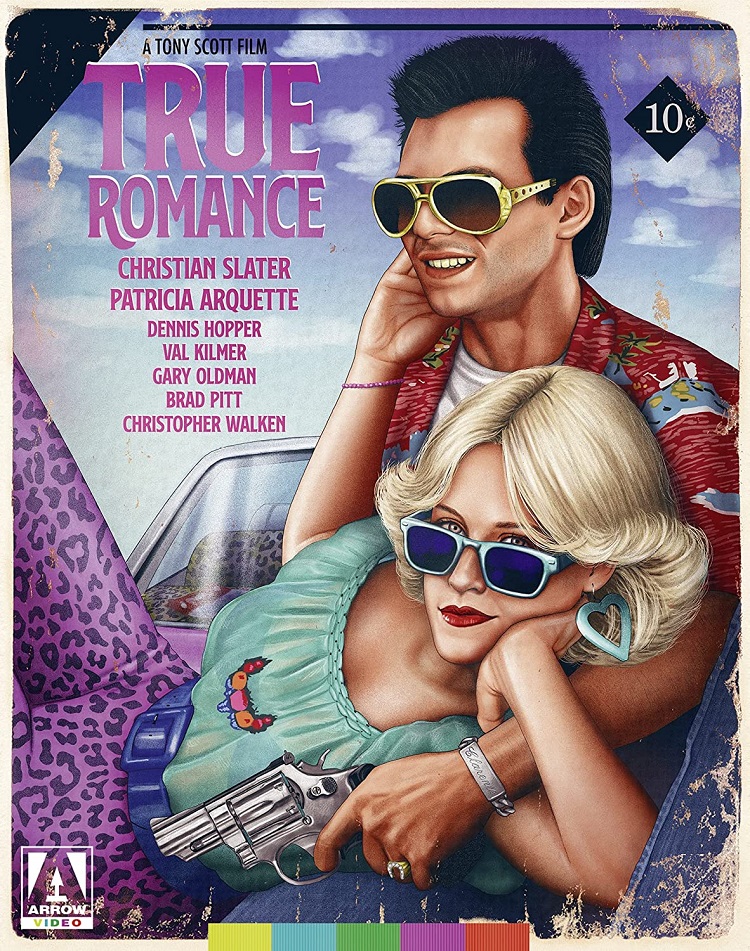 True Romance isn't a Quentin Tarantino movie. His name is on the screenplay. It has many scenes which no other writer would write. His sensibility suffuses the dialogue. But it's not his film.
It was directed by Tony Scott, a filmmaker Tarantino had long admired. And it doesn't do what a Tarantino film does. He creates an intriguing world with intriguing people, and lets the audience decide if they have any sympathy with the characters. Because they will be themselves, in all their charisma and reprehensibleness.
Clarence Worley (Christian Slater) has plenty of reprehensible about him, but plenty intriguing, too. He's a geek in Detroit who thinks a Sonny Chiba festival is a place to bring chicks. A pick-up with this line at a bar fails, but miraculously an even better girl with the improbable name of Alabama (Patricia Arquette) shows up at the movies to sit next to him. They connect. After the best night of his life, the girl reveals she was a call girl sent specifically to pick him up.
But now she loves him. And he loves her, overnight. But he can't stand the idea that she had a pimp. He's an Elvis obsessive, and when he's alone, Elvis comes to him (or a legally distinct mentor entity, played by Val Kilmer) to tell him what to do. Of course, he has to kill the pimp.
That pimp is Drexyl (Gary Oldman), who is a white dude convinced he's black. He's one of the most distinctive features of the film, despite only appearing in two scenes. This is a Quentin Tarantino trademark. He can make someone who barely appears in a film loom large over it. The encounter with Drexyl leaves Clarence with a suitcase full of cocaine. So of course he escapes to Hollywood to sell it, not knowing that the Detroit mob is on to him.
Tony Scott, brother of Ridley, largely made commercial films (his biggest being Top Gun) but he had an auteur's edge, and as he got older became more experimental. But his stories had heroes and villains. Quentin Tarantino's world has room for a lot of people, but there's no heroes. Just violent men and women, often in desperate circumstances.
Tony is a consummate visual stylist, and he seeks beauty constantly. There's a horrifying scene where a mafia thug (skinny James Gandolfini!) beats the hell out of Alabama. It's gorgeously framed, every image with a kind of crystalline beauty. Even a simple scene of Clarence driving out of Detroit has billows of steams like low clouds in the sky – everywhere, in the ugliest of scenes, Tony Scott finds the most beautifully crafted visuals.
All of which are wonderfully rendered on the new 4K release. It was a mid-budget '90s film that flopped at the box office, but I found it one of the most impressive 4K releases I've reviewed recently. The clarity and contrast of the picture are astounding. While it has the lighting and filming quirks of its era, the quality of the picture looks like it could have been shot yesterday.
There's a surfeit of great scenes in True Romance. There's not, to my taste, a great movie. A part of that might be the disconnect between Tarantino's screenplays and literally anyone else directing them. He's a master of tone. More than his dialogue or references or quirks, Quentin Tarantino knows how to create specific tones with his scenes. And those tones are not readily available, even to talented filmmakers like Tony Scott. There's a bunch of great scenes. There's not a great story.
True Romance has a particular Tarantino wavelength of crazy. If you can catch that wavelength, the movie must be a special brand of fun. If, alas, you're like me and can't quite tune in, it's a little like overhearing someone telling, very enthusiastically, a story of a "fun time" which sounds like absolute hell to you.
Now, if True Romance is a particular favorite film, this release seems to be nearly perfect, in terms of visual and aural fidelity. It also has a raft of extras, many ported from earlier releases and some new. It's the sort of treatment I'd like my favorite films to receive, even if True Romance doesn't fit into that category for me.
True Romance has been released on 4K UHD by Arrow video. There's an immense number of extras on this release, including several commentaries. There are four feature length commentaries: one by writer Quentin Tarantino, one by director Tony Scott, one with actors Christian Slater and Patricia Arquette, and a new commentary for this release by critic Tim Lucas. There are also select screen commentaries by various actors: archival commentaries by Dennis Hopper, Val Kilmer, Brad Pitt, and Michael Rappaport, and new commentaries by Bronson Pinchot and Saul Rubinek.
Also new to this release are a set of video interviews: You're So Cool (10 min) costume designer Susan Becker; Relentless Romance (13 min) editor Michael Tronick; Amid the Chaos of the Day (12 min) co-composers Mark Mancina and John Van Tongeren (Hans Zimmer is credited with the score); A Hunger for Mayhem (8 min) about Tony Scott; and Cadillac Man (8 min) interviewing fan Dan Storm. There's 30 minutes of deleted scenes with a commentary by Tony Scott, and an alternate endings with commentary by both Scott and Tarantino. There's also an archival EPK (50 min), trailers, and image galleries. The limited editions also has a 60-page booklet with essays about the film and Tony Scott by Kim Morgan, Nicholas Clement, Marc Spitz, and Edgar Wright.