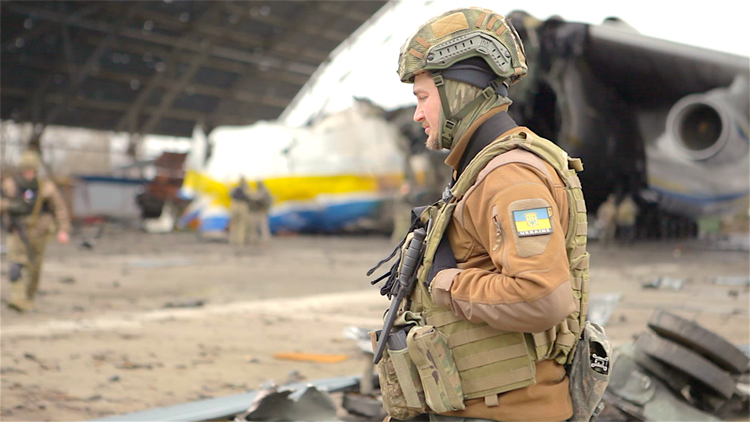 Starting with the Maidan Revolution in Kyiv in 2013, and leading up to the current invasion from Russia, A Rising Fury documents a select group of Ukrainian people who have lived through it all and how they are able to handle themselves. One of the film's most powerful moments is when someone says that they fight for themselves and don't ask for any outside help. That statement alone is just further proof of how tough they are, and how they are able to fight through anything.
For most of its runtime, A Rising Fury takes a fly-on-the-wall approach, as we witness powerful POV footage from on the ground as attacks take place. There's no dedicated narrator walking us through the events. The film drops you into the chaos of it all, and you don't know what to expect. The footage that follows is intense and moving. Even if we know the story from a news media source, it's tough to witness it up close and from the perspective that filmmakers Lesya Kalynska and Ruslyn Batytski show us.
Filmed over eight years, A Rising Fury showcases a variety of characters that have witnessed it all. Some are shown for only a portion of the film before another person mentions how they didn't make it out of a conflict. One scene shows Pavlo, our main character, talking to someone about the death of a friend. While the person over the phone is in tears, Pavlo is numb to the situation. Despite being close, the friend knew what he was getting into, and so did Pavlo. It's heartbreaking to see how quickly a conflict can change someone, and for Pavlo, his priorities and emotions have certainly shifted.
Pavlo enlisted in the Ukrainian army to defend his country during the Russian invasions of the Donbas and Crimea regions in 2014. He meets Svitlana, an activist volunteer and single mother, during the Maidan Revolution, and the two begin a relationship. We witness the two as they fall in love. We then see their relationship is tested during the conflicts that arise, and how their perspectives – once shared – suddenly shift.
A Rising Fury introduces the viewer to a diverse group of people, whether they are soldiers, authors, activists, and even musicians. Not every single person gets a justified amount of time, as most of the film is focused on Pavlo and Svitlana and the gripping footage that was captured during the various bombings and other attacks. But those we meet are intriguing and serve a good purpose in the overall story.
August 24, 1991, is the date on which Ukraine declared itself an independent country. But as we see in the film, and as we currently see in real life, the people still have a lot to overcome with Russia's continuing threats to take it back. There's a great moment that shows an Independence Day of Ukraine celebration that Pavlo and his daughter observe.
A Rising Fury is a passion project for both Kalynska and Batytski, and one that is almost perfectly executed. There's a lot of imagery that is hard to witness, but it is also an important reminder of how the people of Ukraine are willing to protect themselves against anything that threatens their independence.