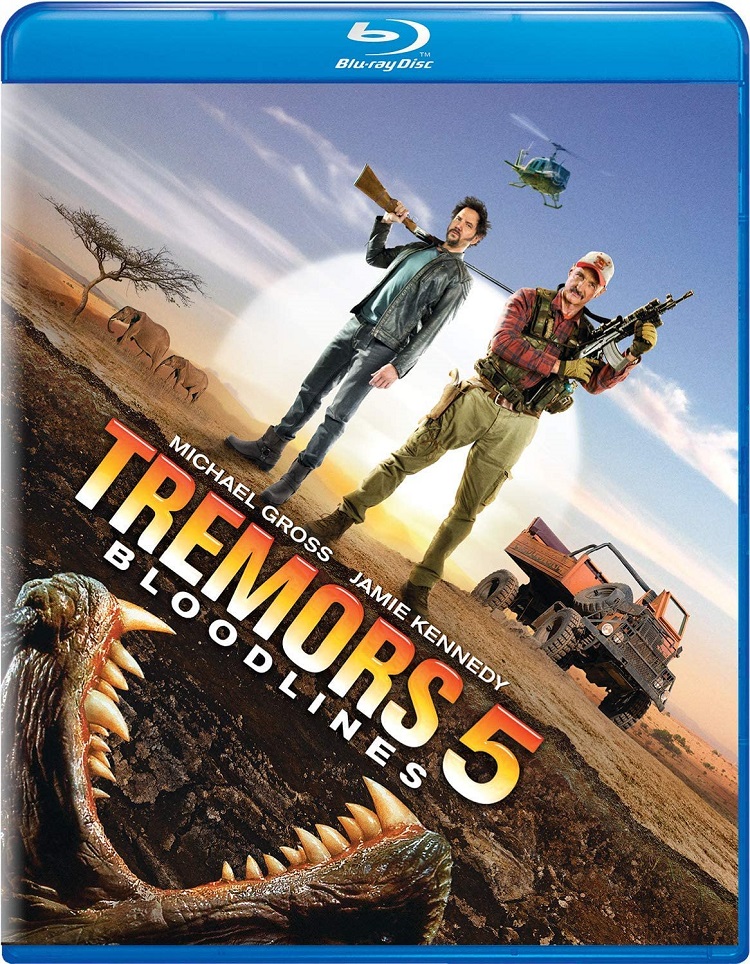 I was 14 when the original Tremors came out. I loved it. We all did, my family and me. It was the perfect mix of action, adventure, comedy, and horror. It had Kevin Bacon at the height of his powers, Michael Gross just off of his long run in Family Ties, Reba McEntire in her first acting role, and Finn Carter in her underwear (oh man, my 14-year-old self memorized every frame of the scene where she gets caught in barbed wire and has to take off her pants, but I digress.) I caught it again not too long ago and it still holds up. I mean it has that mid-level '80s action cheese, and the monsters looks pretty dumb, but it's still very entertaining in a way that only nostalgia can be.
I never bothered with the sequels, but for reasons that are unknown to me and shall remain a mystery forevermore, that 14-year-old that still lives inside of me got all sorts of excited when I saw the preview for Part 5. This one apparently finds Michael Gross teaming with Jamie Kennedy to battle the Tremors (er, graboids) in Australia. I can't imagine this straight-to-video, late-to-the-game sequel (the last one aired 11 years ago) will be any good but it's close to Halloween, and nothing quite screams that particular holiday like a really bad horror comedy that tugs at the old nostalgic heart strings. (Read Luigi Bastardo's review.)
Also out this week that looks interesting:
Penny Dreadful: The Complete Second Season: It is the season for bloody good horror and I keep hearing nice things about this Showtime series. It's got Timothy Dalton and Billie Piper in it and brings to life characters like Van Helsing, Dorian Gray. and Dr. Jekyll into the same story. which sounds fantastic to me.
The Leftovers: The Complete First Season: Created by Damon Lindelof (who was show runner for Lost). this HBO show has an interesting premise – three years prior to its events 140 million people disappeared from the face of the Earth and no one knows why. It's not gotten the best reviews, but I'm still pretty intrigued even if I'm still miffed by how Lost ended.
American Horror Story: Freak Show: The fourth season in this anthology horror series by Ryan Murphy. This one takes place in 1952 at a circus freak show. I'm still somewhere in the middle of the first season so it will be awhile before I get to this one.
Dark Places: Based on the novel from Gillian Flynn (who also wrote Gone Girl), this one stars Charlize Theron, Nicholas Hoult, Christina Hendricks, and Chloe Grace Moretz in a story about a girl returning to the rural Kansas farmhouse where her family was murdered some 30 years before to dig up the truth.
Magic Mike XXL: Steven Soderbergh's stripper drama was interesting because Soderbergh was more interested in the characters behind the naked muscles. Everything I hear about this one is that it's mostly just greased-up dudes taking it off, with some good laughs thrown in for fun. I'll take a pass, but I'm sure there are many who can enjoy that sort of thing (and as the guy who just admitted he used to freeze frame Finn Carter in her undies, you'll get no judgment from me if you do).
When Marnie Was There: Possibly the last film to be produced by Studio Ghibli. They have taken a hiatus since Hayao Miyazaki is retiring and there is no date as of yet for their return. It's about a young girl who is sent to the country for her health where she meets a young friend who make have secret ties to her own life.
My Own Private Idaho (Criterion Collection): Gus Van Sant's mesmerizing film about two street hustlers (Keanu Reeves and River Phoenix) gets the Criterion treatment.
Me and Earl and the Dying Girl: Another dramedy about how a girl with cancer changes peoples lives.
Going Clear: Scientology and the Prison of Belief: HBOs documentary on the nutty religion that made Tom Hanks jump on Oprah's couch.