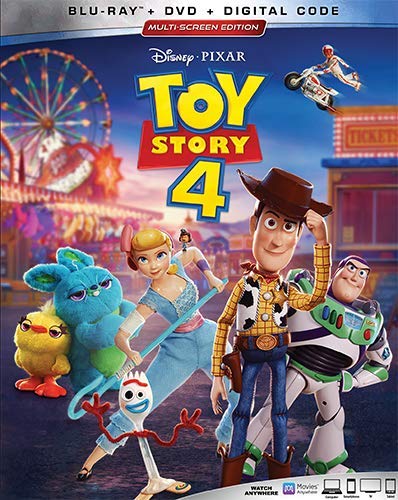 Even though Toy Story 3 seemed the perfect ending to the film franchise, Toy Story 4 offers a compelling continuation of the beloved Pixar characters, specifically Woody (Tom Hanks) who needs to find his place in the world now that he is Bonnie's toy and no longer Andy's. The story deals with themes that adults will better identify with than children.
Bonnie isn't as taken with Woody as Andy was, and whereas Woody was in charge in Andy's room, Dolly (Bonnie Hunt) has that role in Bonnie's. During craft time at her kindergarten orientation, Bonnie creates Forky (Tony Hale) out of a spork, pipe cleaners, and googly eyes. She loves Forky, but he thinks he's trash and tries to get into garbage cans. During a family road trip, Woody enters an antiques store looking for Bo Peep (Annie Potts), who had been given away prior to Toy Story 3. He encounters Gabby Gabby (Christina Hendricks), a girl's doll from the '50s, and her ventriloquist dummies. Because her voice box is broken, she wants his to make herself more appealing to children, and isn't going to take no for an answer.
Getting demoted in the toy hierarchy of Bonnie's room causes Woody to suffer an existential crisis. Although he no longer is played with, he still wants to serve and comfort her, sneaking off to school in her backpack and doing whatever he can to rescue Forky from Gabby's clutches. Bo used to reside in Gabby's store and is a great help to Woody in part because living without a child in the outdoors has made her resourceful. She also recruits Duke Caboom (Keanu Reeves), a Canadian stuntman that rides a motorcycle, reminiscent of the Evel Knievel Stunt Cycle, but he has confidence issues due to being rejected by his kid, Réjean, because he didn't live up to the commercial.
The screenplay by Stephany Folsom and Andrew Stanton has a great plot twist, which is different from the previous film. Rather than defeating the villain, her behavior is understood by the heroes, and they end up helping her. If viewers are emotionally invested in the characters, the film has a touching conclusion that signals a major change to the franchise, but one that makes sense after what has been experienced and the wisdom that has been gained from it.
The video is presented with a 1080p encoded transfer displayed at an aspect ratio of 2.39:1. Right from the opening prologue, the visuals are phenomenal. Set during a storm at night, Woody and the gang have to rescue RC from a flooded, moody gutter. Rain falls and objects are covered with drops of water. Care was given to the lighting effects as it reflects differently off Woody's plastic as opposed to Bo Peep's ceramic. The colors are vivid across the spectrum. Blacks are inky and whites accurate, allowing for a strong contrast. Texture detail is pervasive across the frame. Focus and depth are as sharp as intended.
The audio comes through on a DTS-HD Master Audio 7.1 track. The dialogue is consistently clear. Randy Newman's score fills the surrounds as do the effects which are well position and move across channels, creating a wide soundscape that envelopes the listener. The subwoofer offers solid bass support and delivers a cabinet-rattling rumble as kids approach the playground.
On the Feature Disc, the extras are:
Bo Rebooted (6 min) – a discussion about the approach to bringing Bo Peep back to the franchise.
Toy Stories (6 min) – The Pixar gang and the film's cast talk about the toys they grew up with.
Feature Commentary with director Josh Cooley and producer Mark Nielsen
On the Bonus Disc, the extras are:
Let's Ride With Ally Maki (6 min) – Ally Maki, voice of Giggle McDimples, director Josh Cooley, and other crew members take viewers on a humorous trip through Pixar's dialogue recording process.
Woody & Buzz (4 min) – A brief look at the relationship between the two characters.
Anatomy of a Scene: Playground (10 min) – Crew members reveal the methods in creating this setting.
Toy Views – Tracking shots of Carnival Run (1 min) and View from the Roof (30 sec)
Toy Box (13 min) – Short featurettes about all the new characters, Gaby Gaby & Her Gang, Forky, Duke Caboom, Ducky & Bunny, and Giggle McDimples.
Six Deleted Scenes (28 min) – Introduced by Cooley, these scenes are storyboards with temp track audio.
Four trailers
Digital Exclusives (which I did not access):
Anatomy of a Scene: Prologue – Filmmakers and crew review key scenes of the movie and dissect the practical and technological methods used to bring them to life.
Additional Deleted scene -Bonnie's Playtime
It was wonderful to have one more adventure with the Toy Story characters, and 4 serves as a fitting conclusion to the series, though time will tell if it is. The audio and video deliver a satisfying high-definition experience that brings this computer-generated world to life. The extras seemed slighter than past Toy Story releases.