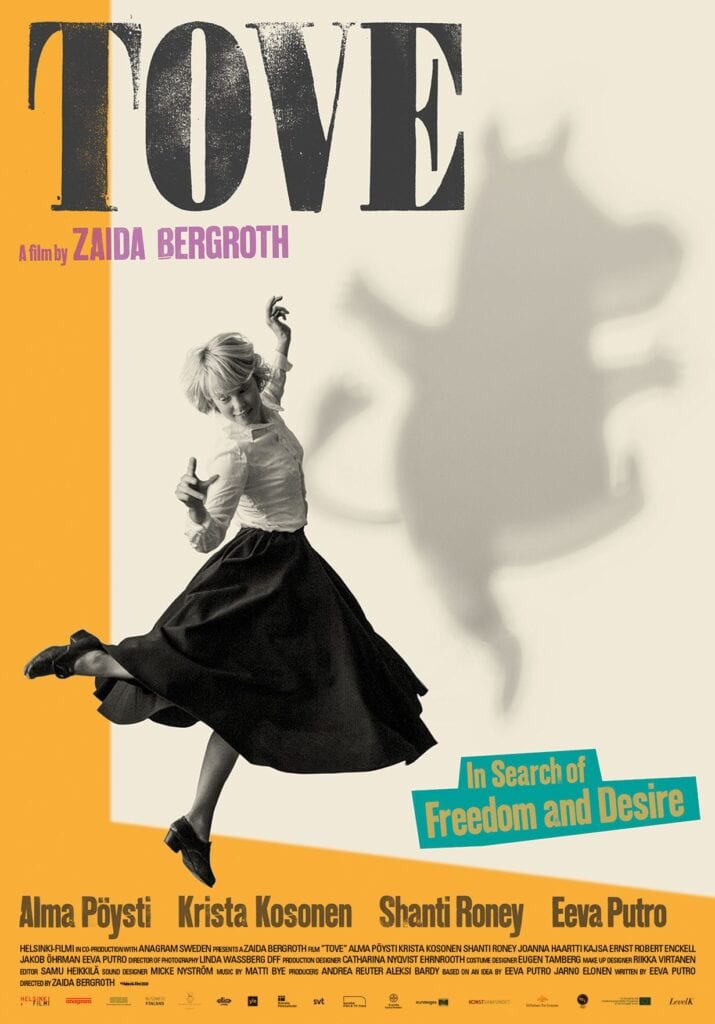 Tove Jansson rose to international fame thanks to her creation of the iconic Moomin characters. Although she passed away 20 years ago this month, she remains a national treasure in her native Finland. Her creations continue to delight fans worldwide via her original books and comic strips, as well as spinoff projects such as Moomin theme parks in both Finland and Japan, and multiple animated Moomin TV series and films.
As the first biographical film about Jansson, Tove arrives with a significant burden of expectations due to her legion of devoted fans. Her personal life is fairly well known thanks to numerous documentaries about her, especially her decades-long relationship with a woman named Tuulikki, marking her as an early famous person who lived openly with a same-sex partner. Surprisingly, that relationship is only touched on at its very origin in the closing minutes of this film. Instead, screenwriter Eeva Putro and director Zaida Bergroth focus on what they deem Jansson's most formative years, the decade of her thirties that immediately followed the end of World War II.
As she emerges from the horrors of war, she's desperately but unsuccessfully attempting to establish herself as a painter, following in the footsteps of her esteemed sculptor father. As a side project, she writes and draws funny stories about the strange but adorable Moomin characters, never dreaming they might make her successful and divert her attention from her true passion of painting. And then there's her love life, which the creators make the focal point of this work.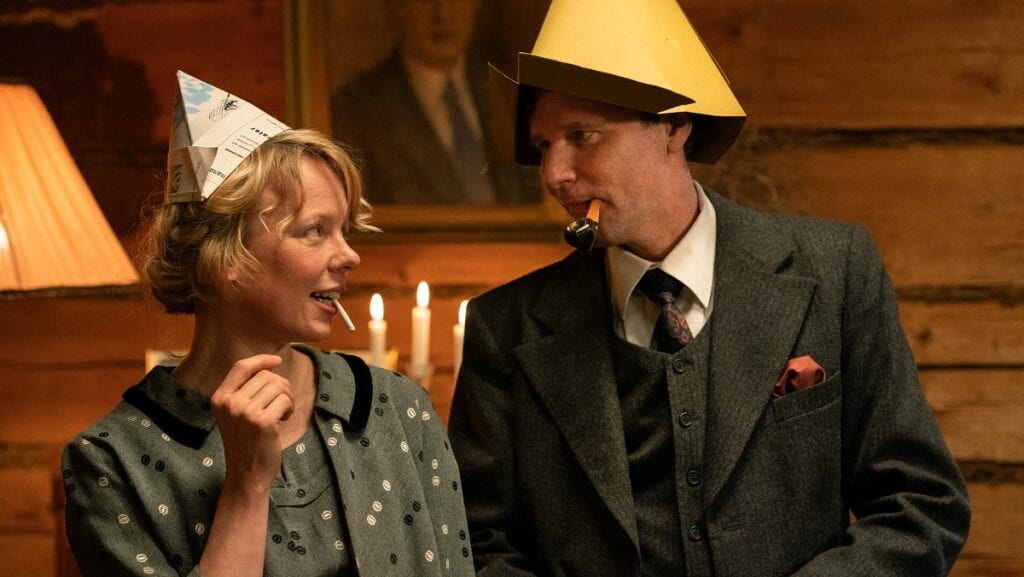 Tove (Alma Poysti) is drawn to a bumbling but sweet married man named Atos (Shanti Roney), happy for the occasional dalliance with him until she crosses paths with Vivica (Krista Kosonen), a true libertine who becomes Tove's first female lover. Unfortunately, Vivica is also married, and more importantly, is portrayed as emotionally unavailable and playing a very wide field, good for the occasional hookup but incapable of returning Tove's blossoming love. Vivica's indifference pushes Tove back into the arms of the now-divorced Atos until Tove realizes that she can't pretend to enjoy a conventional hetero lifestyle, leading her to choose herself, standing strong on her own until she meets the love of her life, Tuulikki (Joanna Haartti).
Bergroth and Putro's approach is effective for showing the events that cemented her sexual orientation, but shortchanges her artistic career, especially its Moomin aspect. We learn in passing that certain Moomin characters were directly based on the people in her life, most notably Atos as the wandering sage character Snufkin, and Vivica and Tove herself as the duo Thingumy and Bob. Tove briefly mentions that she gained her wealth primarily via the success of her Moomin comic strip, but there's no direct reveal of the extreme drain she felt cranking it out on a regular basis, or the fact that she checked out and turned it over entirely to her brother halfway through the run. There's no discernible footage of her working on the multiple Moomin novels she wrote and illustrated during her thirties, and just the occasional doodle and fleeting glimpses of completed Moomin art pieces to even identify her as their creator. Bergroth and Putro's artistic choice to focus on her free-spirited love life in her thirties makes for compelling queer cinema, even as it risks alienating viewers who primarily remember her as a seemingly stoic and elderly children's author and artist.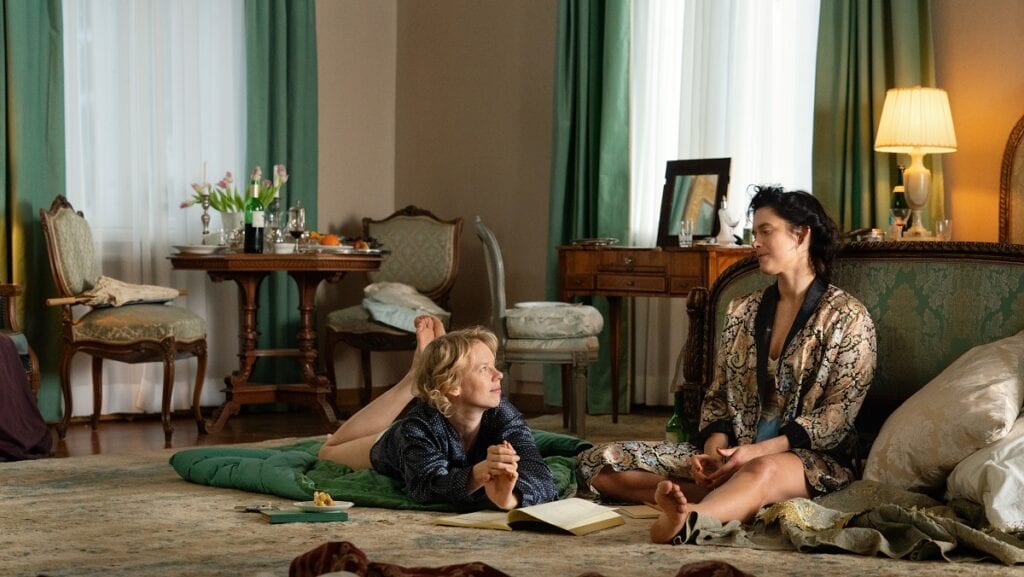 Poysti is excellent in the lead role, all the more remarkable considering that it is her first starring role in a feature film. She expertly portrays the highs and lows of Tove's romances, conveying more with her expressive eyes than her lines from the effective script. Kosonen is also a standout as the icy Vivica, with her towering frame next to the petite Poysti only accentuating her upper class character's insurmountable emotional availability. Roney paints a sympathetic portrayal of Atos, so overwhelmingly kind and understanding in his role that it's easy to forget that the character is initially cheating on his wife.
Tove is beautifully staged and photographed, looking far more accomplished than its meager budget would seem to support. Bergroth does a great job with the film's chosen path, keeping it moving without any unnecessary sidesteps while eliciting superb performances from her cast. It's worth pointing out that most of the top creative staff are women, marking this as a feminist project not just for its content but also for its composition. Although the film's narrow focus risks putting off some viewers, the filmmakers clearly chose to blaze their own unconventional path just like their subject, and admirably succeed in exploring the formative era of this legendary artist.
The film was a big success in Finland last year, even during the pandemic, and was rewarded with a berth as Finland's official Oscar submission. It opens this week in select U.S. theaters. For more information, visit Juno Films, the U.S. distributor for the film.