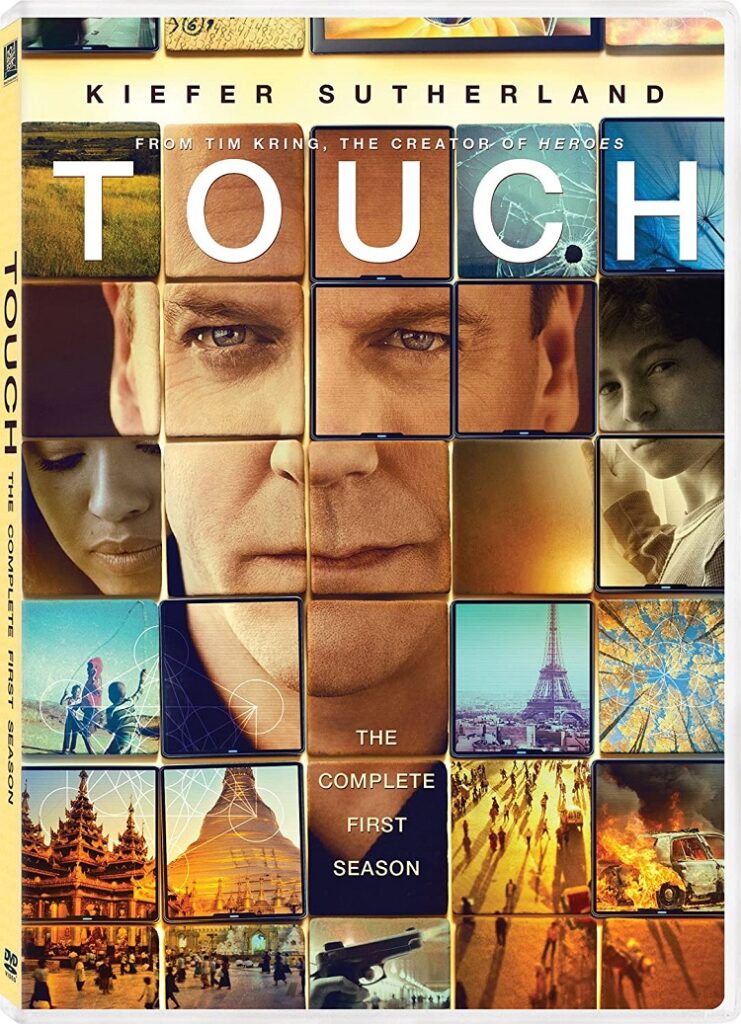 Created by Tim Kring and starring Kiefer Sutherland, Touch is one of those rare television shows that isn't afraid of challenging its audience. It discusses the connectivity of the universe, using numbers and patterns as a means to connect people. Nothing is by chance, but the audience is left pondering the beauty or boredom of the red connecting thread of all things.
Kring, the creator of Heroes, has certainly mastered a certain aesthetic with his television shows. Those familiar with the extensive architecture of Heroes will find themselves on familiar ground with Touch, a series that features a range of characters from all over the world brought together (sometimes) in surprising ways.
Sutherland stars as Martin Bohm, a single father who lost his wife on 9/11. He is tasked with raising his son, an 11-year-old named Jake (David Mazouz). Jake is a mute and Martin has trouble connecting with him, but he's convinced that his boy is trying to communicate with him when he starts presenting various numerical clues.
These numerical clues cause Martin to wonder about Jake, especially when the clues lead to the notion that the kid can see the future. This leads Martin to meet with a professor (Danny Glover) who believes that Jake may be one of a few people who can see the order (and pain) of the universe through orders of numbers like the Fibonacci sequence.
The premise of the show is decidedly more complex than average television fare, but Kring draws this together with an easy pace. He focuses on the human stories, zeroing in on seemingly coincidental meetings that draw wide-ranging groups of characters together. Touch insists that all lives "touch" in some fashion, which means that events that occur on the other side of the world have repercussions elsewhere.
Along with Sutherland, Glover and Mazouz, Touch stars Gugu Mbatha-Raw as a social worker tasked with watching over Jake. May Miyata and Satomi Okuno play two Japanese girls whose online adventures course through the episodes, while Bodhi Elfman plays a Hasidic Jew who believes that Jake's "gift" may have religious connotations. Maria Bello also appears as the mother of a girl with the same gift as Jake.
The plot heads down some familiar paths with the introduction of a group with a sinister interest in Jake, but the show never really goes off the rails. It is at its best when it sticks to its themes of connection and the order of the universe.
Sutherland is good at Martin, a father trying to piece this whole thing together. He is, at times, a surrogate for the audience and is in severe need of some sort of "roadmap." His confusion, expressed through desperate love for his son and breathless following of Jake's instructions, is the way in to the story. It's also how the audience feels something for Jake.
Touch's themes of connectivity and drawing multiple people together in interesting ways means that the show could do quite well before it runs out of drive or designs. But, like Heroes, Touch also runs the risk of overstuffing itself with characters and churning plotlines. Kring's creations can sometimes be overly intricate and Touch is no exception.
The DVD release of Touch includes the 11 official season one episodes, including an extended version of the pilot. "The Road Not Taken," a bonus episode of the show that aired in September of 2012, is not included. "Fate's Equation" and "Touch the World" offer insight into some of the ideas behind the show, while some deleted scenes are also included.