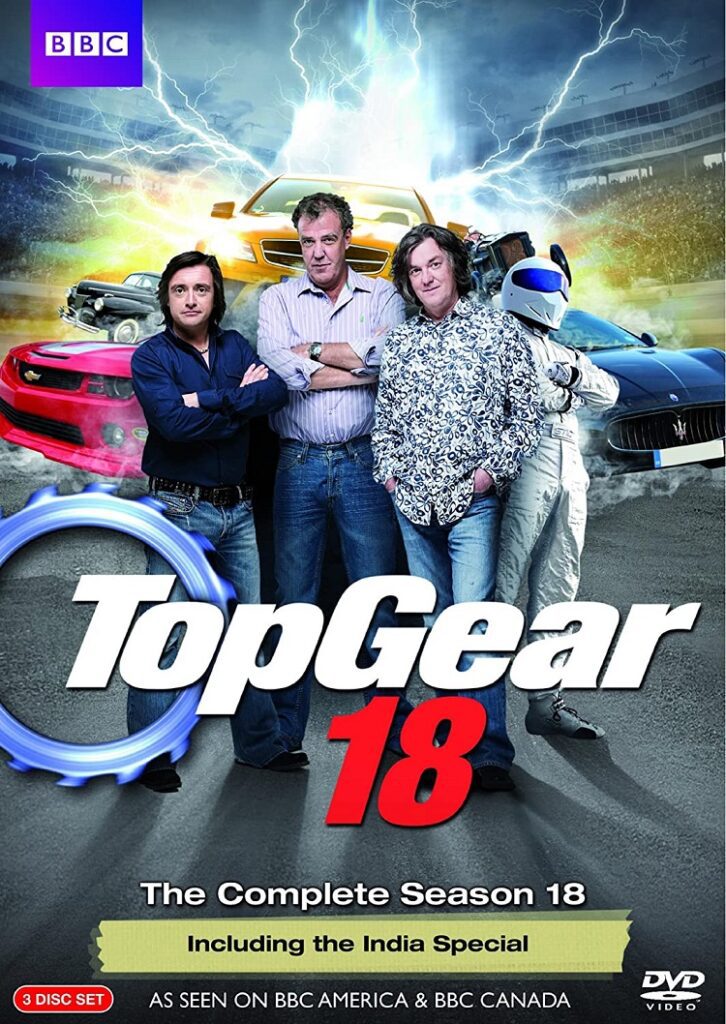 Written by Ben Platko
Petrolheads rejoice: Clarkson, Hammond, May, and The Stig are back with another season of Top Gear! The 18th series, although short (seven episodes and a Christmas special), is packed with fast cars, explosions, and its perennial British wit.
For those who don't know, Top Gear is, arguably, the best car show in the world. You won't learn how to fix a flat, or get much useful purchasing advice, but you will learn the 0-60 times of the Mercedes-Benz SLS AMG roadster, the Jaguar XFR, the McLaren MP4-12C, and countless more Ferraris, Lamborghinis, Bentleys, Aston Martins – basically, every ten-year-old's dream garage. But that's what you wanted to see anyways, right?
This season started off with a Christmas special: a trip to India to promote Britain to the Indian public. Their trade mission got off to a rocky start when the hosts tried to beat dabbawala efficiency by using cars instead of a train. Along their journey to the Himalayas, Clarkson, Hammond, and May also hosted a hill climb time trial, and a trade fair in an exclusive section of Delhi (which ended when their firework display nearly blew up a house). Most of this special episode was comprised of jokes recycled from previous specials (most notably the Vietnam special, which is incredible, by the way). However, the last third of the program felt fresher, and I was genuinely laughing the whole way through.
The rest of the season was traditional Top Gear fare – entertaining reviews of supercars, stars in a reasonably priced car, and British humor. Here are some highlights:
The Italy Road Trip
Our hosts travel across Italy in three beautiful supercars that aren't Ferraris: the Lamborghini Aventador, the Noble M600 (which broke down in the middle of the trip), and the Mclaren MP4-C12. Along the trip they get to drive the cars to their limits at the Nardò Ring and Imola (the track that claimed Ayrton Senna's life in 1994) all to see which car is the "best".
NASCAR
All things American are generally regarded as rubbish by the hosts. Richard Hammond, however, has a soft spot for the colonies, and contends that NASCAR is better than F1. To prove this, he takes a trip to Texas to watch a race, and even gets to drive one of the cars afterward. Here is the really amazing thing, though: he managed to make NASCAR exciting.
The Stig
Some say that he only knows two facts about ducks, both of which are wrong, and that if he caught fire he'd burn for a thousand days. All we know is that he's called The Stig, and he gets to drive many of the world's most powerful (and expensive) cars around a test track designed by Lotus especially for the show. Here's a list of all the lap times that The Stig has performed.
DVD Extras
Most of the extra content you'll find on your copy of Top Gear 18 is extra footage of celebrity laps. BBC has also thrown in the first episode of Season 2 of Top Gear (US), which they really should not have done. Here are my notes on that episode, verbatim: "Top Gear: US S2E1 – 5 minutes in, and it feels outrageously forced – the beauty of Top Gear is that it feels natural." The American hosts are just trying too hard – there's no chemistry. The British hosts are really ten-year-old boys inside, and the Americans are trying to replicate them instead of finding their own style. What you should take away from that is this: if you want to watch Top Gear, watch the proper one. And on that bombshell, it's time to end.