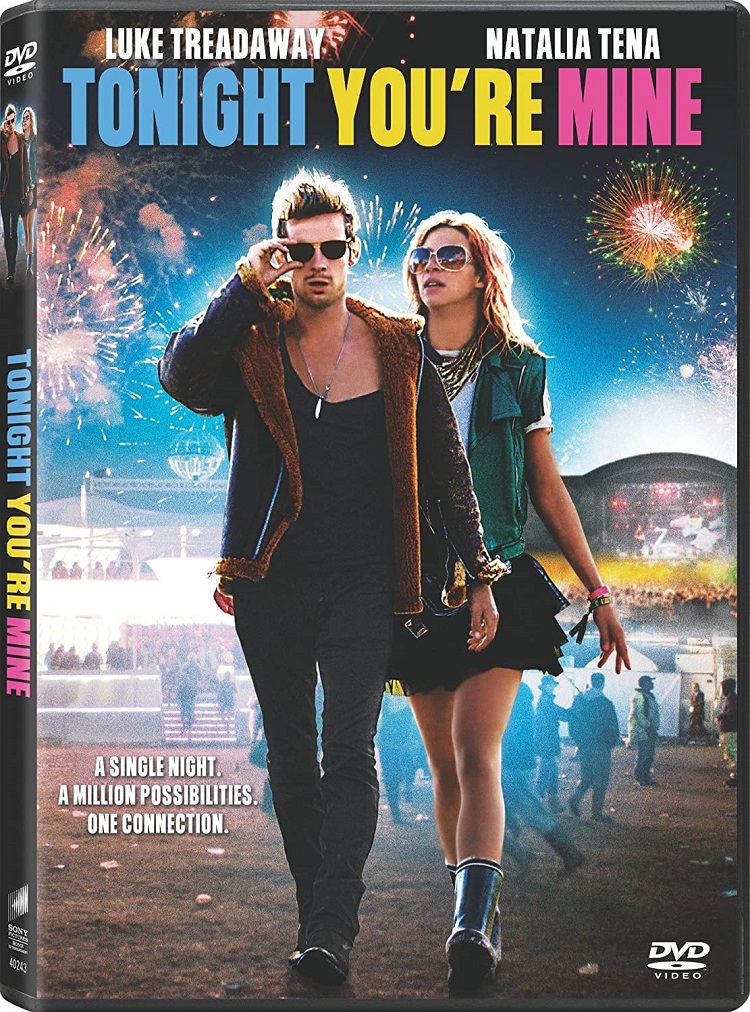 Filmed on site at the T in the Park music festival in Kinross-shire, Scotland, in July 2010, Tonight You're Mine stars the dashing Luke Treadaway (Killing Bono, Clash of the Titans) as Adam, one half of the fictional electropop supergroup The Make, and Natalia Tena (About a Boy, Harry Potter, Game of Thrones) as Morello, the feisty lead singer of The Dirty Pink. When the pretty boys (including Mathew Baynton of Peep Show and Gavin and Stacy fame) meet the gritty girls in the middle of a bunch of obligatory festival mud at the start of the film, you get the feeling they'll be at odds—and they don't disappoint. Trash talking and band belittling ensue, followed by a near throwdown between Adam and Morello. But a nearby security guard, played by the legendary Al Green, refuses to witness the breakdown of peace and love on his watch. After convincing the sparring bands to get a grip and hold hands, he handcuffs Adam and Morello together and conveniently vanishes. As the dizzying shots of festival chaos flicker onscreen, it's obvious these two face a hard road ahead.
The following 24 hours see the pair try to reconcile everything from their basic bodily functions to their egos, as they never can track down that darn security guard. The day-in-the-life, dialog-driven format is very reminiscent of the Before Sunrise/Before Sunset franchise, but instead of basking in sentimentality and hanging on every word as one does in the Richard Linklater films, viewers must rely on a combination of festival imagery (texting on muddy phones, ironic runners in wigs and tall tube socks), live footage of the bands (including The Proclaimers) that actually played T in the Park in 2010, and the Hipstamatic palette of concert colors that draw viewers into the setting.
As Adam and Morello try to make do with their situation, annoying their significant others (a model and a banker) in the process, their bandmates search for festival love, The Make's manager gets smarmier and smarmier, and everyone parties in excess. There are certainly fun moments, memorable scenes, and an enjoyable climax, but the crescendo is so slow that the second half of the film only barely salvages the first half. It is only midway through that the band folk stop coming off as vapid and start becoming likeable. A predictable, but welcome connection between Adam and Morello develops and their cohorts finally seem like real people—still clichéd, but real, with a little bit of heart.
One doesn't want to give much away about films that are heavier on sight and sound than plot, but it's fairly safe to say that the rabid festival fans Tonight You're Mine portrays will enjoy 80 minutes of footage that remind them of very good times. It offers a backstage glimpse that only people with band access passes get to see, and, at least for people who attended the 2010 T in the Park, it very convincingly intersperses the fictional material with snippets in time that festival goers may have actually experienced. Does it define a generation? It does with such lines as "Twitter's so much better than Facebook," "We've got a plasma screen on the tour bus, so…" and "Remember what happened at Coachella?" Whether teenagers and young adults will want to remember their younger years as something more than music and technology 20 years from now has yet to be determined.
Following its February 2011 premiere at the Glasgow Film Festival and a series of releases in France, the United Kingdom, and Ireland, the David Mackenzie-directed Tonight You're Mine hits movie screens in Los Angeles and New York beginning May 11.