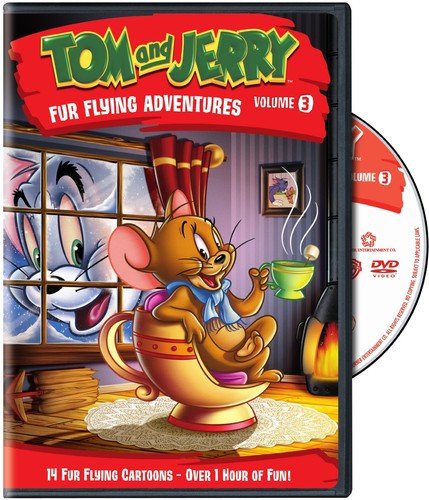 Warner Home Video are now offering the third installment in their Tom and Jerry: Fur Flying Adventures DVD series, and our heroes remain as fun as ever. The formula is pretty simple, each volume contains 14 classic Tom and Jerry cartoons. For the FFA editions, WHV have chosen a mix of sixties-era Chuck Jones episodes, and the recent Spike Brandt and Tony Cervone tales. In the case of FFA Volume 3, the count is six for Chuck Jones, and eight for Brandt/Cervone.
Chuck Jones is a legend in animation, having created the Road Runner, Wile E. Coyote, and Pepe LePew, just to name a few. He left Warner Bros. to form his own Sib Tower 12 Productions in 1963, after a fantastic career. His company was then folded into MGM Studios in 1964. Many years later, all of the material is back under the Warner umbrella, and is where the six Tom and Jerry/Chuck Jones efforts on the DVD come from. The 'toons were initially aired in theatres, before whatever blockbuster MGM film of the day was playing.
It may be the fact that the cartoons were made for the big screen that explains their lack of dialogue. Or it may have just been Jones' choice. In any case, it is one of the chief differences between the two approaches. Jones loved the freedom of animation, and the insane situations he could put his characters into. He certainly had fun with Tom and Jerry.
One example of this is "Bad Day at Cat Rock" (1965). Jerry is up on a skyscraper beam when Tom spots him, and all kinds of high-rise fun ensues. I love how a massive 200-ton I-Beam can just bend into a triangle right around Tom's head when he falls on it. "The Unshrinkable Jerry Mouse" (1964) is another highlight. When a new kitten arrives at the house, it looks like Jerry has a new friend, but not if Tom can help it.
"Love Me, Love My Mouse" is my favorite of the DVD's 14 stories. Over the years, the formula pretty much dictated that Jerry Mouse was picked on by the big, mean Tom Cat. But not this time. In "Love Me, Love My Mouse," it appears that Tom is not only married, but a hen-pecked husband to boot. Jerry seems to be Mrs. Tom's pet, and the clever mouse gets the old tomcat put into the figurative doghouse time and time again.
The eight Spike Brandt and Tony Cervone entries are all high quality. They were mainly produced during the 2007-2008 season for the Tom and Jerry Tales show. While there is more talking and less violence than in the Jones ones, there are still some pretty funny moments. In "Sasquached" (2007) we find Tom, Jerry, and whoever their adult female "Mom" is, out camping. All of a sudden the radio reports that Bigfoot has been spotted, and everybody flips out and leaves. Tom and Jerry (naturally) get left behind. This one is pretty cutesy, but kind of fun as Bigfoot introduces himself to the guys as "Sheldon," while they help him hide.
Also from 2007 comes "A Life Less Guarded." This one is notable for the reappearance of one of the greatest characters ever, Droopy. The setup has Tom and Droopy competing for a lifeguard job duty at the local pool. "The requirements are very demanding," says the boss, "You must be alert, swift, and strong." If you can imagine the fun the two have at (usually their own) expense trying to prove themselves worthy – then you should own this DVD.
Tom and Jerry: Fur Flying Adventures Volume 3 contains 14 cartoons, runs 100 minutes, and contains no bonus material. In addition to Tom and Jerry however, there is that Droopy appearance, and that qualifies as one big extra in my book. Great stuff!